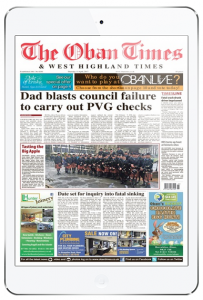 Click here to read latest paper on Pocketmags (Part of your digital subscription)

If you are a subscriber to the Oban Times Wesbite you get access to e-editions of each weeks newspaper that matches your subscription powered by Pocketmags.

This allows you to view an electronic version of the printed paper on your PC or MAC . If you have a tablet it also allows you to download the Oban Times App from your "appstore" and read on these devices.

If you have activated your e-edition (You will have got an email when you bought your web access) and know your username and password Click here to log in.

If you haven't activated your e-edition yet – Click here to go through the wizard  

There is a helper video at the bottom of this page if you have any problems.

Download the app once you have your POCKETMAGS username and password – Enter this when the App opens to get access to the e-edition.

Click here to go the the Apple Appstore Version

Click here to go the Google Play version

Here is a helper video which will walk you through the process

© 2022 Wyvex Media Limited.