Commemorating Royal Marine Gordon Cameron MacPherson, Zulu Company, 45 Commando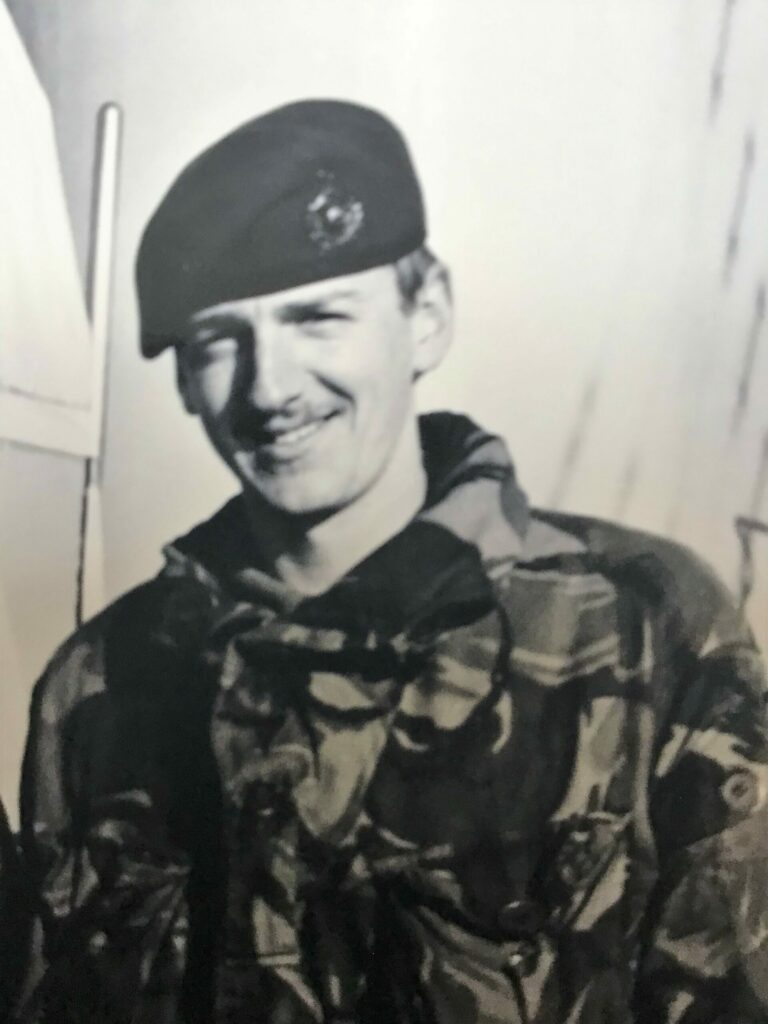 Want to read more?
We value our content and access to our full site is only available with a  subscription. Your subscription entitles you to 7-day-a-week access to our website, plus a full digital copy of that week's paper to read on your pc/mac or mobile device.  In addition, your subscription includes access to digital archive copies from 2006 onwards.
Just want to read one issue? No problem you can subscribe for just one week (or longer if you wish).
Problems logging in and require
technical support?
Click here
Subscribe Now
Oban war historian Neil Owen commemorates 40 years since Oban lost one of its sons in the Falklands War.
Marine Gordon MacPherson is the last name listed on the seafront's war memorial.
On June 12, four decades ago, Marine MacPherson – a rifleman within a section of Zulu Company of 45 Commando – was mortally wounded.
In this column, Neil encourages you to cast your eyes down the long lists of names on the War Memorial on the Esplanade honouring those who selflessly gave their lives for their country.
Neil writes: 'Look at those surnames so familiar to Argyll and try to conceive the shock, disbelief and despair visited upon a local family with that telegram delivered to the door, or by the insistent knock of a police constable.
The majority of these husbands, sons and brothers were lost in the industrial
slaughter of the trenches in the First World War, but not all. Other conflicts are also betrayed in those names, including one of more recent times, Marine Gordon MacPherson, known and remembered by many in Oban.
Gordon grew up at his parents' home in Lorn Road, Dunbeg, and both he and his younger brother, David, went to Dunbeg Primary and Oban High School. On leaving school, Gordon took up an apprenticeship with a painting firm but gave no indication to his parents, Gordon and Dorothy, of a separate career path.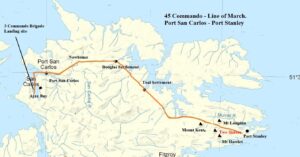 He aspired to join an elite unit within the Armed Forces by gaining the coveted Green Beret of the Royal Marines. Gordon fought hard to attain the fitness level required to
attend the Commando Training Centre at Lympstone in Devon and he would succeed in his endeavour, passing out with 160 Troop in front of his proud family in October 1981.
He was posted to 45 Commando, based at HMS Condor, Arbroath. Marine MacPherson understood his sworn duty to the Queen and that he may be called upon to risk his life in the execution of that allegiance.
Gordon was home on leave during the Easter of 1982 when he received a phonecall to return to Company Lines as soon as possible.
Events 8,000 miles away in the South Atlantic now had control over his future.
Argentina had invaded the British Falkland Islands, the regime had landed a considerable number of troops, armoured vehicles and aircraft on the islands.
Despite pleas from the United States for a diplomatic settlement, Prime Minister Margaret Thatcher decided to take military action against the Argentinian occupation of British Sovereign Territory and 45 Commando was to play a pivotal role in the
conflict.
Marine MacPherson was a rifleman within a section of Zulu Company of 45 Commando, the formation of which consisted of three such companies, Zulu, Yankee and X-Ray. His rigorous training in the Cairngorm Mountains and on Rannoch Moor would prepare him for the physical ordeal ahead.
Zulu Company boarded the Royal Fleet Auxiliary Resource at Dundee for transit to Portsmouth where the unit was loaded onto RFA Stromness, sailing for Ascension Island on April 6. The other two companies were flown to Ascension from HMS Condor direct. The Task Force to retake the Falklands was being assembled for the escorted convoy to the South Atlantic. Zulu Company, along with 40 and 42 Commando and third Battalion, the Parachute Regiment were embarked on the cruise liner SS Canberra in somewhat cramped conditions, leaving Ascension with the Fleet on May 7.
This was now a hot war, HMS Sheffield having been sunk by an Exocet missile on the third of that month.
The plan was to land 3 Commando Brigade, of which 45 Commando was the major component, at San Carlos on the opposite side of the island to the capital Port Stanley. It was assumed that all land movements would be supported by heavy lift helicopters which were embarked for that purpose on the MV Atlantic Conveyor.
The Task Force proceeded south and Zulu Company transferred to HMS
Intrepid, an amphibious assault ship in preparations for the landings in San Carlos Water. In the event, the landings by 3 Commando Brigade on the May 21 were unopposed and Zulu Company, including Marine MacPherson, dug themselves in on the reverse slope of the hill above the Ajax meat processing plant.
The Argentine Air Force then carried out a series of determined low level attacks on the ships now concentrated in San Carlos Water, sinking HMS Ardent.
Zulu Company found themselves witness to fierce air battles and the loss of two further ships, HMS Antelope and HMS Coventry. The Atlantic Conveyor was sunk by two Exocet missiles on May 25, taking with it the heavy lift helicopters earmarked to re-supply the advance. Zulu Company and the other units provided patrols to detect Argentine positions in the hinterland of Ajax Bay.
The topography was difficult and weather conditions were fast deteriorating. By May 27, 3 Commando Brigade was in a position to break out from Ajax Bay and move towards Newhouse of Glamis. The absence of sufficient helicopters dictated that the move would have to be made on foot across 14 miles of bog, each man laden with packs and equipment exceeding two thirds of his own body weight. Soaking wet feet
led to almost universal trench foot infection, issued boots being inadequate for the constant wading of streams and clinging, thick mud. Night-time marching was a particular challenge, with long queues of 600 men stop-starting through bog and across marsh.
After a freezing cold and wet night under bivouac, the next day brought a further eight miles of similar terrain as far as Douglas Settlement.
Rations were scarce and men were burning calories at a phenomenal rate with the excessive loads carried.
3 Brigade left Douglas Settlement on May 30 and marched 13 miles to Teal Inlet in snow conditions.
At Teal, several Argentinian patrols surrendered to the Royal Marines, who saw the enemy for the first time, young men like themselves. On June 2, the Brigade continued yomping for two days to Bluff Cove Peak. The distance to Port Stanley was now only 17 miles but the mountains ahead were known to be heavily defended. Orders were received. 45 Commando were to take the hills known as the Two Sisters, two peaks with a saddle valley between them, both shown by reconnaissance to have fortified enemy positions with heavy machine guns.
Two patrols from Zulu Company explored the area to the west of the northernmost peak during the 15 hours of darkness, however the half moonlight compromised their
progress. One patrol had inadvertently penetrated enemy defences and was detected, having to fight its way out.
The attack by Zulu Company, two nights later, would have to be made by wading
across the Murrel River, then crossing 500m of open ground before reaching the base of the north Sister. X Ray was to attack the southern peak and Y-Yankee would follow through Zulu and attack the east side of the north peak. The enemy forces were known to be well dug in near the tops of the 1,000ft tops, with a minefield in the saddle between the Two Sisters and several 0.5 calibre heavy machine guns in bunkers overlooking the slopes. Enemy strength was estimated at two companies of
infantry and marines.
On  June 12, in conditions of darkness and bitter cold, 45 Commando crossed the River Murrel towards their objectives. Gordon MacPherson in Zulu Company moving off at 01.00hrs GMT to head north and then swing west towards the north peak. Six 105mm light guns and the 4.5" guns of HMS Glamorgan were to give artillery support.
Here, the bright moonlight illuminated the open ground to be crossed by Zulu, however X-Ray company was delayed by two hours getting to their attack position due to a navigational error.
Zulu had to go to ground amongst the hummocks and stone runs to await orders to commit to the advance. During the interval, cloud swept across, obscuring
the moon, and it began to snow heavily.
Argentine artillery suddenly started landing shells directly in front of Zulu's positions.
A flare was seen from the Argentine redoubt. Marine Macpherson and the others in his company now had to fight their instincts, get themselves up out of cover and advance up the slopes of the north Sister, while immediately coming under fire from the heavy 0.5 calibre machine guns.
The crump of landing shells, muzzle flashes and arcs of green tracer flashing across the sky intensified. Zulu was now engaged in a major battle and artillery support was commenced, the fall of shot only a few yards in front of the company and pushing upwards with successive salvos.
The Argentinians maintained a heavy fire and began mortar suppression on the British advance below their positions. Casualties were inevitable, and although most of the machine gun fire was aimed too high and merely swept across their heads, the mortar rounds started to fall amongst Zulu Company.
Marine Gordon MacPherson was one of the first to fall, mortally wounded.
Two corporal section commanders were hit by shrapnel and two further fatalities incurred, a Royal Marine and a sapper of the Royal Engineers.
The Two Sisters were captured after intensive hand-to-hand night fighting, laying open the advance on Stanley and a final victory, but the cost was high. Of 3 Commando Brigade, 90 were killed and 186 wounded in the campaign to retake the Falkland Islands.
So, pause for a moment when you see his name on the Memorial, a name amongst so many others, each telling of a life cut tragically short.