Council 'stops' skipped Gaelic books going back to schools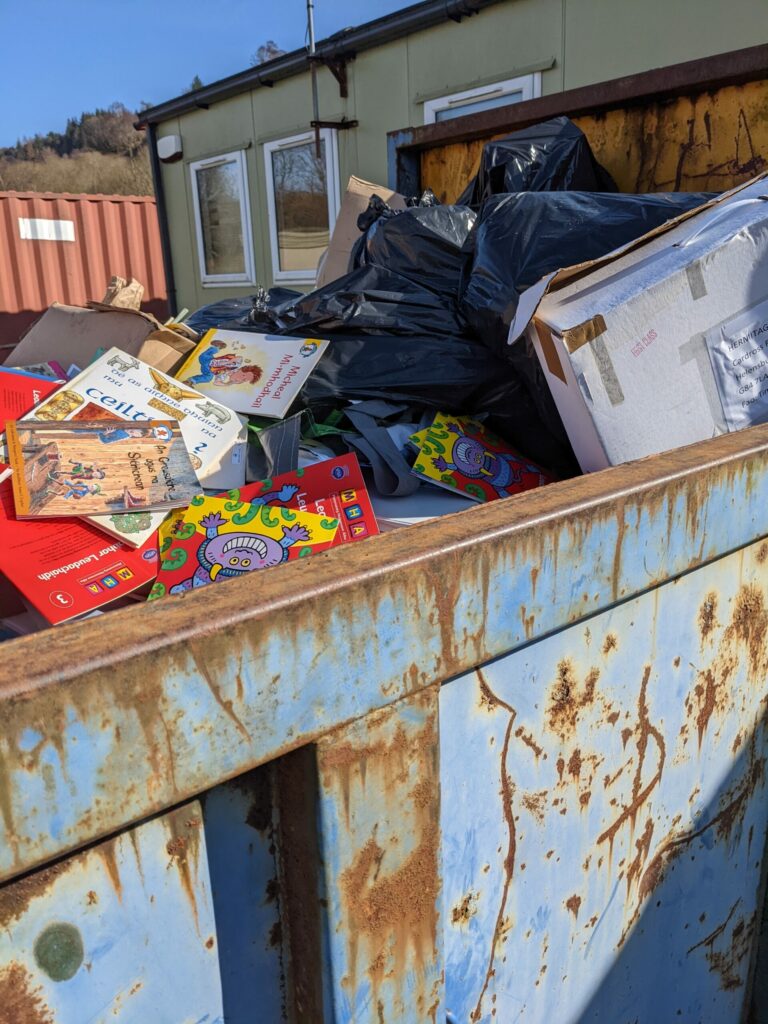 Want to read more?
We value our content and access to our full site is only available with a  subscription. Your subscription entitles you to 7-day-a-week access to our website, plus a full digital copy of that week's paper to read on your pc/mac or mobile device.  In addition, your subscription includes access to digital archive copies from 2006 onwards.
Just want to read one issue? No problem you can subscribe for just one week (or longer if you wish).
Problems logging in and require
technical support?
Click here
Subscribe Now
Argyll and Bute Council has apologised for dumping Gaelic school books in a skip by its old education offices in Oban, but parents who rescued 1,800 say they cannot redistribute these books back to schools because the council has banned headteachers from talking to them.
The revelation was heard at Wednesday's meeting of the Oban, Lorn and the Isles Area Committee, where councillors compared the 'embarrassment' to the Martha Payne incident in 2012, when the council banned a nine-year-old pupil at Lochgilphead Primary School from posting reviews of school meals on her blog.
Alison Craig, chairperson of Comann nam Pàrant an Òbain, said: 'Unfortunately I have become infamous for posting pictures of a skip full of Gaelic resources on Sunday.
'Between myself and a few other parents within Oban, we have somewhere in the region of 1,800 books now sitting within our houses. I am trying to contact all of the head teachers and/or the heads of Gaelic throughout the Gaelic medium units within Argyll and Bute Council. What I have found today, on phoning these schools, is these head teachers and heads of Gaelic have been told not to speak to me.
'I don't now know who needs what and in what Gaelic medium units because the education department has told them they are not allowed to have contact with us. So what am I now to do with the books?'
The move baffled the meeting's chairperson, veteran councillor Elaine Robertson, who gave up mid-sentence trying to conceive an explanation.
She said: 'I can only think that…well, I can't,' she said, defeated. 'I am surprised and sorry to hear that because in the circumstances it would have been helpful to know if any other school or medium required any further resources.'
Councillors also renewed calls for a standalone Gaelic school and pleaded for people to stop 'naming and shaming' council officers on social media.
Earlier at the meeting, Ms Craig read out an apology for the skipped Gaelic books from Argyll and Bute Council executive director Douglas Hendry: 'We apologise for any distress or upset caused, and are taking the matter very seriously. Making the best possible use of the resources we have is always a priority.
'Moreover we dedicate a lot of time and effort to supporting the Gaelic language. We had already removed a number of Gaelic resources from the education office for sharing among our services, and understand the concerns about why that has not happened with all the resources.
'We can assure members of the public we are carrying out a full investigation into items disposed of. The investigation is a priority to us and the lessons learned will guide future actions. I will provide a further update as soon as the investigation has concluded.
'I am sorry to hear your views regarding the council's whole approach to Gaelic. I think there is much to be positive about here, although as an organisation we are not perfect, and we would always want to improve.'
Ms Craig responded: 'I feel poor processes have consequences. Education is for everybody. There are still two units left outside what was the education department in Dalintart Drive. I want to know what's in those units. If there are Gaelic medium resources, what's going to happen to them, where is it going to go?
'I very much want to work collaboratively with the council, but I feel at the moment when it comes to Gaelic, we are at the very, very, very bottom of a very, very, very long list.
'I want to know what the local councillors in this area can do to try and help me to change the views of the council as a whole.'
Councillor Kieron Green said: 'I was incredibly surprised when I saw the sheer volume of materials that had been thrown out. My experience has always been that when education properties are decommissioned, there are attempts made to try and make sure all the resources in them go to good use. I have no idea why that hasn't happened here, and I really hope that the council officers get to the bottom of it.'
Councillor Julie McKenzie added: 'I think the tone of the response from the council is right. It's an apology. It's an acknowledgement of fault. And it's also a commitment to try and change things to make sure this does not happen again. Something has clearly gone wrong here and hopefully the investigation will uncover what that was, and then we will be able to put in the right procedures in place to fix things.
'I am seriously concerned by some of what I am seeing on social media and also what I have been receiving from the public in terms of the naming and shaming of council officers, and I want to put my marker down here. I will not subscribe to that in any shape or form. We are all mindful of people's mental health, particularly after the pandemic. People are struggling across our communities. We pull together in a phenomenal way in this local area, and I think that's what we've got to do now.'
Councillor Roddy McCuish said: 'There's no excuse whatsoever for what happened. That skip's in a very public place, one of the most popular walks in Oban. For anyone not to realise what they were doing there, I really am astounded at that. This is the same department that many years ago was involved in the Martha Payne incident, which was an embarrassment as well.
'These books should have been offered right across the community, other schools, even right across Scotland. We have to find out what's in these two containers. If there's more of that stuff in there, let's not miss the opportunity to get them distributed to people who need them.
'Oban needs a standalone Gaelic school. There is nothing surer. There is funding from the Scottish Government. We had the opportunity at Dunbeg. It was suggested at Dunbeg that we move the whole Gaelic medium unit out to the old school at Dunbeg, and we get a new school down where the development is.'
Ms Craig responded: 'That is something that we looked at. That is something Comann nam Pàrant funded, in terms of having to have various different processes before it was something the council looked at. And, again, it was shoved over to one side. And more than that, we have the current ongoing empowering our educators, in which there was not one mention of the word Gaelic in all of the documents that first came out, nor was it in any of the videos, nor was their even any Gaelic wording on their website. Yet again we're at the bottom of the pile. I don't see how Argyll and Bute can be classed as being inclusive for all, when you're not.'
Councillor Elaine Robertson said: 'It's a sad state of affairs if you feel Gaelic is not being given its rightful place. It is really so very sad, and it's such a waste to find books, any books, in your case Gaelic books, have been put to a skip. There was better use for those books.'
'It's just been a total disaster from one minute to the next,' added councillor Jim Lynch. 'I think part of that investigation should be what else is there there and how best can we distribute that for the benefit of everyone.'
A brief dispute then broke out between councillors McKenzie and McCuish.
Councillor McCuish, who like councillors Robertson and Mary-Jean Devon will not be standing in May's local election, said: 'I would like the area committee to make a recommendation to the education department that local councillors must be informed of any surplus equipment that is going to go anywhere. Therefore, the local councillors who know their communities better, perhaps dare I say than some officials, make better use of these pieces of equipment that wouldn't go to a skip.
'For councillors to find out from the public is absolutely horrendous. I didn't even know these offices were closing, and I stay 100 yards from them. As for Gaelic being at the bottom of the pile, I agree with Alison to an extent, and we have to really use this opportunity to make it even higher on the profile. I find it ironic that we're having a Gaelic Gathering here in Oban in a couple of weeks' time.'
Councillor McKenzie, however, disagreed with the recommendation: 'I don't think it's for councillors to be told of the disposal of everything in the council or everything in the education department. That's operational. It's not within our remit as councillors.'
Councillor McCuish replied: 'At the risk of falling out with people at my last area committee, I really do feel if councillors were informed of this, we would not have been in this situation. I have found over the years that operational decisions have political consequences, and here we are: an operational decision has had a political consequence.'
In the end, both councillors agreed with the committee's recommendation to urgently inquire where these books could be put to best use in Argyll and Bute.