Letters to the editor – 3.12.21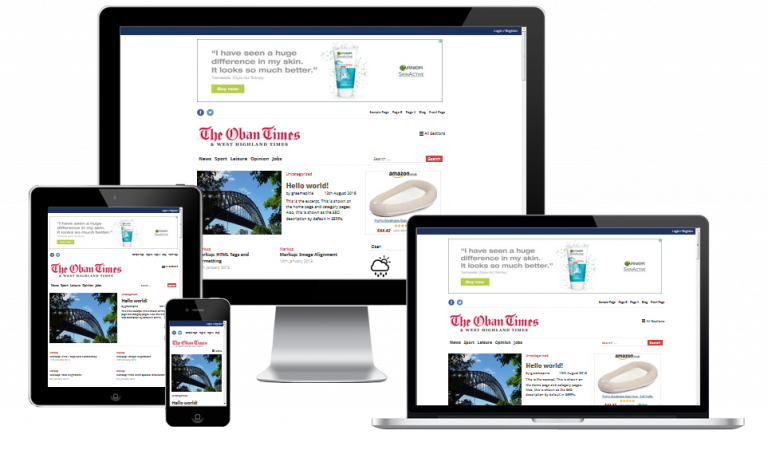 Want to read more?
We value our content and access to our full site is only available with a  subscription. Your subscription entitles you to 7-day-a-week access to our website, plus a full digital copy of that week's paper to read on your pc/mac or mobile device.  In addition, your subscription includes access to digital archive copies from 2006 onwards.
Just want to read one issue? No problem you can subscribe for just one week (or longer if you wish).
Problems logging in and require
technical support?
Click here
Subscribe Now
Not a false premise
I fear that Mr Green (The Oban Times November 25) fails to understand the basic problem.
Property prices are extremely high in our area. Argyll and Bute's youth already leave to undertake further study but not enough of them can afford to return when qualified. Thus we have a declining and ageing population in Argyll and Bute and the Highlands and Islands.
Who is going to nurse, teach and build businesses and maintain Mr Green in his dotage?
Despite the SNP Government's laudable maintaining of free higher and advanced education, unlike Westminster, young people still struggle to compete on property purchase against old people who have accrued greater wealth.
I, as one of the 'golden oldies', want the youth to return with their ambition to build a better, more prosperous rural Scotland. I want them to aspire to a diversity of career and not just to maintain holiday properties. If it requires a legislative cap on property purchase I and others will approve.
Dorothy Macdonald, Oban.
Reality bites
Andrew Green's idea for young people works on paper, but falls short in reality.
It may have worked for him in the past, but moving away to find your fortune in work elsewhere is much more competitive nowadays, and assumes that everyone wants to leave home. Even if they did leave, who would support the remaining elderly population?
You cannot argue that second homes are good for communities when you have nurses living in campervans due to lack of affordable housing.
The Oban Times reported a shortage of teachers in Mull (November 25) so there is evidence of the impact on communities from lack of housing, nevermind dwindling pupil numbers in some areas. There are also 256 Airbnbs in the Oban area – severely depleting housing stock and realistically needs to be addressed too.
And lastly, Andrew is right; housing does create jobs. But where are the younger people providing these and other services (shops etc.) supposed to live? Most house prices are out of reach for many.
I.W, Oban.
Fears for Oban harbour
I am writing to highlight the risk of CMAL becoming the overall Harbour Authority in Oban.
Oban Harbour is the town's harbour. The fact that it hasn't been managed effectively for many years is an historical failing but the need to manage it in future, for our children and for their children, is an urgent matter today.
If we want Oban to be the most welcoming harbour on the West Coast, where all water users and visitors know that they will be safe, and where any surplus income is invested in developing the harbour and other local projects, then the council must make sure that they support OCHDA to develop the Trust Port as soon as possible. If CMAL become responsible for the harbour, its priorities will not necessarily be to look after fishing and other commercial users, as well as leisure users of all sorts and visiting cruise ship passengers, or to invest in the future of Oban.
The report to the Harbour Board does not consider the long-term impact of the decision on the local community or the many stakeholders in Oban Bay, or the relative safety of the various options. Instead it focuses on the difficulties involved, now, in doing the right thing for the future. We need local councillors, who will make the decision on Thursday, to have the vision to see what is best in the long run and the political will to make it happen.
It's Oban's harbour – vital for the community of Oban – and the best way forward is for a Trust Port operated in the interest of all stakeholders and accountable to the community of Oban, its hinterland and the islands.
John MacAlister, chairman OCHDA.
Poor recommendations
I am writing with reference to the forthcoming Argyll and Bute Harbour Board meeting to decide the future management of Oban Bay.
The recommendations made to the Harbour Board by council officers appear to take little or no account of two key events that led to the proposal to create a Trust Port for Oban.
Firstly, in 2018, in was proposed that CMAL should take responsibility for the management of Oban Bay, and that the day-to-day operations would be delegated to CalMac Ferries Ltd. A public consultation clearly demonstrated that this option was not acceptable to harbour users and stakeholders and work on the proposal was halted.
Secondly, at a public meeting held later that year in the Corran Halls, the council officer who is responsible for briefing the Harbour Board in advance of this week's meeting stated the council is not equipped to run Oban Harbour and that the council's position is that a trust port is the better option. The record of the meeting, recorded at the time and transcribed by The Northern Lighthouse Board states: 'We are not currently equipped to actually run or manage a port which has 13,000 vessel movements which are predominantly ferry type movement. So the councils current position is as stated, there isn't any council policy or position to actually move forward to a municipal port, a Trust Port is the better option if we are moving that way.
'Since that meeting the only significant changes which have taken place are (i) it has been shown that vessel movements within the bay are now more than 30,000 a year, and (ii) the work which has been completed by OCHDA has demonstrated the viability and sustainability of the Trust Port option. I will allow readers to draw their own conclusions.
Chairperson, Oban Bay Stakeholder Group.
Safety and management of Oban Harbour
As a past director of Oban and Lorn Tourism Alliance, I can say with certainty that Oban harbour continues to be a significant factor in the success of the tourism industry in our area and indeed across the West Coast. Its future development and sustainability should not be compromised and any harbour authority that is responsible for the management of Oban Bay should be impartial and independent to ensure everyone has an equal right to access the harbour safely.
All the empirical data shows that the focus of operations within the bay has changed significantly in the last few years. Back in 2014, 80% of the estimated 9,400 boat movement was due to ferry traffic, whereas in 2019 only 24% of the estimated 32,000 boat movements was ferry traffic and 67% was traffic to the North Pier and pontoons supporting leisure and tourist craft.
Leisure tourism is a growth market for Oban and our regional DMO is working hard to ensure that Oban continues to attract marine visitors. The future of this important market could be compromised if CMAL were to take over as the single harbour authority. CMAL will look after its own interests first and has yet to demonstrate that it can be impartial when it comes to matters of access to waters in which its ferries operate. Indeed, its actions have in many documented instances been regarded as discriminatory as it has actively discouraged leisure craft from using Oban Bay.
It is extremely disappointing and indeed disingenuous of the council to continue to publicly encourage the development of a Trust Port for Oban whilst privately promoting the CMAL option. The recent appraisal of the 'five options' for the safe management of Oban Harbour is seriously flawed. The report does not assess the business case for either a municipal harbour authority or CMAL's bid to extend its control to take in North Pier and the two major approaches to Oban Bay.
It is worrying and misleading to suggest that the options have all been considered equally. The omission of local elected representatives or stakeholders in either the design or in the consultation of this 'appraisal' is at odds with the recommendations by Audit Scotland.
There is no assessment of the potential economic impact of any of the options on any of the stakeholders or communities most affected. The supposed Equalities and Socio-Economic Impact Assessment and the Islands Act Impact Assessment which appear to have been applied to the Trust Port proposal, are, in fact, not completed though the templates have been included. There is nothing worse than a sham consultation. If the council is determined to ride rough shod over the views of stakeholders it should be held to account.
The Harbour Board should reject the report and ask officers to undertake a full options appraisal of each of the proposals which includes:
safety;
impact on stakeholders;
business cases for each proposal, including any long-term plans;
projected timescale before readiness to submit a Harbour Order; and
addresses the legal position regarding existing responsibilities and changes necessary .
Only then will the council be able to claim that a fair appraisal of the options has been conducted and perhaps then the views of those who live, work and depend on the sustainability and future development of the harbour and the marine tourism market will have confidence that the outcome truly reflects the best option for the town of Oban.
Linda Battison, Oban Tourism Group.
Hobson's Choice
The council report concerning the operation of Oban Harbour is a complete travesty. The inclusion of A & B council as a possible operator is a red herring as it is well known that the council has stated, on two occasions, that they have neither the inclination not the expertise to do so. This whole situation has, apparently been contrived from the start.
The use of the safety issue is always a winner in these situations and some three years ago there was a sudden large increase in the hitherto rare use of "five short and rapid" which signals a potentially dangerous situation. On at least one occasion the signal was given by a ferry which was still alongside. It would appear that the purpose was to build up a portfolio of "incidents" to support the need for CMAL as an harbour authority. Following the outcry against a CMAL takeover levels of "five short and rapid" returned to normal.
With CMAL being an agent of the Scottish Government it seems likely that Argyll and Bute Council have been 'leaned on' to ensure any revenues end up in government coffers rather than the harbour and Oban.
What have CMAL achieved that has been successful? In procurement, management and the husbandry of taxpayers' money their record is shocking and many are calling for it to be disbanded as not fit for purpose. It is an obligation that profits from a trust port must be used to improve the harbour and the town. This is an hijack and must not be allowed to happen. The obfuscating actions of council officers, our servants is, in this regard, peculiar, perplexing, not in the interest of Oban and extremely disappointing. Why do we elect councillors? What happened to democracy?
J Patrick Maclean, Oban.
Open letter to Pippa Milne
I refer to the forthcoming meeting of the Oban Harbour Board on December 2 and the options appraisal report produced by Caledonian Economics.
The Royal Highland Yacht Club which celebrates its 140th anniversary this year and has co-hosted West Highland Yachting Week with the Oban Sailing Club for over 70 years regards the town of Oban and its harbour as the centre of its operations both on and off the water despite having no physical assets there.
I seem to recall Nicholas Crane – presenter of the "Coast" TV programme, many years ago describing Oban principally as somewhere you passed through to get on or off a ferry. The inference being you didn't loiter there. Times are gradually changing. In the last few years Oban has seen a steady rise in pleasure craft visits and shore excursions from cruise ships bringing in people who do want to loiter, promoting business expansion. The transit marina has made a valuable contribution to that. Ferry traffic has declined from 67% of total boat movements in 2014 to 24% in 2019 illustrating the changing nature of water use. The creation of a Trust Port, putting control of the harbour into the hands of the local community will see the town's potential grow giving a wide variety of stakeholders the opportunity to develop the town to be more than a
terminal. Oban's goal of eventually having city status needs that expansion of opportunity to enhance its position.
Look at the success of other coastal towns such as Tobermory and Mallaig when they took control of their harbour facilities. They have well organised traffic management and berthing facilities which have created a welcoming and safe atmosphere for visiting craft. Oban can enjoy that prospect as well.
The emphasis in the appraisal report has concentrated on the legal and financial hurdles to forming a Single Harbour Authority with much bias against the Trust Port option. I expect the same arguments must apply to the CMAL option.
In all this we mustn't forget the needs of the vast majority of harbour users in according them a solution which assures them their traditional rights within the harbour area.
I think I can speak for the majority of our members in saying we endorse the Oban Community Harbour Development Association's bid to be allowed to create a Trust Port.
Andy Knox, Commodore, Royal Highland Yacht Club.