SAMS scientists and subs return safe from melting glacier in Svalbard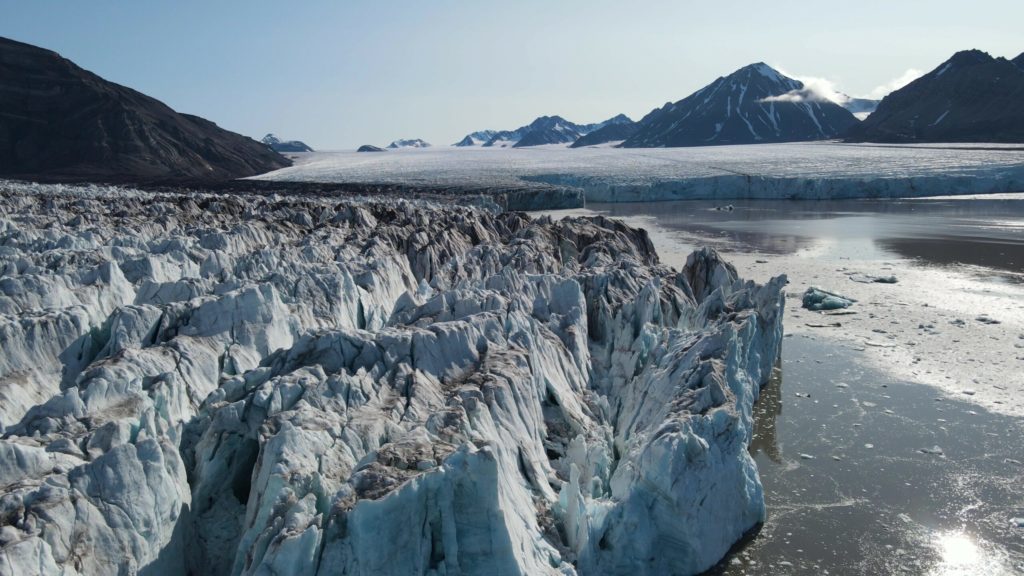 Want to read more?
We value our content and access to our full site is only available with a  subscription. Your subscription entitles you to 7-day-a-week access to our website, plus a full digital copy of that week's paper to read on your pc/mac or mobile device.  In addition, your subscription includes access to digital archive copies from 2006 onwards.
Just want to read one issue? No problem you can subscribe for just one week (or longer if you wish).
Problems logging in and require
technical support?
Click here
Subscribe Now
Argyll scientists have returned from a dangerous mission to the world's most northerly inhabited island, trying expose the hidden link in how rapidly melting Arctic ice is changing our ocean, ahead of the UN Climate Change Conference, COP26, in Glasgow this November.
Scientists from the Scottish Association of Marine Science (SAMS) in Dunbeg, an academic partner of the University of the Highlands and Islands (UHI), completed the fieldwork in Svalbard, formerly Spitzbergen, in August.
Svalbard, meaning 'Cold Edge' in Old Norse, is a land of mountains, fjords, tundra, ice and polar bears in the Arctic Ocean, midway between Norway and the North Pole, each around 1,000km distant. The midnight sun lasts April to August, but darkness reigns from October to January, when the Northern Lights flicker and dance in the night sky.
Svalbard is also a microcosm of the Earth's climate crisis. The archipelago is home to six per cent of the Earth's glaciers, which bury most of its surface under 200m of thick ice. If they all melted, they would raise the sea level by 1.7cm – relatively little compared to the freshwater ice locked up in Antarctica and Greenland, which, if it all vanished, would lift sea levels by 65m. But, located at the margin of rapidly declining sea ice cover in the Arctic Ocean, Svalbard is the fastest-warming place in the world. Svalbard glaciers are the canary in the coal mine: they can be seen as thermometers monitoring the devastating impacts of the climate crisis.
Svalbard's permafrost and year-round low temperatures – the average high is just 7C in summer – once proved ideal for the Global Seed Vault, built in 2008 to withstand natural and manmade disasters. 100m deep inside a mountain, the vault stores over a million seed samples – a 'Noah's Ark' for the planet's staple foods such as maize, rice, wheat, cowpea, sorghum, barley, and potato, as a backup in case of a global cataclysm that causes all crops to fail. It is the ultimate insurance policy for the world's food supply. But, as temperatures rise, even the vault might not be completely safe. In 2017, its entrance tunnel was flooded after permafrost melted. Svalbard's average temperature has risen by 4C since 1971, five times quicker than in the rest of the planet.
Only three species of large mammal live on Svalbard: Arctic fox, reindeer, and polar bears – around 3,000 in total, outnumbering the human population of 2,926. Anyone who leaves Svalbard's three main settlements usually carries a rifle in case they encounter one, and all doors remain unlocked for people seeking cover in the event of an attack. Svalbard is a place anyone can call home: citizens of any country are welcome to settle without a visa, as long as they have a job and a place to live. But its houses are hard to reach: Svalbard's settlements, unconnected by road, are only accessible by boat in the summer, or snowmobile in winter.
In 1906, American businessman John Munro Longyear established Svalbard's first coal mine, which remained its primary industry during most of the 20th century. Today Longyearbyen, 'The Longyear Town', is the world's northernmost urban community with a population of 2,400, where tourists can enjoy reindeer pizza, seal carpaccio, and Spitzbergen IPA brewed by the world's northernmost craft brewery.
60km west as the fulmar flies is Svalbard's second largest settlement, Barentsburg, home to 450 Russian and Ukrainian miners employed by the Russian state-owned mining company Trust Arctickugol, a coal-fired power station, and a beautiful Russian orthodox church, the chapel of Holy Mandylion, for prayer at the ends of the Earth. Up on the hillside, like a Soviet-era Hollywood sign, a star-and-slogan proclaims 'Peace to the World'.
Further north lies another Russian coal mining community, the abandoned ghost town of Pyramiden. Everyone, it seems, left in a hurry: cups were left on the tables, newspaper clippings on the walls, and skis in the corridors. A statue of Lenin is surrounded by grass imported from Siberia. It's like time travel back to the USSR. One by one Svalbard's coal mines were mothballed, but 100,000 tons of coal are still shipped out every year. Even further north at the international research station of Ny-Ålesund, the world's northernmost settlement situated at 79 degrees north, scientists are measuring the effects of burning all these fossil fuels: global warming.
Providing an inspiring view from Ny-Ålesund, at the head of the bay called Kongsfjorden (King's Fjord), two glaciers flow into the sea: Kongsvegen (King's Way) and Kronebreen (Crown Glacier), one of the largest in Svalbard, draining about 690 km sq. of icefield. Where Kronebreen, a slow-moving river of freshwater ice flowing an average of 2m a day, meets the seawater in the fjord, ice detaches to form icebergs in a process called calving. This deadly zone, where each calving event drops on average 50,000t of ice crashing into the ocean below, is one of the frontiers of climate science.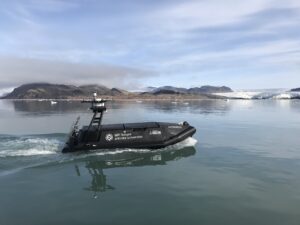 How can scientists get close enough to investigate without getting themselves killed? The answer: send in a robot submarine. The mission was a collaboration between SAMS, UiT The Arctic University of Norway, the Norwegian Polar Institute, and University Centre on Svalbard. The team used an autonomous surface vehicle (ASV), built by Norwegian company Maritime Robotics, to record various oceanographic measurements at the face of the glacier, while an autonomous underwater vehicle, known as an ecoSUB, took temperature, salinity and oxygen readings below the surface. Meanwhile, aerial drones surveyed the so-called freshwater 'plumes' that run off from the glacier.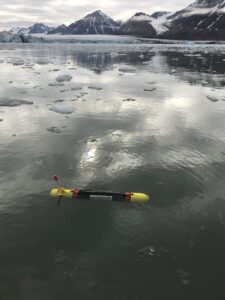 Lead scientist Professor Finlo Cottier of SAMS explained: 'Fjords are the connection between the changing ocean and our rapidly melting northern glaciers. The transfer of heat and water at these points, often just a few kilometres wide, are therefore extremely important in understanding how climate change is impacting our ocean.
'However, as these areas are too dangerous to survey fully and too small to be picked up on global ocean models, the interactions between fjords and glaciers have not been sufficiently represented in ocean and climate predictions. We need to know much more about the fresh water coming into the ocean: How much is there? Where does it end up? How does it move?'
While rising global temperatures increase glacial melt, glaciers are also breaking up below the surface of the water. In a process known as sub-glacial discharge, melt water flows down through the glacier and out into the ocean. This water is fresher than the surrounding sea water, so starts to rise in the water column, creating a plume that pulls in warmer Atlantic water which increases the melt rate at the face of the glacier. This process undermines the wall of ice, causing huge chunks to collapse into the sea. The marine robotics deployed by the team hoped to collect crucial data to improve our understanding of this process. It's early days, but so far the scientists have observed this process to be far more vigorous and energetic than anticipated.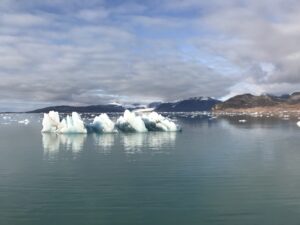 Now back from their 10 days in the field, we asked Professor Mark Inall to describe the experience. 'It is like the west of Scotland, but with huge ice streams between the peaks,' he said. 'I feel very at home. That is what Scotland looked like 10,000 years ago. With Norway you feel a great affinity. [Both populations] live in challenging landscapes: you never go in a straight line from A to B in Norway, and you never go in a straight line in Scotland either.
'We were there in summertime. It was light 24 hours a day. It was a few degrees above zero. The settlement is 15km away from the glacier. The air is very clear and clean. You spend an hour and a half travelling to something you think is very close. You realise it is a great big towering wall of ice, 60m high. The glaciers are grubby: they wear away the rock as they flow. Bits are falling off all the time. You hear the cracking, you feel the boat moving on the swell. We keep at least 300m away.'
While the team kept a safe distance, their equipment did not. 'It is stressful,' Professor Inall said. 'The robotic submarine is very expensive. As soon as it dives down, you do worry. You spend several hours wondering if you will ever see it again. So far we have not lost one.'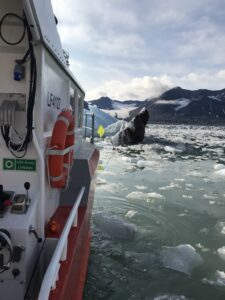 Over the 20 years Prof Inall has been visiting the Kronebreen glacier, he said, it 'has retreated half the distance from Connel to Taynuilt, which is the distance I cycle. It was ice, now it is a fjord. It is really visible in a lifetime. Sea levels are already rising because of melting ice sheets. It will rise around Scotland. The estimate is up a metre over the next 50-100 years.'
'Water has been warming by one degree a decade,' added Professor Finlo Cottier. In his 20-year career, he said, the world has lost half of the Arctic sea ice. 'A lot of the population is looking towards COP26 for really big decisions to be made,' he said. 'These decisions will be based on the science. They draw on the publications that come from SAMS and other institutions around the world.'