Morvern Lines – 15.4.21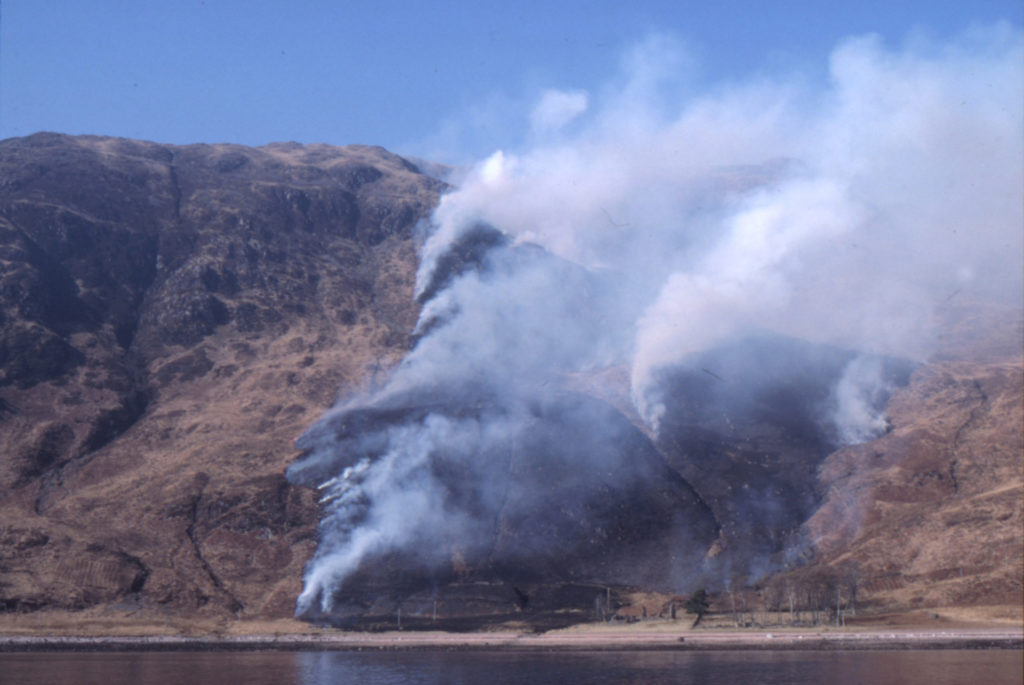 Want to read more?
We value our content and access to our full site is only available with a  subscription. Your subscription entitles you to 7-day-a-week access to our website, plus a full digital copy of that week's paper to read on your pc/mac or mobile device.  In addition, your subscription includes access to digital archive copies from 2006 onwards.
Just want to read one issue? No problem you can subscribe for just one week (or longer if you wish).
Problems logging in and require
technical support?
Click here
Subscribe Now
Continued from last week
One of the best explanations on the subject is a paper in the prestigious Royal Society Journal called, 'The Role of Fire in UK Peatland and Moorland Management; the need for informed, unbiased debate' (2016) part of a themed issue, 'The interaction of fire and mankind'. It is summarised as follows:
'Despite its complex role in the ecology of UK peatlands and moorlands, there has been a trend of simplifying the narrative around burning to present it as an only ecologically damaging practice.
'That fire modifies peatland characteristics at a range of scales is clearly understood. Whether these changes are perceived as positive or negative depends upon how trade-offs are made between ecosystem services and the spatial and temporal scales of concern. Here we explore the complex interactions and trade-offs in peatland fire management, evaluating the benefits and costs of managed fire as they are currently understood.
'We highlight the need for (i) distinguishing between the impacts of fires occurring with differing severity and frequency, and (ii) improved characterisation of ecosystem health that incorporates the response and recovery of peatlands to fire. We also explore how recent research has been contextualized within both scientific publications and the wider media and how this can influence non-specialist perceptions. We emphasize the need for an informed, unbiased debate on fire as an ecological management tool that is separated from other aspects of moorland management and from political and economic opinions.'
We hear a good deal about peat restoration these days from Nature Scotland (NS) Forestry and Land Scotland (FLS), RSPB, The John Muir Trust (JMT) The Scottish Wildlife Trust (SWT) and a whole raft of new age conservationists with a predetermined motive. For example a newspaper article in the Guardian on 14/12014 by George Monbiet, a British writer known for his environmental and political activism, provocatively titled, 'Meet the conservationists who believe that burning is good for wildlife', with the sub-heading 'Our national park authorities are vandals and fabulists, inflicting mass destruction on wildlife and habitats, then calling it conservation', has been acted on in some parts of the Highlands even although the tone is not conducive to a balanced debate.
Peat land restoration consists, as I see it, of spending huge amounts of public money achieving very little.
Burning seventy litres of diesel oil per day in a mechanical excavator. Fuel to get the operator to the job; fuel to get a quad bike to the machine miles out on the hill, and fuel and another trip with the hydraulic oil, grease and filters. Getting the machine to the nearest road end by low loader, making a mess tracking there. Crushing the vegetation with an ATV as it is not allowed to go over the same ground twice. Taking turf from one peat bank to another and carrying bags of sphagnum moss from one moor to 'plant' elsewhere. A low loader to take the machine away. Numerous visits by NatureScot staff, all in separate vehicles, all at different times; all going backwards and forwards, miles from the office and all in fuel-burning vehicles. Storing carbon? What utter nonsense!
I have witnessed from the air many of the huge moorland fires which have ravaged the Highland landscape during the last few years. If further destruction of some of the finest natural habitat in Europe is to be prevented and, more importantly, the lives of hard-working fire-fighters spared, the government must address the underlying reasons.
Dry warm conditions and strong winds have created 'tinderbox' conditions but no more than usual. The real problem lies with Scottish Nature, NTS, SWT and other New Age conservation landowners who do not always practice what they preach by actively discouraging any form of traditional controlled muirburning.
Not many years ago Scotland's uplands were burned regularly in a time-honoured manner. Nowadays, with fewer sheep, cattle and deer grazing the hillsides, and a surge in tree planting, there has been a huge increase in undergrowth. Easily ignited, this thick mat is almost impossible to extinguish. It is thanks to its careful management for grouse shooting that this unique landscape has been conserved, where elsewhere it has been lost.
Retaining burning as a management tool is, therefore, essential if we are to protect the landscape. Yet, despite the evidence in its favour, there are environmentalists and anti-shooting activists with agendas of their own that oppose any burning. In doing so, their views threaten not just the environment, but also the wildlife and livelihoods of many in our upland communities.
Although the controlled cool burning of heather on moorland managed for grouse shooting is carried out within a clearly defined timeframe in accordance with a statutory Code of Practice and, in the case of protected sites such as a Site of Special Scientific Interest only with the consent of Nature Scotland, this will not stop wildfires from occurring.
There is no smoke in the glens now because agents working on behalf of Holyrood, while not actually banning it completely, so far, have made it almost impossible to make muirburn through injudiciously placed forestry plantations and reams of legislation.
The word is that the Scottish National Party has lost the rural vote. Is there little wonder?