Morvern Lines – 1.4.21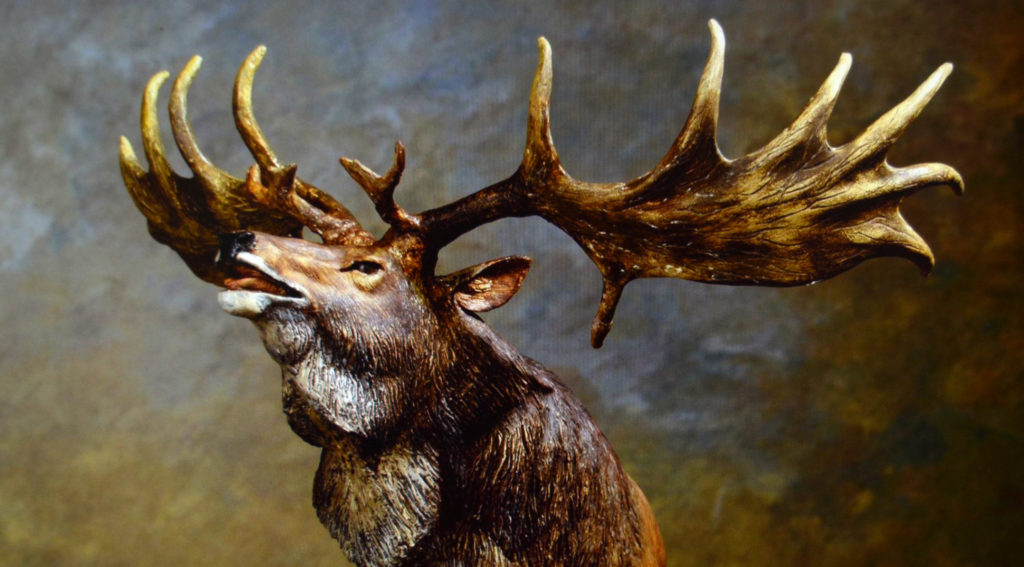 Want to read more?
We value our content and access to our full site is only available with a  subscription. Your subscription entitles you to 7-day-a-week access to our website, plus a full digital copy of that week's paper to read on your pc/mac or mobile device.  In addition, your subscription includes access to digital archive copies from 2006 onwards.
Just want to read one issue? No problem you can subscribe for just one week (or longer if you wish).
Subscribe Now
Landslips are not popular in Argyll, especially when they block main roads and cause tedious diversions,  but two – one dating from many thousands of years ago and another, which happened recently, stand to bring enormous wealth to the area and could, ironically, fund new bypasses.  Because of his wide knowledge of the wildlife and history of the Highlands and Islands, our regular contributor Iain Thornber has been given confidential access to the background and tells part of the story.
It all began in the last Ice Age when woolly mammoths, bears, wolves, rhinos and huge elks roamed across vast territories, covering Europe, northern Asia and North America until driven to extinction by climate change and human impacts. Teeth and pieces of tusk, have been found in 16 different locations in Scotland. Some are  exhibited in the National Museums Scotland, and prove that woolly mammoths once lived here.
Using radiocarbon dating, scientists have been able to confirm that was around 29,000 years ago.  Adult woolly mammoths stood about 13 feet tall and weighed around six tons. They were closely related to today's Asian elephants and looked a lot like their modern cousins, except for one major difference – they were covered in a thick coat of brown hair to keep them warm. They even had fur-lined ears. Some of the hairs on woolly mammoths could reach up to three feet long, according to National Geographic.   Their large, curved tusks may have been used for fighting and as a digging tool foraging for meals of shrubs, grasses, roots and other small plants under the snow.
Though woolly mammoths lived on frozen wind-swept plains they actually arrived there from a much warmer home. Research by a team from the University of Manitoba in Winnipeg, Canada, found that the ancestors of both the mammoth and Asian elephant originated in Africa 6.7 million to 7 million years ago. They seemed to have stayed there for about 4 million years before moving up into Southern Europe and eventually into Argyll's straths and glens.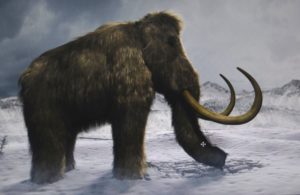 The enormous Ice Age elks, also called the giant or Irish deer of the genus Megaloceros,  is one of the largest deer that ever lived and closely related to our own red deer.  Their range extended across Eurasia during the Pleistocene Age from Ireland to Lake Baikal in Siberia –  the world's deepest, clearest and oldest inland stretch of water.  Remains of the species have been carbon dated to about 7,700 years ago in western Russia. Although many skeletal remains have been found in bogs in Ireland, the animal was not exclusive to Ireland or related to the present North American elk or moose. The billiard room in Inverlochy Castle Hotel,  near Fort William, houses a fine example of the skull and horns of one found at the bottom of a nearby peat bog. Where is all this going I hear you ask? Bear with me.
Sometime towards the end of the last Ice Age which according to geologists was pretty dramatic in Argyll,  the entrance to a series of vast underground caverns, were blocked by millions of tons of earth and debris – a gift from the glaciers – sealing them off completely.  Moving on quickly. In the summer of 2019 an international company drilling in a remote Argyll glen – which cannot be named yet for reasons about to become apparent – looking for a site for an underground hydro electric scheme, triggered off an avalanche exposing the entrance to a deep cave.  Engineers went inside and from what they saw soon realised this was no ordinary place.  Taking photographs they resealed the entrance as best they could and reported their find to the estate owner who, in turn, alerted the authorities. To describe the outcome as electrifying would be the understatement of the millennia.  What they discovered were the remains of an adult  male and female woolly mammoth, a polar bear, a lynx with a collar round its neck, a huge elk and two humans all complete and in a remarkable state of preservation. Also on the walls and ceilings they saw paintings and drawings as fine as these found at Gabammung in North Austria and those in the Franco-Cantabria region in Western Europe.  Professional scientists, zoologists, botanists, doctors and archaeologists in every field and from institutions around the world, all sworn to complete secrecy, were invited on site before Covid-19.  The presence of the research vessel the RSS Sir David Attenborough off Argyll, which was reported in the Oban Times a few weeks ago, is thought to have been carrying some very influential parties.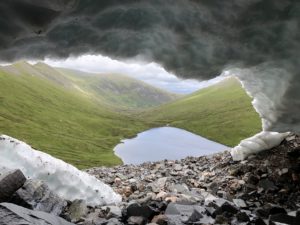 The importance of the knowledge which will eventually come out of these caves is apparently mind-blowing and on par with NASA'S current Mars Exploration Programme. Before anything is removed to laboratories for closer analysis,  forensic principals similar to those applied at major crime scenes, including DNA, are being scrupulously applied to the cave floors, walls and on the animal carcases and human remains to prevent anything from being lost.
In theory DNA could be used to clone woolly mammoths, bringing them back from extinction. In fact, there is a project called The Woolly Mammoth Revival that is working toward making this idea a reality. This concept is highly contested in the scientific world. Some objections are that the mammoth's habitat isn't what it was when the creature roamed the Earth, so where would it live? Tremendous interest is being shown in the great elk carcass available for the first time in its entirely – so much so that scientists have advised the government to slow down the mass slaughter of Scotland's native red deer to allow them to study the link more carefully. The collar on the lynx, they say, shows that it was clearly domesticated and should not be considered a truly wild animal. In short rewilding has been turned on its head and will have to be reviewed.
Moving the cadavers and disseminating the data will take decades and come at a huge cost. £500 million has already been pledged from around the world.  Realising the global importance of the site and the long-term economic benefits which it will bring to the region, the government has committed to funding any shortfall with a similar amount.  As the site was damaged by a potential hydro project this sum will be raised by increasing the business rates on hydro electric schemes and reducing significantly forestry grants in the private sector. Negotiations are already taking place with the landowner and local authority planners to build a  state-of-the-art visitor and interpretive centre which will be linked to the cave by discreet covered walkways and viewing platforms. The infrastructure required to cater for thousands of sightseers will be enormous requiring public roads and bridges to be upgraded.