Morvern Lines – 4.3.21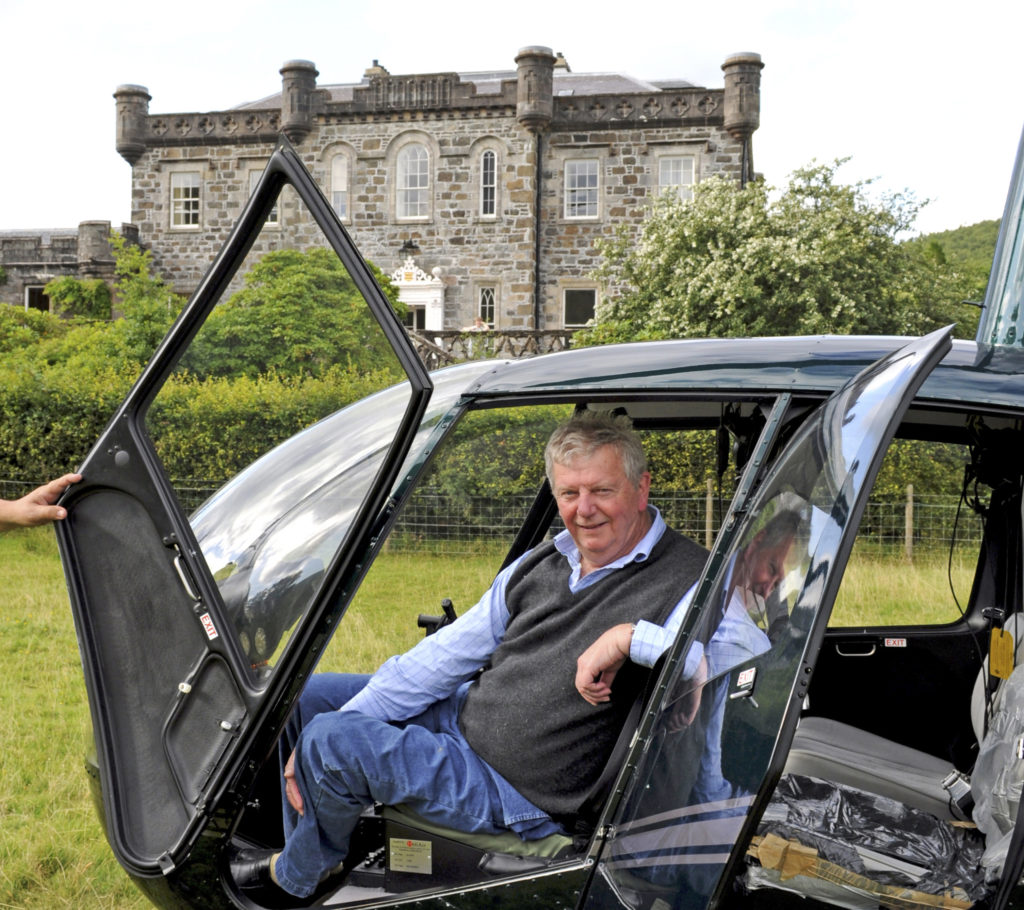 Want to read more?
We value our content and access to our full site is only available with a  subscription. Your subscription entitles you to 7-day-a-week access to our website, plus a full digital copy of that week's paper to read on your pc/mac or mobile device.  In addition, your subscription includes access to digital archive copies from 2006 onwards.
Just want to read one issue? No problem you can subscribe for just one week (or longer if you wish).
Subscribe Now
Love them or hate them, titles have been around for centuries.
Mention the word and we immediately think of lords and ladies, dukes and duchesses and other members of the nobility but, in fact, they have been in everyday use since the human race began; Mr, Mrs, Dr, Editor, Colonel, Rev, to name only a few.
Those which are very old usually have a fascinating story, especially the territorial ones that go with a piece of land or the guardianship of an ancient relic such as the Baron Livingstones of Bachuil on Lismore who have been Keepers of the Bachuil Mor – St Moluag's staff – for more than 1,000 years and whose title is one of the oldest existing church offices in the UK.
Scottish barony titles used to be called territorial dignities, until 2004 when someone in the Scottish parliament with nothing better to do swept aside centuries of history and separated them from the land making them a personal one instead.
In the area covered by The Oban Times, however, there are, happily, many old Campbell families still using their territorial titles such as: Airds, Ardchattan, Barcaldine, Ballieviolan, Dunstaffnage, Inverawe, Lochnell, Succouth, Saddell, Glassary and Kilberry, to name but a few.
Hereditary chiefs and chieftains in their own right are: Campbell of Argyll, Cameron of Lochiel, MacDougall of MacDougall, MacLeans of Ardgour, Lochbuie and Duart, Stewart of Achnacone, Malcolm of Poltalloch and so forth.
Of these, the Camerons of Lochiel, whose recorded lineage goes back 700 years, are among the most well known.
In 1746, the Gentle Lochiel, 1695-1748, who comes into Adam Smith's famous book The Wealth of Nations, prevented the Jacobite army from ransacking and looting Glasgow on their return north from Derby, which is why to this day the city bells are still rung whenever the chief is in town on official business.
Three unusual titles which stand out are: The McGillycuddy of the Reeks, The MacPhunns of Dripp, or Dreip, and the MacVanishes of Cromarty.
The first is the hereditary chief of the name, a family originating around MacGillcuddy's Reeks, a range of mountains – reeks – in County Kerry in Ireland.
The McGillycuddys were a cadet sept of the O'Sullivans who, about 1600, adopted the surname Mac Giolla Chuda, anglicised into McGillycuddy. Legend has it that a 17th century O'Sullivan Mór sent his son, Mac Giolla, to be educated under the tutelage of Saint Mochuda at Lismore in Ireland, not the one in Argyll, and hence became known as O'Sullivan Mac Giolla Mochuda.
Baroness Margaret Thatcher, UK prime minister 1979-1990, belonged to this family and on her father's side she was descended from Colonel Sir John William O'Sullivan, Quartermaster General to Bonnie Prince Charlie in his 1745 insurrection against the British state.
I sat next to her husband, Sir Dennis, at a lunch at Glensanda in 1990 and, thinking that he might be interested, I happened to mention this fact and told him I intended pulling the story together and sending it to his wife at No 10 Downing Street.
'You certainly are not,' came the sharp response. 'She has enough problems with the Irish without you starting that nonsense.'
Incidentally, only five persons are, apparently, entitled to the prefix 'the'.
These are: The Pope, The Chisholm, The MacGillycuddy, The Mackintosh and The Devil! The MacPhunns of Dripp, or Dreip, were a family of 'barons' or small landowners around Loch Fyne-side owing allegiance to the Lamonts and the Campbells of Argyll. MacPhunn comes from Gaelic, Mac Gille Mhunna, or MacMunn.
The main branch of the MacPhunns were of Invernoaden and those of Dreip were an offshoot.
Campbell charters show them flourishing chiefly in the parish of Kilmalish – now Strachur – as early as 1525. Dreip, which is no longer shown on today's maps, stood a little way below Invernoaden Farm close to the A815 which connects Strachur and Dunoon.
A ruckle of stones is all that remains of the 'castle' of Dreip, where Mary Queen of Scots stayed in 1563 on her way to Inveraray to visit her half-sister, the wife of the 5th Earl of Argyll.
The MacPhunns were once fairly prolific in that part of the county and enjoyed the patronage of the powerful Campbells of Strachur, who favoured them with leases of mills, inns and ferrying rights across Loch Fyne. That is until one, Archibald, for no apparent reason, murdered Duncan Campbell, one of his customers in the Dreip inn on Hogmanay December 1690. Archibald took to the hills with his gun and hid in a cave on Beinn Beula high above Invernoaden before being apprehended. He duly appeared at Inveraray before Sir Colin Campbell of Ardkinglas, Justice Depute of Argyll, who sentenced him to death on January 16 1691 by hanging. The sentence was duly carried out at the old execution place at the Craigs about a mile south of Inveraray.
His wife crossed Loch Fyne by boat to bring his body home for burial but on the return journey she and the ferryman noticed the shroud moving. Whisky, 'the water of life', was quickly poured down his throat and by the time they reached the opposite shore Archie had recovered.
It had obviously been what was termed a 'botched hanging'. As the law in Scotland did not permit anyone to be hanged twice for the same offence, 'Half Hung Archie' – albeit with a crick in his neck – lived to a good old age and was buried in front of Strachur Parish Church in a spot later marked with a stone inscribed: 'The Burial Place of the MacPhunns of Dreip'.
Local tradition has it that Archibald was found guilty of sheep stealing, which too was punishable by death, but the Argyll Justiciary Records for 1664-1705 show otherwise. A cairn marking the place where the MacPhunns landed just over half a mile north of the old jetty at Creggans Point appeared by name on maps until the 1960s but has evidently disappeared either through storms or road widening.
According to George Fraser Black's Surnames of Scotland (1946) the MacVanishs – sometimes called MacVenish or MacVinish – are descended from Marcus, in Gaelic MacMhanuis, which was a personal name found among the MacDonalds and the MacLeans.
The name is Old Norse, Magnuss, meaning 'great' as in Carolus Magnus (Charlemagne). The first on record who bore this name in the Western Isles was, allegedly, Magnus mac Arailt, a Hebridean chieftain in 972.
In 1718 a Malcolm MacVinish of Kerameanach is recorded in North Uist. Dr George Henderson, 1866-1912, the famous lecturer in Celtic at the University of Glasgow, wrote in his most notable work, The Norse Influence on Celtic Scotland (1910), that the Laoidh Mhanus – the Lay of Magnus, an ancient Irish poem recorded in MSS in Dublin, was the framework of James Macpherson's epic poem Fingal.
The name McVinish appears on gravestones and old records for Ross and Inverness-shire from 1712. As for the current whereabouts of the MacVanishs, I will spare readers a really bad pun.
Scotland stands second to none in the world for its colourful history, ceremonial and clanship. No other country has such a collection of national titles and ancient offices that tells us so much about our heritage. Argyll has four, including the Keeper of the Bachuil, Lismore, whom I have already mentioned.
The first is The Lord of the Isles, Prince and Great Steward of Scotland, Duke of Rothesay, Earl of Carrick and Baron Renfrew.
The ancient title of Lord of the Isles used to belong to the MacDonalds but in 1462 John, 1449-1493, fourth and last local holder of the title who lived at Ardtornish Castle in Morvern, began horse-trading with Edward IV in London about taking over Scotland. His treachery was discovered, the title was taken away from the MacDonalds and passed in perpetuity to the heir of the throne of Scotland.
When visiting the west coast of Scotland, His Royal Highness Prince Charles and his wife Camilla, Duchess of Cornwall, are known as Lord and Lady of the Isles.
Continued next week.