Letters to the Editor – 4.3.21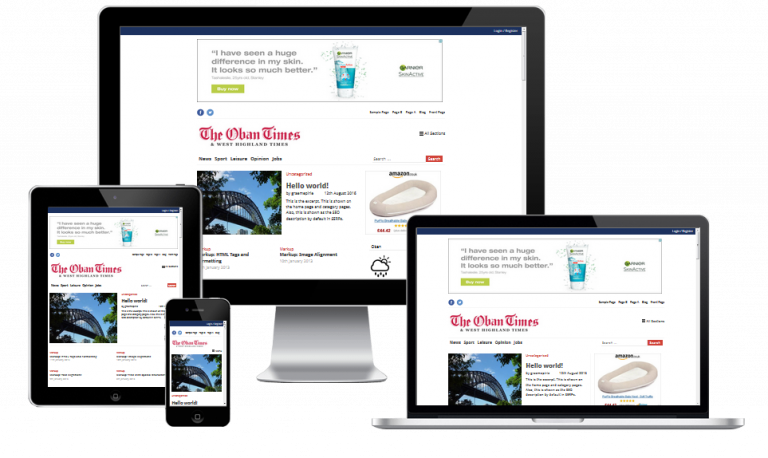 Want to read more?
We value our content and access to our full site is only available with a  subscription. Your subscription entitles you to 7-day-a-week access to our website, plus a full digital copy of that week's paper to read on your pc/mac or mobile device.  In addition, your subscription includes access to digital archive copies from 2006 onwards.
Just want to read one issue? No problem you can subscribe for just one week (or longer if you wish).
Subscribe Now
Expansion of salmon farm
I read your article, dated Thursday 18 February, and noted the unfounded and false points that are now commonplace surrounding Scottish aquaculture.
I was born in Oban, went to high school here and I've been involved in salmon farming since 1987, both in local waters and overseas.
The terms 'pollution', 'excrement' and 'excess medicines' are used to illicit a response and are not a true reflection of what actually occurs.
We are permitted to use medicines, regulated by veterinary prescription and government licences, much like any farm. Salmon do not produce faecal coliform bacteria, E.coli, which birds, animals and humans do, so comparing to sewage is wrong. Excess feed is also incredibly rare as we spend hours monitoring our fish to ensure the feed is fully utilised, if you check our cage side seabed compliance you will note we have no failings.
Wild swimming will not be impacted and I would point out that it is often a fish farm vessel that is first on scene to aid anyone in distress – although please keep outside the buoys, you wouldn't walk into a working farmyard, so I would ask you do not swim into ours.
These Linnhe farms support directly 43 staff (that's 43 families living locally) and a further 15 staff via our support services. This does not include the £10million investment in Scottish supplied pens, netting, moorings and vessels – of which we are leading the sector with hybrid technology to further reduce our carbon footprint, already one of the lowest in food production, and minimise 'noise' – nor does it include the many suppliers who help us produce some of the finest salmon in the world.
Finally, expanding a farm, creating and safeguarding jobs in a rapidly growing population centre is something to applaud, not vilify – Covid has taught rural Scotland that we need local, well paid jobs that are not solely dependent on tourism (which we also welcome outside the buoys, almost daily in the summer via local tour operators).
Innes Weir, Barcaldine.
Working for Scottish Sea Farms
I have worked for Scottish Sea Farms since August 2019 after having no previous experience in the aquaculture industry whatsoever. I can't stress enough how much I've enjoyed working for them since.
They are a very public-oriented company that take genuine pride in what they do for local communities with sponsorships and employment opportunities. I worked a number of jobs before finding one here and I haven't looked back since.
They are great employers and provide an unparalleled amount of quality training for their staff who all feel valued as a part of the organisational structure. In the time I've worked for them I've admired how much they involve themselves in the welfare of the marine environment that they cultivate salmon in.
Calum Galbraith, sent in by email.
Growth should be welcomed
Flit Self Drive have dealt with Scottish Sea Farms for over a decade now, whether it is servicing their own vehicles, short and long-term hire or heavy side lifting and transportation.
During that time it has become obvious their commitment to the local community is total.
They are easily one of the largest employers and it follows that their contribution to the local economy is vital. This has been highlighted even more so over the past year with the pandemic, with continued employment of so many workers.
When dealing with them it is obvious that their concern for the environment is high on their list of priorities, with them demanding very high standards from themselves and their suppliers. In their processing facility at South Shian, they set and maintain rigorous high standards, for all their customers, including the top end users.
In all our dealings with them, sustainability and care for the environment is at the forefront of everything they do. The long standing support and contribution to local causes that they provide is very much appreciated and vital to the community.
Their continued and steady growth should be welcomed by us all, and we wish them well in all that that they strive to achieve.
William Bonniwell, Oban.
Barra ferry plea
Open letter to CalMac and CMAL officials, Transport Scotland and politicians.
I wrote to you a few months ago regarding issues we were facing as a result of the poor ferry service on the Barra route Oban-Castlebay. I did eventually receive a reply but it didn't say much other than 'we always try our best to offer a service where possible'.
We have recently had an extended period of bad weather, and as I said in my last email this is not where the issue lies. What has compounded the poor service we have had has been the lack of a suitable vessel for our run in the absence of the Isle of Lewis.
The Hebridean Isles was meant to take up our route on January 29. Here we are more than three weeks later and we've yet to see her in Castlebay this year. This is largely due, I can only assume, to the fact that she is a much smaller vessel and as such cannot handle the wave heights and swell conditions that the larger vessels can.
The question needs to be asked, why are the Isle of Lewis and Clansman sent to annual overhaul at the same time? This means LOTI covers the Coll/Tiree route and the Heb Isles is left to serve Barra and the Isle of Arran to cover South Uist.
How can it be seen as a good idea by those planning the major vessel annual overhauls, to leave the two oldest and smallest of the fleet to cover the most exposed routes in the network during what can clearly be seen as the worst time of year for bad weather and subsequent chance for cancelled sailings?
It is obvious that Clansman and Isle of Lewis' dockings need to be separated, and if relief vessels like isle of Arran and Heb Isles are to be used as cover then this should only be at times of the year when weather is suitable and the chance of cancellation is much lower.
This is not the first year that this issue has presented itself, but certainly seems to be the worst in recent times.
I mentioned it in my last email but feel it needs reiterated; the resulting impact (not only financial) on our business and others like us is enormous when we face periods of extended cancellations.
This past week we had to resort to a more unusual and much longer journey across the sound of Barra, up through the Uists and across to Skye, just to get a load of hay home. This meant my driver, who is mainland based and normally collects the truck in Oban, having to fly up to take the lorry away. This, coupled with the extra mileage and fuel costs, adds enormous strain to us as a business but we were left with no other choice given the eight days when we had with no service from Oban.
Even this past weekend when the Heb was brought down from Uig and LOTI sent up to cover her routes, we were told there would be a 16:05 sailing from Oban to Castlebay on Saturday February 20. The forecast was already poor for Saturday, but late morning on Saturday we found out the Oban to Castlebay service was cancelled due to weather. If the weather was suitable to cover Coll and Tiree, why couldn't the Isle of Mull cover this service after a round trip to Craignure, leaving the Heb to head across to Castlebay earlier in the day before the weather set in?
I'm aware this would perhaps have caused upset in Mull, but at least that way each island would have had some service that day.
I strongly urge you to listen to these points that I, and no doubt others have made recently and re-evaluate your annual docking schedule. We simply cannot carry on like this in the years ahead.
John MacLennan, John MacLennan Contractors Ltd, Castlebay, Barra.
JMT rebuttal rings hollow
The John Muir Trust's rebuttal of claims that they have been leaving dead deer in public view in the Nevis Gorge area last month (Lochaber Time, February 18) has a hollow ring to it.
They admit to leaving carcases on the hill due to extraction difficulties, but the allegation that some person or persons unknown would make their way in through the gorge to the Steall area, locate said carcases in extremely rough terrain, drag them to the vicinity of the tourist path, then arrange them for a photo shoot simply beggars belief.
JMT spokesperson David Balharry claims that removing venison from carcases on the hillside will be the future model for deer control, and allow greater community access to venison. Perhaps he would like to elaborate on this ? How he proposes to promote venison by removing a minimal quantity of meat, in what must be a questionable manner with regard to food hygiene, and leaving the rest to become carrion on the hillside, escapes me.
The JMT's track record in deer management over the years, both in the Ben Nevis area, and on other properties such as Li and Coire Dhorcaill in Knoydart, is abysmal. They constantly devalue what is widely regarded as Scotland's most iconic species, both in life and in death.
A model for the future? I, for one, sincerely hope not.
Mike MacNally, Invergarry.
Investment in teachers
Am I alone in wishing schools weren't returning? During this lockdown, our child has been far more engaged in learning and has been catching up on where they should be in terms of the three Rs. All in the space of six weeks, and all because Argyll and Bute Council has adequately resourced the school with teaching staff!
In small schools, the council require one teacher to teach primaries one through to seven, all in one class simply because the school roll is small. When you deduct the allocated allowance for head teacher duties (and that's assuming the time allowed is sufficient) our school has a 1.1 full-time equivalent teaching allocation for the preparation and delivery of lessons across the three education levels of the primary curriculum. There surely needs to be a more adequate minimum staffing level for any school with children at multiple stages of the curriculum.
By August 2021, our schools are meant to be ready to implement the 1 + 2 learning approach to languages. With a multi-level class, how do the council propose that one teacher can adequately embed two different languages in almost every aspect of the school day? The implementation will be devolved to the head teacher but the council still have the responsibility to provide adequate staffing resources. Are our children just to miss out on the chance for this to be delivered with excellence?
The council will blame it on funding, but they have choices, one of which would be the cluster model for management. At the very least, they need to remind themselves that they can't meet their statutory obligation to deliver a Curriculum for Excellence to all without investing in teachers. Get that bit right, and the rest should fall into place!
Education should not be a postcode lottery.
Name and address supplied.