Morvern Lines – 30.7.20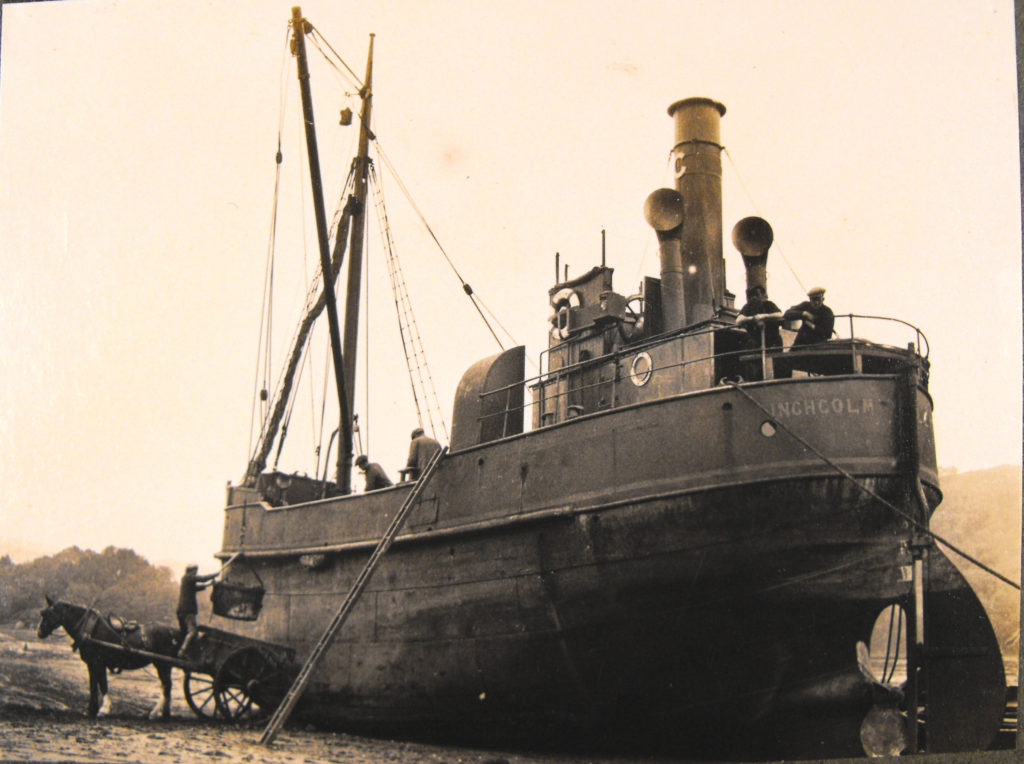 Want to read more?
We value our content  and access to our full site is  only available with a  subscription. Your subscription entitles you to 7-day-a-week access to our website, plus a full digital copy of that week's paper to read on your pc/mac or mobile device In addition your subscription includes access to digital archive copies from 2006 onwards
Just want to read one issue? No problem you can subscribe for just one week (or longer if you wish)
Subscribe Now
'Do you know what a puffer is?' I asked a local teenager the other day. 'An old geezer who smokes a lot' came the reply. Well, partly right I suppose, but it wasn't the answer I had hoped for.
Maybe my question was a touch dated these days but I can scarcely believe Scotland's legendary Para Handy and the Vital Spark have gone to the bottom of the Minch and into the dustbin of history already.
To answer my own question, just in case anyone reading this is any doubt, puffers were sturdy small, coal-fired, single-masted cargo ships, built mainly on the Forth and Clyde Canal. They came on the scene in the mid 1800s and chugged their way round Scotland's west coast for the next 100 years providing a lifeline for remote communities. The beauty of these vessels was that they were almost flat-bottomed and could be beached at low-tide, discharge their cargoes and float off at high water allowing  them to meet their customers' needs without having to come alongside a stone jetty or a pier.
It truly can be said that they were the 'wheelbarrows of the west', carrying anything from coal to coffins, nails to treacle, and almost every other necessity for croft, farm and mansion-house in between. The term puffer came from steam exhausted up the funnel in a string of puffs which could not only be seen but heard from miles away and although many of them were later converted to oil, the name stuck.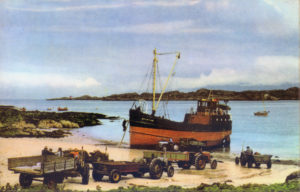 Puffers changed very little over the decades other than in length, breadth and advances in engine and off-loading technology. Those that ventured into sheltered sea lochs remained under 65ft, allowing them to fit short canal locks, while the larger boats bound for the West Coast and its open waters, were kept below 88ft in order that they could pass through the Crinan Canal thereby avoiding a longer and often rougher passage round the Mull of Kintyre.
During the First and Second World Wars these tough little ships proved themselves servicing battleships in Scapa Flow and many other naval establishments up and down the West Coast.  So impressed were the Admiralty that they placed an order for boats of a similar type classing  them as VICs (Victualling Inshore Craft).  Many of the early ones were steam-powered but after Second World War new puffers went down the slips with diesel engines. The coasting trade serving mainland and islands destinations was kept up by a dwindling number of shipping companies until in 1993 when the government withdrew subsidies and, unable to compete with road transport using subsidised RoRo (roll-on/roll-off) ferries, the service ended.
Of course, as anyone in the Hebrides who has had anything to do with the sea knows, it was not just the vessels themselves which were special but the men who crewed them. Neil Munro (1863-1930), the Inveraray-born Scottish journalist who was familiar with Clyde puffers, spotted a good yarn and invented a fictional character called Para Handy in the Glasgow Evening News of which he was editor. Soon his hilarious stories were published in book form to be followed by a comedy series produced by BBC Scotland. The show soon became a popular Friday night television slot for its easy-going humour and colourful characters, which included Para Handy played by Duncan Macrae, Dan Macphall (John Grieve), Dougie (Roddy McMillan) and Sunny Jim (Angus Lennie). Their less-than legitimate dealings along the West Coast ran for six episodes between 1959 and 1960. The adventures of the West Highland puffer skipper and the crew of the Vital Spark have enjoyed continuing success and have been adapted for television, stage and film all over the world.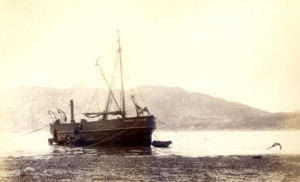 Some puffers returned to the same places every year. The day they were due to arrive was eagerly awaited – not only for the contents of their holds but as an opportunity for old friends to meet and to ceilidh during the three or four days they were in the area.
When the Strontian lead mines were in operation and the population of the surroundings communities was higher than today, Loch Sunart was a popular destination for Clyde vessels bringing coal and general provisions, and taking away lead ingots, wool, sand and timber. Birch and oak were exported in quantity from Sailean nan Cuileag near Salen. Birch in particular went to the Clydeside steel foundries to be used as brooms.
Following the First World War the demand for Loch Sunart's high quality sand increased to such an extent that three Glasgow shipping companies were engaged in carrying it. Ross and Marshall of Greenock had the fastest puffer on the Clyde. Hamilton Brother's Rivercloy, Invercloy and Glencloy were well ahead of the loading and unloading game and consequently had the quickest turn around. Others were the Handa, her successor the Brenda,  popular because for many years her captain and most members of her crew were local. The Crusader had two masts and was one of the largest.  She always came into Salen with what was known as the poor's or pensioner's coal. Others were the Lady of the Lake, Incholm and the Inchmurrin; Ross and Marshall's Sealight, Raylight, Dawnlight and Warlight; and Warnock Brothers of Paisley's Logan, Faithfull, Douglas and the Petrel.  At one time household names, today they are hardly remembered.
Calling at Jura were the Glencloy – which my good friend Iain Mackinnon, Kilmelford, tells me was the last puffer to discharge coal at Tarbert Bay using cobles to take it ashore; the Dane, Kaffir, Kyle, Froach, Glenshira,  Raylight and the Pibroch, commissioned by the White Horse Distillery, locally known as the distillery boat because she used to carry casks between the Islay distilleries and the Kingston Docks in Glasgow. Despite the presence of Customs and Excise Officers there was apparently a knack of dunting a cask full of whisky, just before it was placed into the bottom of the hold and capturing the ensuing drip in cleverly hidden channel which ran along the bilges and recovered later. Tim Epps, Port Charlotte, Islay, whose family had owned Laudale and Glencripesdale estates in Morvern in the 1950s, has a good knowledge of the history of Islay's maritime trade. He tells me he worked as a deck-hand on the Pibroch and was paid 1/6d a ton for shovelling coal into buckets before it was slewn ashore –  a hard, dirty and tedious job.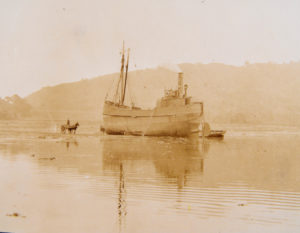 Coal for Ardtornish estate was brought by puffer from the Clyde twice yearly and deposited into carts on the beach below Kinlochaline.  When the tide permitted it was taken away and delivered round the employees' houses as part of their wages. The remainder went to the mansion house to feed the huge central-heating system which gobbled almost a ton a day. Other landings were at Loch Teacuis, Drimnin, Killundine, Glencripesdale, Laudale and Lochaline. I can see yet in my mind's eye the indomitable and diminutive Miss Helen MacNicol, the Lochaline shopkeeper, sitting on an ancient wooden chair at the head of the old stone pier keeping the tally as each bucket load was swung ashore and put into heaps or onto a cart or trailer.