Morvern Lines – 23.7.20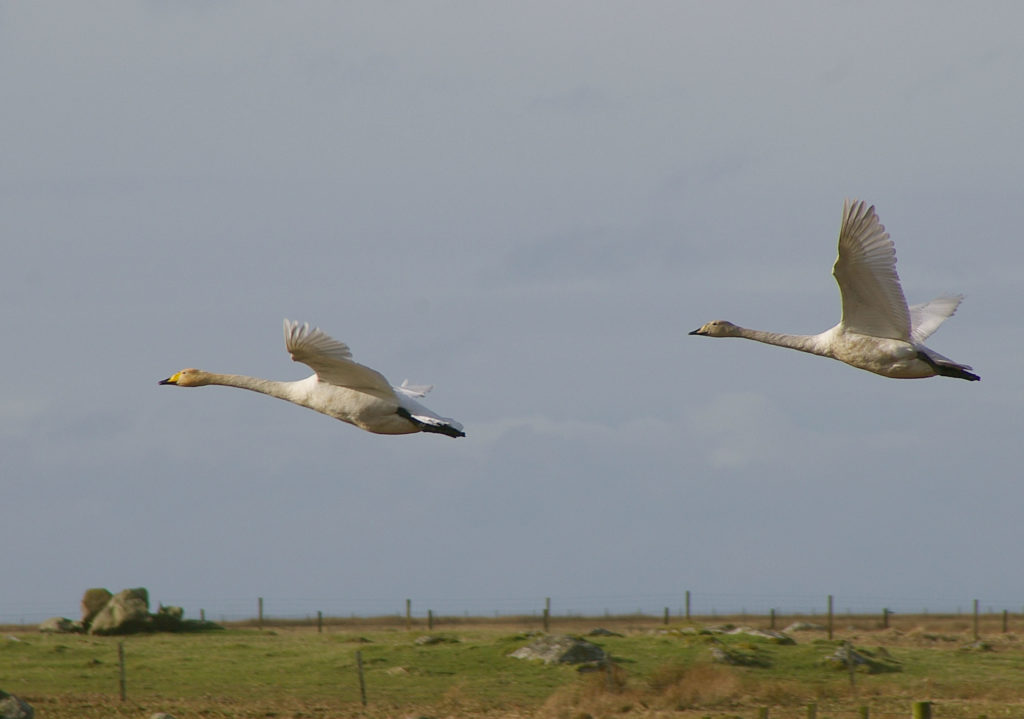 Want to read more?
We value our content and access to our full site is only available with a  subscription. Your subscription entitles you to 7-day-a-week access to our website, plus a full digital copy of that week's paper to read on your pc/mac or mobile device.  In addition, your subscription includes access to digital archive copies from 2006 onwards.
Just want to read one issue? No problem you can subscribe for just one week (or longer if you wish).
Problems logging in and require
technical support?
Click here
Subscribe Now
There can surely be no better sight in the world than seeing 30 to 40 wild whooper swans alighting and taking off from a reed-fringed Highland lochan beneath the hills as they migrate to eastern Iceland in the spring of the year.
The journey to their breeding grounds is a long one. Some fly non-stop and at very high altitudes –  the pilot of a jet once reported seeing a flock of them at 8,000 feet – others stop-off, refresh themselves and refill their crops for a few days as they wait for their friends to catch up. Then, all together, off they go paddling at ninety-to-the dozen into the wind, webbed feet and wing beats moving in unison until, suddenly, they are airborne emitting their melodious bugle-call notes as if to reassure the younger birds as they gather height and head northwards.
Whooper swans are the national bird of Finland and feature on the Finnish 1 euro coin.
The whooper swan is one of the loveliest of all creatures, its snow white wings arched over its back and its curved neck is near perfection. When words such as elegance, beauty, longevity and power come to mind,  it is something of a shock to come across a dead one as I experienced not long ago when I discovered its limp remains on the shores of Loch Arienas – a large inland loch in Morvern.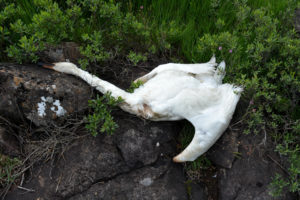 I had seen this young whooper alone and looking unwell some weeks before.  At Slimbridge near Dursley in Gloucestershire, the home of the Wildfowl and Wetlands Trust's Slimbridge Reserve, which was started by Sir Peter Scott – scientists have confirmed the old belief that swans can pass away from a broken heart if their partner dies and they don't find another. Perhaps this is what happened here or that it was injured and got separated from its companions – incidentally,  a group of swans is called a bevy, or a wedge, when they are in flight.
An old legend tells that there are very few swans on Loch Sunart because of a doomed love affair between a young Celtic chieftain and a local girl. When the chief's mother, who opposed a marriage, turned her into a swan to derail their love, the young man accidentally shot it with an arrow while he was out hunting. Learning of the swan's real identity he killed himself to join it at the bottom of the loch.
Believe it or not swans are seldom seen on Loch Sunart even to this day. Shades of Tchaikovsky's opera, Swan Lake, which is a timeless love story that mixes magic, tragedy, and romance into four acts. It features Prince Siegfried and a lovely swan princess named Odette. Under the spell of a sorcerer, Odette spends her days as a swan swimming on a loch of tears and her nights in her beautiful human form. The  solo dance, the Dying Swan, is taken from the Carnival of the Animals, composed in 1886 for the ballerina Anna Pavlova, who performed it about 4,000 times,  and not from Swan Lake as is commonly thought. The swan is called Eala in Scottish and Irish Gaelic and was known of old for its majestic grace and gliding mystical beauty associated with the Otherworld.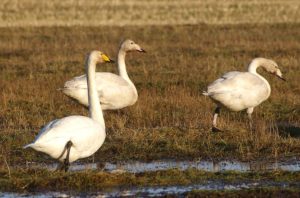 An Eala Bhan – The White Swan – is said to be the best Gaelic song in the world. It was composed by Domhnall Ruadh MacDhomhnaill Choruna – Red Donald MacDonald of Corruna, North Uist – when he was recovering from his injuries after being wounded in action in 1916, while serving with the King's Own Cameron Highlanders in No Man's Land at the Battle of the Somme. It is a love song addressed to Maggie Macleod of Lochmaddy, South Uist. The bard writes: 'I reckon I'm in a pretty sorry state, with my heart being seized by sadness from the time when I left the high mist-shrouded hills, the little valleys filled with love songs, with their lochs, bays, and streams and the white swan who stays there every day when I am hunting'.
Considered one of Scotland's greatest war poets Donald MacDonald's An Eala Bhan was sung in Gaelic by North Uist's own Julie Fowlis on July 1, 2016, at the Thiepval War Memorial in France on the 100th anniversary of the Battle of the Somme which was attended by the British Prime Minister, David Cameron, French president Francois Hollande, the Prince of Wales, the Duchess of Cornwall, the Duke and Duchess of Cambridge, Prince Harry and several thousand mourners.
When a swan is wounded, dying or about to take off,  it is said to sing. Aeschylus, the Greek dramatist poet who lived long before Plato, when speaking of Cassandra  priestess of Apollo in Greek mythology, says: 'She, like the swan expiring, dies in melody'. Nearer home, the supposed blind third century Scottish bard, Ossian, according to James Macpherson, wrote: 'Sweet was her song as the voice of the wounded swan, when she sings away her soul in death and feels in her breast the fatal dart of the hunter'.  The ancients all believed that a swan's singing prowess was heightened as death approaches, giving rise to the idea of the swan song, or the final performance.
John Cameron, in his Gaelic Names of Plants, Edinburgh (1883), tells us that the Stinking goosefoot plant (Chenopodium vulvaria), found on damp waste ground and on the fringes of hill lochs, is the favourite food of swans – hence its Gaelic name, Elefleog. (El or ela, a swan; and fle or fleadh, a feast). Others suggest the name comes from its leaves which resemble the foot of a goose. It gives off a nauseating smell of rotten fish thanks to the presence of trimethylamine but, despite this and its unattractive appearance,  it is used in the homeopathic treatment of gout, rheumatism, hysteria and nervousness. Because of its rarity and declining numbers it is protected in the UK under the Wildlife and Countryside Act.
Returning to the swan I found at Loch Arienas.  The Queen has a prerogative over all swans in England and Wales but not in Scotland. Nevertheless, I felt that a record should go to David Barber MVO, Her Majesty's officially-appointed Swan Keeper, or Swan Marker to give him his proper title. His duty is to count the number of young cygnets each year on certain stretches of the River Thames and its tributaries and to despatch swans all over the world, sent as gifts in the Queen's name.  Having provided the facts, my instructions were to dispose of the body. So, I buried it, facing north, just below the summit of an unnamed heather-topped point overlooking the spot where it had been washed ashore. Who knows, one day a new place name, 'Rubha na h-eala', may yet find its way onto Ordnance Survey maps for posterity and in memory of the little swan who never made it to Iceland in 2020.