letters to the editor – 4.6.20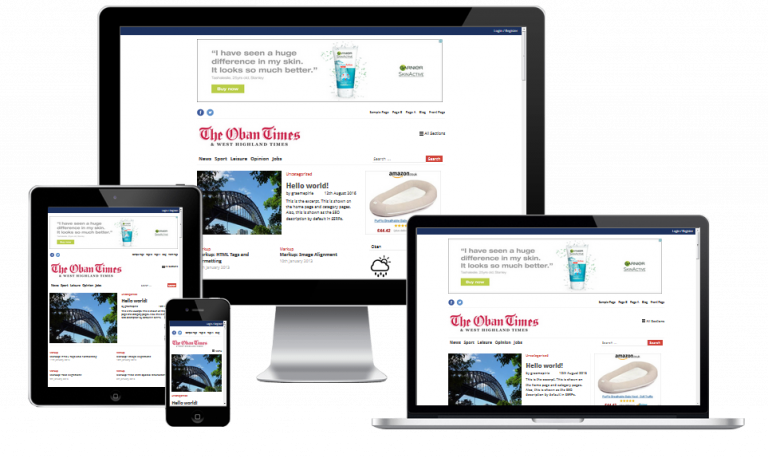 Want to read more?
We value our content  and access to our full site is  only available with a  subscription. Your subscription entitles you to 7-day-a-week access to our website, plus a full digital copy of that week's paper to read on your pc/mac or mobile device In addition your subscription includes access to digital archive copies from 2006 onwards
Just want to read one issue? No problem you can subscribe for just one week (or longer if you wish)
Subscribe Now
Scottish Government are right to 'ca' canny
I read with interest Angus MacDonald's Around Lochaber column in the Lochaber Times of 28 May. Angus is a competent businessman whose commitment and generosity to Lochaber is clearly seen. Whilst I disagree with his conclusions his piece is thought provoking and a useful contribution in giving a local perspective on the national debate. No one should underestimate the adverse effects of lockdown on physical, emotional, economic and societal health.
However I do wish to pick up on two points Angus made. Firstly contained within his quote attributed to Edinburgh biologist Professor Richard Ennos is the proposition that 'an appropriate policy is the targeted shielding of those who chose to be classified as vulnerable.' I find this choice of language unhelpful. Prof Ennos' primary academic interest is in the study of plants.(1) Many Lochaber residents will have received official shielding letters on account of medical conditions such as cancer, severe asthma, organ transplantation or treatment with powerful medicines which suppress the immune system. I know there will be many within this group who would feel they have little choice in being particularly susceptible to the serious effects of coronavirus.
Secondly, Angus contends that the Scottish Government was too slow to impose lockdown and also too slow to release restrictions. I have a degree of sympathy with the first contention. However in terms of releasing restrictions we must proceed with utmost caution. Returning to normal too early carries significant risk. It is worth pointing out that on 23 March (when lockdown was first imposed) the average daily number of new cases over the preceding week was 47. In the week leading up to 25 May that daily average stood at 61. (2). If the government were on the tardy side in imposing lockdown they would be foolish to release restrictions any more than they have done so given current number of cases.
Like most of your readers I long for a return to a more normal Lochaber summer. This does however need to be done at the right time; the Scottish Government are right to 'ca' canny' on this one.
(Dr) John Wallace, Banavie, Fort William
1. The University of Edinburgh profile of Prof Richard Ennos: www.ed.ac.uk/profile/richard-ennos
2. Derived from Scottish Government official figures: www.gov.scot/publications/coronavirus-covid-19-trends-in-daily-data/
No regard for community concerns
In reply to Angus MacDonald's comment last week in Around Lochaber on the Scottish Government's lockdown strategy, Mr MacDonald obviously has his own agenda and probably political affiliations.
There is no mention of the danger of ending the restrictions too early or how difficult it is to predict the results of any strategy. It appears he is more concerned with his business concerns than with people's lives.
I'd add a paragraph: we can make a simple choice, reopen everything, everyone back to work, floods of tourists and simply take the chance a disastrous second wave and renewed lockdown won't happen, or we can listen to the First Minister who, unlike Mr MacDonald, has the personal responsibility to follow the best professional advice available to her and to plan accordingly, as difficult as it is, in the best interests of all of us.
Jim MacKay, Barcaldine.
kajfg
In his Around Lochaber column, Angus Macdonald bemoans the lack of a timetable in the Scottish Government's plan to exit from lockdown. Of course there isn't a timetable – how could there be when each step depends on the success of the previous stage? The plan is a sequence, not a programme.
Whether businesses in England are being encouraged back to work is irrelevant; the vast majority of people in Scotland are endorsing the Scottish Government's cautious approach. Coupled with that scientists and clinicians advising the UK Government are now very concerned that the relaxation of restrictions in England is going far too quickly which may result in a second wave.
While Mr Macdonald cites a cost to Britain of £250 billion much of that is in
loans. The cost of grants under the job retention scheme is likely to be
£80 billion by October which is a fraction of the £1.2 trillion provided to the
banks after the 2008 crisis. We need to look at these things in context.
Those living in the West Highlands don't need to be reminded of the importance of tourism. Many of those who are involved in those businesses or in associated services are also worried about a premature influx of tourists from more infected areas of the UK. We need the assurance that COVID-19 is under control in the areas the tourists come from, at which point visitors will be welcomed – but not yet.
It's easy for any of us to fish for statistics that support our argument but the
eventual emergence of accurate international data on seasonal excess deaths will be the acid test of how this crisis has been handled in UK. Until
then, the consensus seems strong that countries like the UK and the US
locked down too late, perhaps by three or four weeks. Don't
blame that on the First Minister.
Rather than concluding the column in a litany of inaccuracies it would have been better to have been correct. For example, the Scottish testing and
tracing programme is up to speed, differing financial support has been adopted to recognise the different nature of the Scottish economy and allow more sectors to benefit. The NIKE conference story has been debunked some time ago and it's wrong to suggest otherwise – contact tracing always centres on the index case and their defined contacts which didn't involve everyone in the vicinity of the NIKE conference.
Last, there hasn't been a disproportionately higher death level in Scottish care homes, which myth has been debunked by the London School of Economics. Proportionately, there have been 25 per cent more deaths in care homes in England and Wales, compared with Scotland.
Someone writing a column in a reputable newspaper surely has a duty to present accurate information?
Bill Lees, Glenmallie, Banavie.
Selfish bikers put residents at risk
This weekend Oban was shaken out of lockdown by the roar of over 20 motorbikes coming in to town.
It beggars belief that so many selfish, irresponsible people could break the Scottish Government guidelines.
I am afraid that unlike the First Minister I don't have the same faith inhuman nature. I am deeply concerned that actions such as this can only lead to a spike in this dreaded pandemic. I have also noticed and increase in people visiting Oban. In one case, a minibus in George Street with at least eight people on board, not from the permitted five miles away.
The majority of Oban residents are doing the right thing but are being let down and being put in danger by the selfish  acts of others. If this is not stopped by those who have the powers to do so there is only one way we are going to end up and it is not good.
They came and they went, but goodness knows what they left us.
Councillor R McCuish,
Deputy Provost Argyll and Bute Council,
Oban South and the isles
Thank you to all our volunteers
Every year, Volunteers Week provides an opportunity to recognise the very significant contribution to community life made by those who give freely of their time and talents to help others.
Given the challenges wrought on all of us by the coronavirus pandemic, in this year of all years it is more important than ever to acknowledge and show gratitude for the dedication of volunteers.
Across Argyll and Bute, thousands of people – as individuals and in groups – have stepped forward to do what they can to help in these highly unusual and completely unfamiliar circumstances.
In doing so, they have very often put their own safety and health aside, focusing instead on assisting those who have found themselves in need of support or, sometimes, in very considerable hardship.
The Lieutenancy of Argyll and Bute has long taken an interest in the activities of Argyll and Bute's volunteers. In 2020 we have all been particularly heartened and encouraged by the way in which our communities have responded without hesitation, despite the very considerable challenges that they too are facing.
We have heard stories of how existing local groups have adapted and changed what they do in order to contribute to the collective effort. There are also new groups who have come together specifically to respond to this crisis. Some volunteers are quietly working alone, doing what they can to act where they see a need. In all our towns, villages and islands, they are out delivering food parcels and orders, collecting prescriptions, telephone befriending, setting up online chats over a cup of tea, making protective equipment for front-line workers, volunteering at foodbanks, cooking and baking for those who need food – the list is endless.
To all of those who are volunteering in and for Argyll and Bute, on behalf of the Lieutenancy of Argyll and Bute, I say: thank you. We see and hear what you are doing, and we are so grateful for all that you do. As communities it would be impossible to get through a crisis of this scale without your help. Thank you, most sincerely.
The Lieutenancy is always very keen to hear about volunteer activity across the area and if you know of a person or group in your community whose efforts should be recognised, please do contact me on patrick@llab.org.uk
Patrick Stewart CVO MBE WS,
HM Lord-Lieutenant for Argyll and Bute