letters to the editor – 28.5.20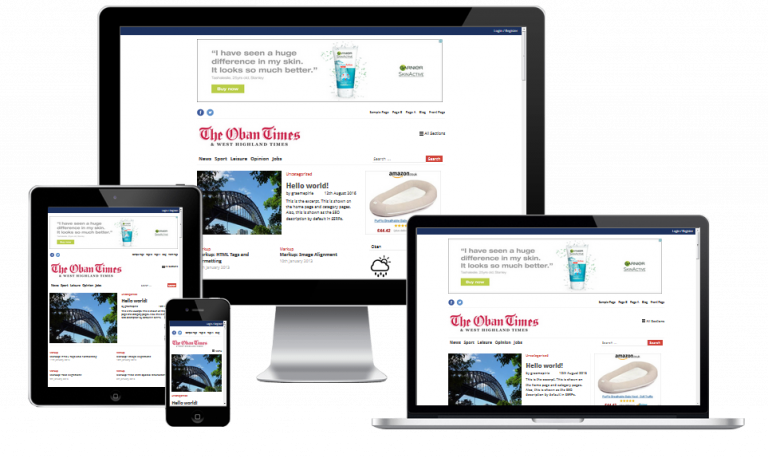 Want to read more?
We value our content  and access to our full site is  only available with a  subscription. Your subscription entitles you to 7-day-a-week access to our website, plus a full digital copy of that week's paper to read on your pc/mac or mobile device In addition your subscription includes access to digital archive copies from 2006 onwards
Just want to read one issue? No problem you can subscribe for just one week (or longer if you wish)
Subscribe Now
Buying Killundine is romantic dream at taxpayers' expense
Anyone reading the remarks attributed to Tilly Painter Jones in last week's Oban Times about a bid by her group to the Scottish Land Fund to purchase the 6,000 acre Killundine estate in Morvern, might assume that the entire local community is behind it. This is far from the the case – something that will come to light when the group tries to meet the rules showing that its members have a working knowledge of the land.
The only hope for Killundine estate is for its owners to offer it for sale on the open market and sell privately to someone of means who, unlike the majority of Morvern's other land owners, will also reside there.
A community buyout will only add to Scotland's multi-billion pound debt and result in asset-stripping. It will bring no benefits to Morvern other than satisfying a few individuals looking to fulfil a romantic dream at the taxpayer's expense. Finding the purchase price is one thing, amassing the annual running costs will burden the public purse for ever more.
Who wouldn't want a nice chunk of a Highland hillside if they can get it free?
We are told this is a lifetime opportunity to acquire Killundine. For whom? Certainly not the Morvern community, which along with the rest of the UK is now in the grip of a plague with no end in sight. Many people are dying and will be in debt because the Scottish Government cannot provide the necessary funding to halt it.
Is this the time to ask for several million pounds for such a unnecessary project regardless of the Right to Buy legislation? Morvern Community Woodlands should do the honourable thing and abandoned their objective immediately, or carry on buying a lottery ticket.
Iain Thornber, Knock House, Morvern.
Timely reminder of virus can only be good thing
The article on page six states that 'NHS will not give numbers of cases in the Oban area because of risk to patient confidentiality'.
Firstly no number alone can give away identity. Secondly, if numbers were to be give for the Oban area, surely this would warn the local population to be even more careful in their isolation. Over the weeks, many people may have started to think, 'It will not happen near me'.
A timely reminder of the closeness of the virus could only be a good thing.
Paul Zvegintzov, Lochaber.
Publisher steps in to help at time of pressing need
A huge thank you to The Oban Times for arranging to have a batch of The Braes [community newspaper for the Spean Bridge, Roy Bridge and Achnacarry areas of Lochaber] printed for us in this difficult and challenging lockdown period.
Although the online version of our magazine suited many, there is a substantial number of generally older and very loyal readers who do not have internet access etc and who would really miss their regular delivery of their local community paper.
Some actually send it on to friends and family in other parts of the world. On their behalf I thank the Oban Times for coming to the rescue. The look on their faces and their heartfelt appreciation speaks volumes of how much it means to them!
Margaret Sargent, editor of The Braes.
Island businesses urge gradual easing of lockdown
Open letter to Michael Russel MSP from business-people on the isles of Mull & Iona, 19/05/2020
Dear Michael,
Over the past four days we have been gathering signatories from Mull and Iona businesses for this letter. It has now been signed by 122 businesses from our islands, from the largest private employers down to bed & breakfast operators and sole traders. They cover all kinds of business – accommodation, food manufacture, farming, restaurants, construction and everything in-between.
As Mull and Iona businesses we support the actions taken to date by the Scottish Government in response to the unprecedented challenge of the coronavirus pandemic.
It is further understood that, until documented criteria are met, there is little room for loosening the current regime. We believe, however, that the time is approaching when the gradual easing of restrictions may be contemplated.
Our focus will then turn to the means by which we can safely begin the process of recovery. We write both as business people and as members of our close-knit island communities. It is hoped that it will be possible to progressively relax the current restrictions, keep the virus under control and arrive at the 'new normal'.
Inevitably each of those careful and incremental changes will require a balance between the threat posed by the virus, and the threats posed by the measures aiming to control it. The obvious challenge is to balance the protection of the community (particularly the most vulnerable), with the need to move forward to the eventual resumption of 'business as usual' and the recovery of our economy.
Island communities pose unique added complications in the face of a challenge such as COVID-19, but do offer the opportunity to verify controls at our ferry access points. However, it is unrealistic to consider long-term isolation as a viable strategy. The damage already done to the island economy since March will pale into insignificance if economic activity remains stagnant.
Our understanding is that the next phase of response will be one of 'test, trace, isolate, support'. We would fully endorse this as a strategy for Mull and Iona when the time comes and fully understand that this response might mean re-imposing controls if necessary and that these could be on a regional basis if this was the best solution at any given time. What we strongly reject is a long-term isolation policy that differs from the general, science-based, trajectory of the rest of Scotland.
Given clear unified rules from Edinburgh, we are sure that we will find the practical means to apply them in our own workplaces and public spaces.  We are all in this together.
Best regards
Signed by:
Simon & Eug Thomasson Achnadrish House, Alasdair Satchel Alasdair Satchel Film-maker, Mark Jardine Alternative Boat Hire, Iona Iain Morrison Am Birlinn Restaurant, Mhairi Killin Aosdana, Iona Johanna Roberts Ardachy House, Uisken Rory Forrester Ardnacross Farm Katy Russon Argyll Hotel, Iona Arlene Robbie Arlenes Coffee Shop Tom Walsh Bellachroy Hotel Dawn Reade Biscuit Press Design Margaret MacDonald Bishop's Walk B&B Helen & Gordon Chalmers Brockville B&B James Fenoulet Browns Tobermory Matthew & Julia Reade Calgary Farmhouse Joe Prior & Tom Hard Cill-Mhoire Lodges SJ Cooper-White Clachan Cottage Iain & Jan Wright Corry Meadows Chris James Craignure Bunkhouse Matthew Harmer Craignure Inn Linda Boswick Craignure Spar Robin & Sam Sedgwick Crannich Holiday Caravans & Site Siobhan Cameron Creel Seafood Bar Jane Kidd Croggan Sue & Alan Miles Deerside, Tobermory Mhairi McAdam Distillery Rooms, Tobermory Annie Hall Druimbuidhe Guest Ho Lachlan Maclean Duart Castle Rosie Burgess Ecocroft Ian McAdam Electrician Jacqui Fereday Enjoy Mull Tours Ivor Carmichael External Works Contractor Judith Keivers Fascadail Calum MacLean Fisherman Patricia Duffy Fishnish Food Bar Alex Stevens Gallery Tearoom Nicky Adcock Glen Houses Brendan Walsh Glenforsa Hotel Marjorie Nelson Glengorm Castle Andrew Padley Glengorm Gardens Celia Compton Greenleaves Nichola & James Harmer Gruline Estate Stuart & Sharon Davidson Gruline Home Farm
Richard and Liz Airey Harbour Guest House Dave & Jo Currie Highland Cottage James Campbell Highland Services Denise Baxter I-dentify-solutions Recruitment Ben Wilson Inverlussa Marine Services Jim & Fiona Kyle Iona Zoe & Glen MacDonald Iona Campsite Michael Gordon Iona Craft Shop Chris MacCormick Iona Glass John Maclean Iona Hostel Dot Stewart Iona Pods Neil Jardine Iona Seafood Fiona Quarmby Island Apartments Joe Reade Island Bakery Martin Guppy Island Blue Gallery Hylda Marsh Island Holiday Cottages Robbie McLellan Island Retreats (Bishops House, Iona) Glen MacDonald Isle of Iona Gin Brendan Reade Isle of Mull Cheese Becky Carter & Reuben O'Connell Isle of Mull Cottages Neal Goldsmith Isle of Mull Hotel Peter Walker Isle of Mull Pottery Shiona and Phil Campbell Isle of Mull Silver Sophie & Stuart Cattanach Isle of Mull Soap Craig Whittaker Kiloran Guest House Kim Russel Laundry Nick & Alison Robb Linndhu House Lucy Panizzoni Lip na Cloiche Garden Allan Cameron MacDonald Filling Station Stewart MacDougall MacDougalls Garage Andrew & Lorna Prentice Maol Farm, Iona Margaret Matthew Marketing Consultant Richard Thorne Mull & Iona Payroll Services Keith Robbie Mull Building Supplies Martin Keivers Mull Charters Allan Cameron Mull Hire & Chainsaw Service John MacCrone Mull Joiners Ruth Fleming Mull Magic Nigel Burgess Mull Wind Power Norman MacDonald Norman MacDonald Builders Tony Ratcliffe North West Marine Flora Corbett Old Post Office Lochbuie Donald Maclean and Son Painter and Decorator Rebecca & Geoffrey Gallagher Park Lodge Hotel
MacGillivray Family Pennygown Campsite Dave Turner Plumbing and Heating Services Philip Ruhemann Psychotherapist Philip Tiernan PT Services Andrea & Harry Hayward Ptarmigan B&B Anne Baxter Ross of Mull Historial Centre Alexa Kershaw Rubha nan Gall Lighthouse Cottages Erica & Chris Morgan Saorphin Farm Cottages Nikki Ratcliffe Seafare Tobermory Brian & Lynne Macleod Self Catering Cottages Rick Johnstone St Columba Hotel Janice Hall Staffa House B & B Graham Tindall Staffa Trips Jenny Jefree Suidhe Farm Cottages Siobhan Cameron The Creel, Fionnphort Debbie Renshaw The Tower, Craignure Moya Pringle Threads of Iona Jenny & Will Thorne Thorne and Wyness Architects Nicola Welsh Tiree Cottage, Kintra Lydia & Andrew Kirsop Tobermory Andrea & Ian Stevens Tobermory Angus & Catriona Williams Tobermory Campsite Melanie Otway Tobermory Stores Duncan Cattanach Trek Tobermory Carolyne Charrington Treshnish & Haunn Cottages Andy & Naomi Knight TSL Ltd Colin Morrison Turus Mara Tony McLean Walk Mull Andrew & Rosaline Ryan Western Isles Hotel Neil Harvey Wild Campers
Plus five others, names withheld from public list.