Morvern Lines with Iain Thornber 19.03.20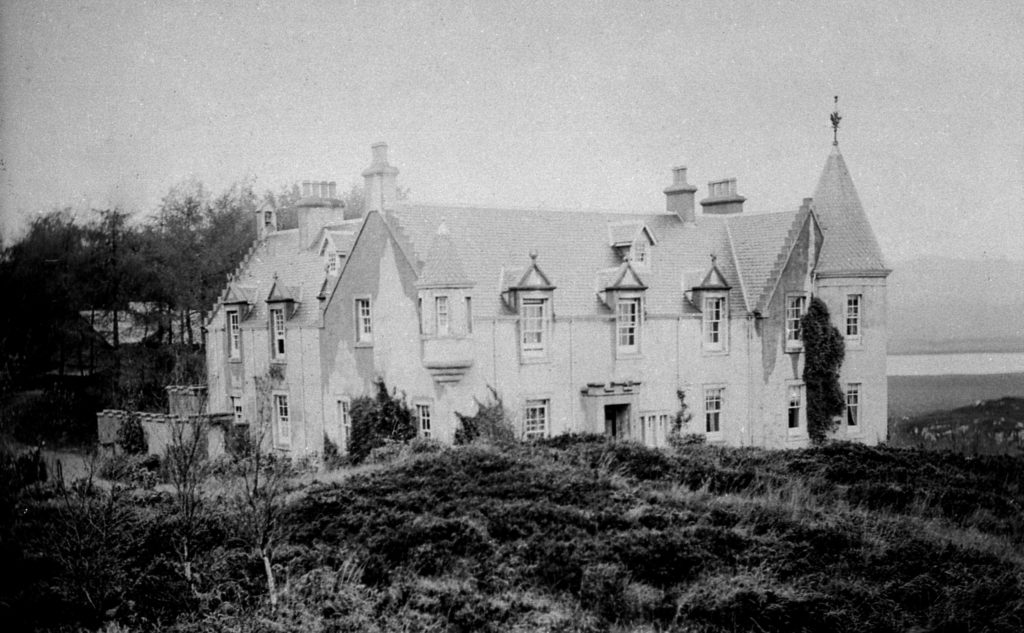 Want to read more?
We value our content  and access to our full site is  only available with a  subscription. Your subscription entitles you to 7-day-a-week access to our website, plus a full digital copy of that week's paper to read on your pc/mac or mobile device In addition your subscription includes access to digital archive copies from 2006 onwards
Just want to read one issue? No problem you can subscribe for just one week (or longer if you wish)
Subscribe Now
When we think of newspapers, we think of them as bringing us news. When we think of news, we think of what's happening around us right now.
This is a wrong description of news as well as newspapers. A newspaper is not only a source but a storehouse of information.
No better example of this is our own Oban Times. Its history is a long one. It began in 1861 as the Oban Monthly Pictorial Magazine but five years later it became a weekly and changed its name to The Oban Times and Argyllshire Advertiser, although it was often referred to locally as 'The Highlander's Bible'.
In 1882, it was bought by Duncan Cameron of Macniven and Cameron Ltd, a printing and stationery company based in Edinburgh. The company was best known for its pen nibs, the Pickwick, the Owl, and the Waverley, which were marketed under the advertising rhyme: 'They come as a boon and a blessing to men, the Pickwick, the Owl and the Waverley Pen.
Duncan's daughter carried on as editor until she died aged 99 in 1958. She was succeeded by her nephew, Alan, who was both owner and editor until June 1976 when it was sold to the Johnston Press Ltd which was founded in Falkirk in 1767. It reverted to private ownership in 1983 when it was bought by its present owner, Mr Howard Bennett.
I don't know about the pen nibs, but 159 years' worth of back numbers, which can be accessed on microfilm in many libraries, has certainly been a boon to generations of researchers and historians throughout the world.
I personally have cause to be grateful to The Oban Times, not only because I first learned to read using it, but as a means of trying to find out the story behind old landmarks which have long since disappeared as the following reveals.
Druimbeg was an imposing house standing on an elevated position on the south shore of Loch Shiel about a mile east of the village of Acharacle. It was built in the Scottish baronial style about 1913-14 for a Mr Gresham Wells, a successful London barrister.
According to a set of letting particulars (ca1930) the accommodation comprised a small lounge, entrance hall (with fireplace) dining room, drawing room, sitting room, six bedrooms, cloakroom and servant's room. There were three lavatories and one bathroom with a shower bath as well as kitchens and the usual domestic 'offices' – ie, drying room, store-rooms, garage, sculleries and an external veranda for fishing rods.
There must also have been a coal-fired boiler for, according to the same particulars, there was a plentiful supply of hot water – essential for any fishing party who must often have come home cold and wet! Electric light, from a small hydro electric scheme, appears to have been installed some time after the house was built.
The grounds, or policies as they are known in Scotland, amounted to seven acres and consisted of a well tended flower and vegetable gardens. The gardener/caretaker lived in a large corrugated iron bungalow standing a little way behind the house which Mr Gresham Wells built for himself while supervising the construction of the main house. A short road led from the house to a private pier on Loch Shiel, reserved exclusively for the owners and their guests.
Mr Gresham Wells's ownership was short-lived. The date of his death is not known but it must have occurred sometime before 1917 as the Argyll County Council Valuation Roll for 1917-18 records Sir Thomas Fraser, 13 Drumsheugh Gardens, Edinburgh, as the feuar [tenant] of the Board of Agriculture for Scotland as proprietors of Sunart Estate. In 1923-24, the feu is recorded in the name of Fraser's trustees per Messrs Bruce and Kerr WS, 16 Hill Street, Edinburgh who had let the property to a Major Thomas L F Burnett, a retired army officer.
Major Burnett tenanted Druimbeg from 1922 until 1928 when the feu was sold by the trustees to Messrs Duncan and Neil Cameron, co-proprietors of the nearby Acharacle Hotel, renamed the Loch Shiel Hotel, which catered largely for fishing parties.
The Burnetts seem to have been popular in the area as the local correspondent for The Oban Times, in reporting a farewell 'liberal supper' which they gave to the villagers (February 18, 1928), wrote: 'Great regret will be felt at their departure from Acharacle.'
The Camerons appear to have leased Druimbeg to various people, including a Mr and Mrs Charles Farrell who were the tenants when the house was destroyed by fire in February 1949. The Oban Times (February 5, 1949) recorded the incident: 'Fire completely destroyed Drumbeg House, Aharacle (sic) when it broke out on Wednesday morning, the tenants, Mr and Mrs Charles Farrell, who at the time of the outbreak, were at Lochailort. [Actually staying with their daughter the late Mrs Cameron-Head of Inverailort having been on holiday abroad].
'The fire, which is believed to have originated from a paraffin stove, was discovered at about 10am by the gardener, Alexander MacNeill, who was working outside. It started in an upper storey and by the time the alarm was raised smoke and flames enveloped most of the building.
'The local constable, P C Hume, and others saw that they could do nothing because of a lack of proper fire-fighting appliances, and the fire brigade at Fort William was summoned. By the time the engine arrived after its 40-mile journey [across a small car ferry and along a tortuous, narrow road] the house had been completely burned down. The Oban fire brigade was also called out to stand by, but it was not necessary to make the journey which would have involved several hours on the road before reaching its destination. It is thought the loss will amount to over £10,000.'
The house was not rebuilt and lay in ruins until it was bought by a property developer who completely demolished it and used some of the stone for the foundations of a bungalow. All that remains are a pair of handsome gate posts and the old turbine house. The tin shed was also demolished and replaced by another dwelling.
Sir Thomas Fraser (1841-1920) was an eminent British physician and pharmacologist. In 1877, he was a member of an Arctic expedition and later professor of medicine at the University of Edinburgh until 1918. Sir Thomas, a Fellow of the Royal Society, whose interests were botany and fishing, was evidently not as popular in Acharacle as his predecessor. According to the unpublished memoirs of Duncan James Cameron, Aultbea, Arivegaig, his local jobbing-gardener: 'He couldn't walk much at all and was as crabbit as a weasel in a trap. The full time gardener, Hugh MacDonald, father of "the Gamie", was shaking in his shoes every day the professor was there. You were kept going – not a minute to spare. They took on a man from February to the end of September. When I was there he was up in years and his family were old. They came in May or June to the end of September.'
Iain Thornber
iain.thornber@btinternet.com