Morvern Lines with Iain Thornber 13.02.20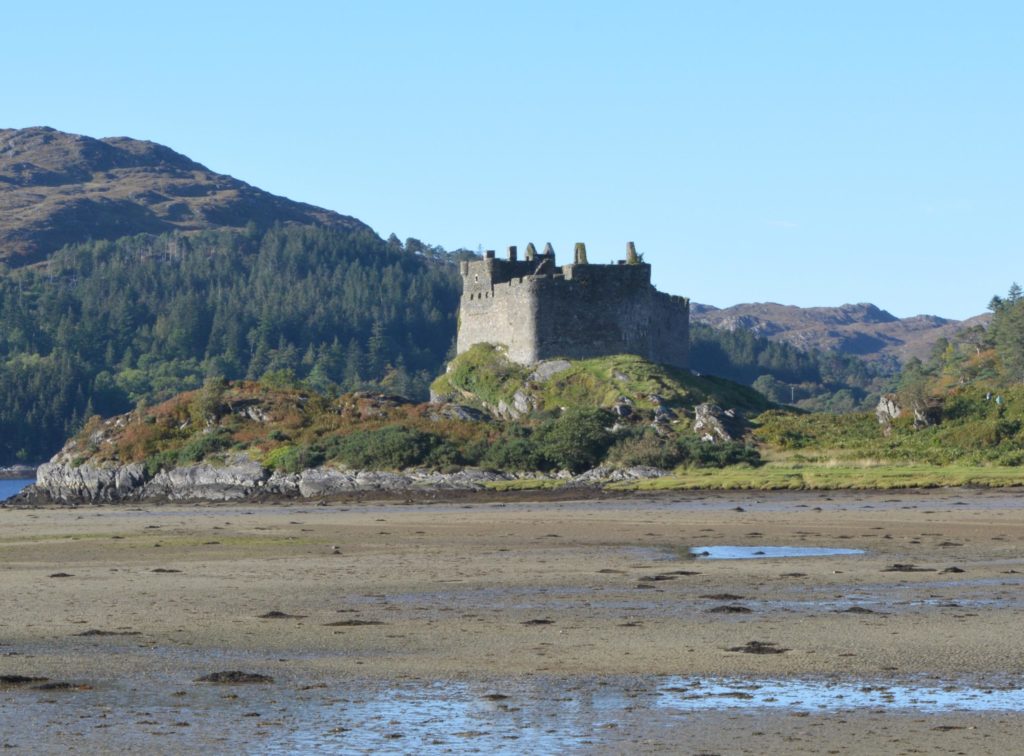 Want to read more?
We value our content  and access to our full site is  only available with a  subscription. Your subscription entitles you to 7-day-a-week access to our website, plus a full digital copy of that week's paper to read on your pc/mac or mobile device In addition your subscription includes access to digital archive copies from 2006 onwards
Just want to read one issue? No problem you can subscribe for just one week (or longer if you wish)
Subscribe Now
Muzzleloaders are firearms, including cannons, into which the projectile and the gunpowder charge is loaded from the muzzle of the gun, as the name implies.
The sequence of loading is to put in first the gunpowder, by pouring in a measured amount of loose powder. Sometimes two types of gunpowder were used consisting of finer priming powder for the flash pan and coarser powder for the main charge behind the ball. This was particularly the case with early muzzleloaders such as matchlocks but appears to have been less common with flintlocks and was irrelevant with percussion locks since they used percussion caps instead of priming powder. Wadding was made from felt, paper, cloth or card. In shotguns, the wad was used between the powder and the shot charge to prevent pellets from dropping into the powder charge and on top of the shot charge to hold it in place in the barrel.
The projectiles and wads were then pushed down into the breech with a ramrod until they were firmly seated on the gunpowder charge. Priming powder could be carried in a separate priming flask and poured into the priming pan and the frizzen. The frizzen, historically called the 'hammer' or the steel, is an L-shaped piece of steel hinged at the front used in flintlock firearms and is held in one of two positions, opened or closed, by a leaf spring, pushed down to hold the priming powder in place. Then either a priming charge was placed in the priming pan or a percussion cap was placed on the nipple; the cock or hammer was then pulled back and the weapon was ready to fire.
The bullets in today's rifles are brought up into the chamber from a magazine by a single movement of a bolt. Before, everything had to go down the barrel. There was much that could and often did go wrong which meant that a lot of extra kit had to be carried by the shooter. This included wadding patches and lubricant, powder and shot flasks, powder measure, bullet starter, worm, jag and ball screws, nipple, nipple prick and nipple wrench.
Powder flasks were made in a variety of materials and shapes, though ferrous metals that were prone to give off sparks when hit were usually avoided. Wood and copper were also popular as was stag antler formed by the base of an inverted Y-shaped horn. So, too, were round, flattened pear-shape designs with straight spouts known in French as 'poure-poudre' (powder pear). Larger flasks, triangular in shape with concave rounded sides which, unlike the smaller flasks, could be stood upright on a surface.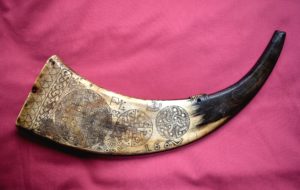 Many designs (such as horn and antler types) have a wide sealed opening for filling, and a thin spout for dispensing. Various devices were used to load a precise amount of powder, as it was important not to load too much or too little powder.
The most impressive Scottish 17th and 18th century powder horns were those made from cow horn softened by heat and flattened to give two broad surfaces as seen in the accompanying photograph.
The base of the horn is shut off by a wooden plug held in place by iron or copper nails. This was a permanent fixture and was not removed for filling the horn. The sharp end was cut away to form a nozzle with a wooden stopper for releasing the powder. Most powder horns had holes or lugs in order that they could be carried round the neck or over the shoulder by a cord or leather thong. Being flat, they lay against the wearer's side more comfortably that the round type.
The fascinating thing about most of these flattened powder horns is their attractive decoration, dates and initials. In the example shown, the date is 1605 along with a ship sailing into the wind, two salmon and a heart with two arrows through it and the initials PML as well as some intricate Celtic artwork. On the reverse are the words 'John Spence', 'God Blis' [Bless] and an unfinished Celtic circle. It would be idle to speculate what all this signifies when the provenance is not known but possibly John Spence was the horner who carved it, and PML the recipient.
The fish-scale motifs, which appear on both sides, the ship and the salmon, suggests he may have been a fisherman and that the love-heart showed it had been given to him by his wife or a female admirer.
Firearms and their accoutrements, such as powder flasks, were handed down in families for generations. They were admired and cherished not only for their decoration but, in the case of guns, their accuracy and killing power. This was especially so among the duanie-uasal (Gaelic – the Highland nobility) who had the where-with-all to buy the finest examples available at the time.
As good an example was Donald MacDonald, the 10th chief of Clanranald, who died in 1686 on Canna. Like most of his ancestors, Donald was a keen hunter, and his favourite gun was called 'A chubhag' – the cuckoo.
According to tradition, he was more fond of it than his wife. It was his constant companion during the day and when he retired for the night, it hung by his bed.
When Donald, who lived in Castle Tioram in Moidart, became old, fat and too infirm to hunt in the surrounding woods and hills, he would spend hours sitting on the battlements of Castle Tioram with the 'cuckoo' on his knee.
From this elevated position, he would take pot-shots at everything he saw, including seals, gulls, herons and even humans whom he thought were stealing from him. Generally, passers-by gave the castle a wide berth knowing what would happen if the 'cuckoo' was pointed in their direction.
On one occasion, however, Donald saw an object which he took to be a sheep-stealer crouching by a rock several hundred yards away and, taking aim, killed a young man who turned out to be one of his best followers.
Another man who loved his gun was Athole Mackeracher, or Farquharson, known as Lonavey, from the Gaelic lonach, greedy, and fiadh, deer, meaning a jealously keen deer-hunter. Lonavey, who was a well known deer poacher around Atholl and Braemar, escaped being caught because he knew of a secret cave on a nearby hill called Carn an Righ, where he could always find sanctuary.
Lovany's luck eventually ran out and, realising he was going to be caught and sent to prison, he filled the barrel of his beloved gun with deer-fat and left it and his dirk on a ledge in the cave so that if he was caught, it would not be taken from him, and would be ready for him when his term of imprisonment was over. Lonavey died in prison.
Years later, quite by chance, the cave was discovered by another poacher whom he met in prison and had told him of its existence. The gun and dirk were still there but disintegrated on being handled. As far as I know its exact location remains a mystery. Do any readers know?
Iain Thornber
iain.thornber@btinternet.com