Morvern Lines with Iain Thornber 19.12.19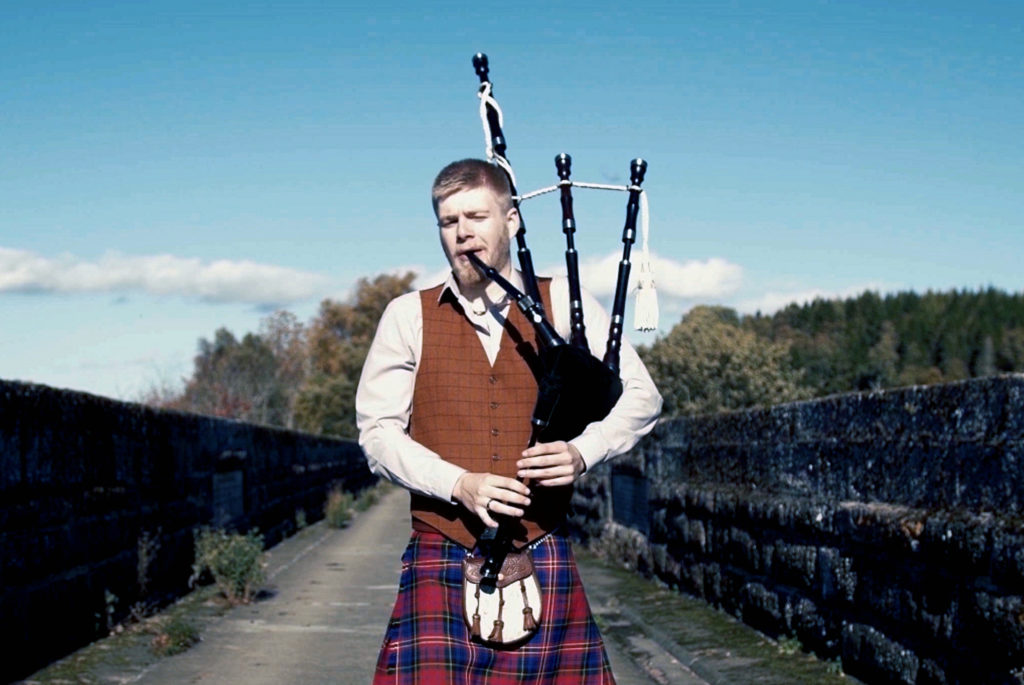 Want to read more?
We value our content  and access to our full site is  only available with a  subscription. Your subscription entitles you to 7-day-a-week access to our website, plus a full digital copy of that week's paper to read on your pc/mac or mobile device In addition your subscription includes access to digital archive copies from 2006 onwards
Just want to read one issue? No problem you can subscribe for just one week (or longer if you wish)
Subscribe Now
There is something about absolute mastery in any profession which is unmistakable when seen or heard.
'Sovereign sway and masterdom,' as Shakespeare called it, speaks for itself. For example, an onlooker does not need to have any knowledge of tennis to recognise a master player when Andy Murray comes onto Centre Court at Wimbledon and raises his racket. The authority of absolutism comes through. It is enough to watch him play in a grand slam final to know you are in the presence of greatness.
So it was for me in Ross-shire one evening earlier this year when, after dinner was over and there is that kind of night magic which grows out of companionship, age and good conversation and flourishes best in an old candle-lit house in the Highlands, I found myself listening intently to a piper I had not met before.
Until that night I had only heard good pipers playing well. But this one was markedly different. His timing, rhythm and expression were faultless and exhilarating.
Seton Gordon (1886-1977), the distinguished journalist, Highland historian and piping judge who had been taught by the legendary Pipe Major John MacDonald MBE of Inverness, used to quote him as saying: 'You can have wonderful fingers, you can have wonderful pipes, but if you haven't got expression, it is completely useless.'
An accomplished piper has natural talent, dedication, a love of the instrument and, above all, a perfectly tuned bagpipe which, even to the untrained ear, is immediately recognised. The Highland bagpipe is a complex instrument and requires a high level of skill and experience to maintain it. It cannot be left for long periods in a car or a cupboard and immediately produce the range of notes it is capable of.
The late Col Jock MacDonald, of Viewfield, Skye, jocularly told Russell Harty in Inverailort Castle in 1975, when he was making the award-winning documentary about the Glenfinnan Games, that the pipes must be female because to tune them and get them to play nicely you have to coax them, squeeze them and whisper to them how beautiful they are.
The piper I heard that evening was Scott Burgess Hay from Forres in Morayshire. According to an old saying, it takes seven years of his own learning and seven generations before that to make a piper. If that be true, then it is little wonder there are few weddings, funerals and Armistice Day parades he hasn't played at in Morayshire since he was a boy.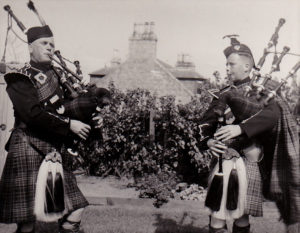 Scott's family piping history, I later learned, goes back to the time of the MacDonalds, Lords of the Isles and to tutoring the MacCrimmons, masters of their craft and pipers to the chiefs of Clan MacLeod for an unknown number of generations. His great-great-grandfather, Alexander MacDougall, who spoke Gaelic and English, was born in Sloch, Ardnish, Arisiaig, in 1878. He spent some time on Inverailort Estate employed as a deer stalker by Mrs James Head before moving to Glen Tanar and finally to Aberdeen to live with his son John at the Station Hotel, Bucksburn, where he died in 1967. He loved music and encouraged his children to play the pipes.
Scott's grandfather, also called John, was a world champion and multi gold medal holder who began playing when he was about 10 years old. He won all of the major piping prizes, including the Gold Medals at the Northern Meeting in Inverness and the Argyllshire Gathering in Oban. He was a leading exponent of the 'Balmoral' style of piping, having been taught piobaireachd by Bob Brown, The Queen's Piper.  John had no sons and it was left to his daughter Fiona, an accomplished piper, fiddler and Celtic artist, to carry on the piping tradition by marrying Burgess Hay, Scott's father.
Burgess was named after his father's friend and mentor, John Davie Burgess MBE – and what piper worth a single grace-note has not heard or benefited from the judgement and skill of that exalted figure?
Scott, is a highly respected and admired piper who was taught by his grandfather. When he was on Uist studying Scottish traditional music with the University of the Highlands and Islands, he went to Iain MacDonald of Glenuig – one of Scotland's best known west coast pipers – for more tuition.
Burgess and Scott are descended from William Hay of Glenbucket in Aberdeenshire, who fought at Culloden on the Highland side under the renowned senior Jacobite commander Major General John Gordon of Glenbucket. Scott was invited to open the new National Trust for Scotland Culloden Battlefield Centre in 2008 and is now the Trust's official piper helping to promote the culture and history of this national site.
Scott, and his family, design and make world class instruments, trading under the name of Burgess Bagpipes, specialising in pipes that have a modern look and sound and can be played along with other instruments.
Burgess Bagpipes are believed to be one of only two firms in the world making all three types of Scottish pipes – ranging from small pipes, Border pipes to the full traditional Highland pipes. Burgess, who is a precision engineer with more than 30 years' experience, says: 'Our aim is to make the best possible instruments with the finest materials, tools and skills to end up with a product that sounds right and has interchangeable parts.
'We work together as a team and choose our suppliers carefully. Our African black wood comes from a sawmill in Africa, where the wood is stored for up to five years in controlled conditions before it is sold under special licence. We use titanium as standard due to its lightness and strength, and because it does not corrode or tarnish. This material is found also in the medical, aerospace and military industries and for hard wearing precious metal applications. Because we have designed our products and have used the best possible materials and manufacturing techniques, we guarantee our instruments for 25 years.'
Knowing more than most about the global appeal of the bagpipes and being a truly authentic Scottish family with a long history behind them, Burgess, Fiona and Scott are developing plans to open a Highland Bagpipe Centre somewhere between Inverness and Culloden. The project, backed by the local enterprise company and the National Trust for Scotland, would be a hub for their manufacturing business. It would also include a museum, shop, cafe, exhibition and demonstration area providing visitors with an opportunity to try their hand at making and playing bagpipes. The vision is to develop a 100-year family business and show also how Scottish culture and heritage can be packaged to offer a hands-on product that matches consumer demand both at home and abroad and in an enjoyable and informal setting.
There would be nothing like it in Scotland or indeed anywhere else in the world. An angler who ties his own trout and salmon flies must find it enormously satisfying to land a fish with one. Scott Burgess Hay should feel equally elated whenever he plays the grounding of a MacCrimmon piobaireachd on a set of pipes of his own making.
To be continued.
Iain Thornber
iain.thornber@btinternet.com