Morvern Lines with Iain Thornber 05.12.19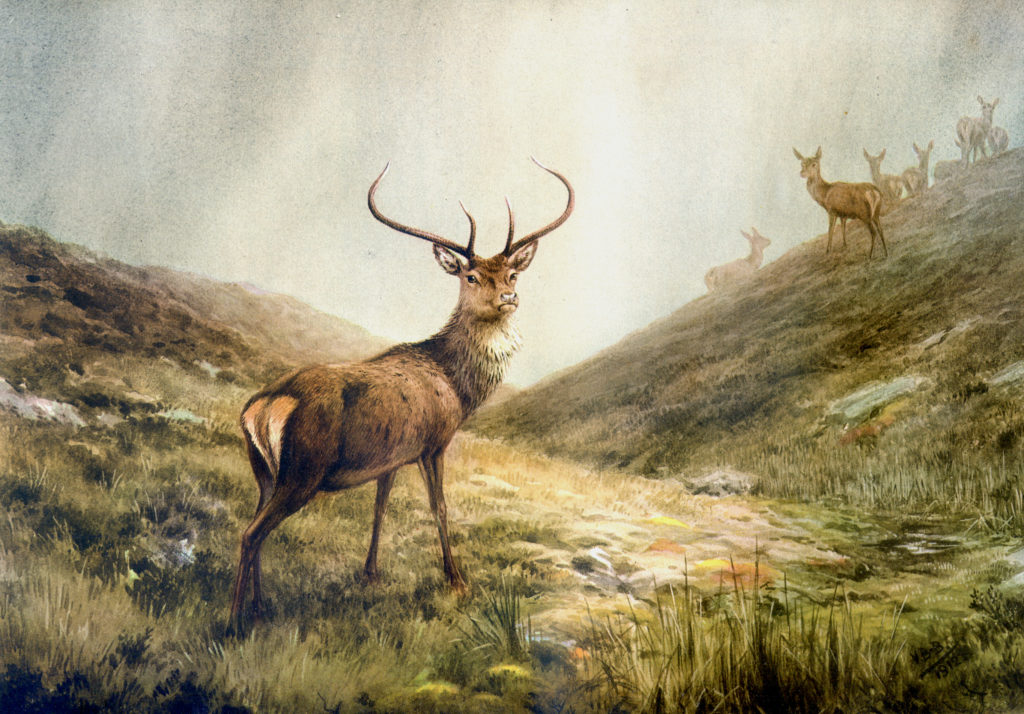 Want to read more?
We value our content  and access to our full site is  only available with a  subscription. Your subscription entitles you to 7-day-a-week access to our website, plus a full digital copy of that week's paper to read on your pc/mac or mobile device In addition your subscription includes access to digital archive copies from 2006 onwards
Just want to read one issue? No problem you can subscribe for just one week (or longer if you wish)
Subscribe Now
'My thoughts are ever on the hills' (A Mackenzie, Lament for the Deer)
There cannot be many deer stalkers in Scotland who have not heard of Frank Wallace and Vincent Robert Balfour-Browne. By deer stalkers, I mean professional hill-folk who still respect and value the importance of these ancient animals and carry out their work in a decent and time-honoured sportsman-like manner, unlike some today who look on them as little more than vermin, picking them off at the roadside, out of season and during the hours of darkness using thermal-imaging equipment.
Frank Wallace (1881-1962) was a dedicated stalker and author who specialised in painting and writing about red deer, stalking scenes and wildlife. He held annual exhibitions in Edinburgh and London often in conjunction with his school friend and contemporary artist and writer, Vincent Robert Balfour-Browne (1881-1963).
Together they were simply the best Scottish sporting and wildlife artists of any period and arguably the finest painters of red deer. Their lovely sketches and watercolours can be found in estate game books and in many private lodges up and down the country.
On the rare occasions when they come on the market, they fetch eye-watering sums. Lucky are those who have one or more of these beautiful art works hanging on their wall to enjoy.
For many years Wallace and Balfour-Browne leased and stalked deer forests in various parts of the Highlands for sport and sketching purposes. Balfour-Browne's most outstanding work was done in the Blackmount area of Argyll, while Wallace preferred the west and particularly the hills and corries of Old Corrimony which became available to him when in 1912 he married Elizabeth Macpherson, whose family acquired the estate before the 1745 Jacobite rising.
Their love of the area was evident when they spent part of their honeymoon at a curious little three-story tower house on the island of Loch ma Stac, high in the moors between Glen Moriston and Glen Urquhart. A feature of the top storey of this now ruined building were magnificent murals of stags and hinds by Wallace which have long since disappeared.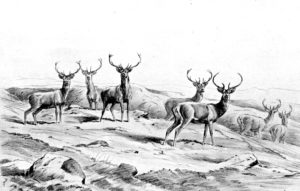 Other aspects of Frank Wallace's career are of great interest today. Because of his knowledge of deer and hunting he was asked by the government to organise the British sections of an international hunting exhibition in Berlin in 1937 which was a massive propaganda event supervised by Field-Marshall Hermann Goering.
Goering, head of the Luftwaffe and one of the most powerful figures in the Nazi Party, was also an enthusiastic sportsman and Reich Master of the Hunt. He instituted reforms to the German forestry laws and acted to protect endangered species. He became interested in Schorfheide-Chorin Forest, now a UNESCO biosphere reserve, where he set aside 100,000 acres as a state park. There he built an elaborate, 200-room hunting lodge, Carinhall, in memory of his first wife, Carin von Fock.
Wallace's task was to collect the best trophies by British sportsmen, take them to Berlin and hang them in the exhibition halls. In all, he collected 343. Hitler toured the exhibition but on the day of his visit Frank Wallace was absent. Later he was invited to Carinhall for lunch and left a fascinating account of what he saw.
'When the other guests had arrived, Goering appeared. The chief impression he made on me was that of tremendous reserves of energy and power, held under control. His light-brown hair, worn much longer than is usually the case in Germany, is brushed straight-back from his forehead. In spite of his bulk, due to a war wound, he walks with a light, springy step. Below his wide brow, clear blue eyes, normally rather cold in expression, look directly.
'On this occasion Goering wore a sleeveless green jerkin, with stags' teeth set in silver as buttons. Loose, brown buckskin breeches were tucked into soft green leather boots, with fawn-coloured feet. His shirt was of white silk, with rather loose sleeves and a wide collar, under which showed a blue-and-red striped tie. The Cross of the Order 'Pour la Merite' (the German VC) hung at his throat, and round his waist was a green leather belt, from which was suspended a gold-hilted hunting-knife in a red sheath. On the left of his chest was the badge of the Deutschjagerschaft (the German Hunting Society), a stag's head with a swastika between the horns. The latter were of gold, and the swastika set with emeralds and diamonds. On his fingers were many rings. It was very much the sort of costume a boy would imagine, playing at Robin Hood.
'Lunch was served in a room oblong in shape. Cabinets, sunk in the wall, contained silver, china and porcelain models, lit by soft cornice lighting, for it was a dull day. Down the long table graduating to each end stood large silver bowls of brown and gold chrysanthemums. Porcelain models of different species of deer were arranged between these. Exquisite glass bore Goering's arms, as did the very simple silver beer mugs. In the house were rugs and carpets made from bark, chair covers and cushions copied from German 13th-century designs, sporting pictures by Lobenberg, Paussinger and other well-known artists, and many objects too numerous to tabulate.'
To prevent Carinhall from falling into the hands of the advancing Red Army, it was blown up on April 28, 1945, at Goering's orders by a Luftwaffe demolition squad. The art treasures were evacuated beforehand to The Berghof, Adolf Hitler's home in the Obersalzberg of the Bavarian Alps near Berchtesgaden, Bavaria, Germany.
Two years after the Berlin exhibition, the Nazis invaded Poland, causing both France and Britain to declare war on Germany. Australia, Canada, New Zealand and South Africa all followed suit over the next few days. This created the potential for a food crisis in the UK.
Frank Wallace knew so much about deer and the land they occupied, he was appointed as Deer Control Officer for Scotland from 1939 to 1945. During the war, when many stalkers had been called up to fight, this resulted in deer numbers rising to unprecedented levels in some parts of the country. His remit was to reduce their numbers to prevent damage to agricultural crops and to act as an adviser on deer control. He was also to liaise between executive local committees and the Department of Agriculture.
'Apart from the value of his expert knowledge, the arrangement,' said the press officer at St Andrew's House, 'will be advantageous from the point of view of co-ordination of policy with regard to agricultural production on the one side and the supply of venison as an article of food on the other.'
Wallace travelled extensively throughout the world, including the Far East, studying deer and other mammals which he wrote about with tremendous passion and sensitivity. He published many books on the subject including: Stalks Abroad, Big Game of Central and Western China, British Deer Heads, Hunting and Stalking the Deer (with Lionel Edwards), Happier Years, A Highland Gathering, A Stuart Sketch Book (with Lionel Edwards), Big Game and Hunting Winds. He also contributed to: The Gun At Home and Abroad, British Sports and Sportsmen, the Keeper's Book and African Big Game.