Letters to the editor – 21.11.19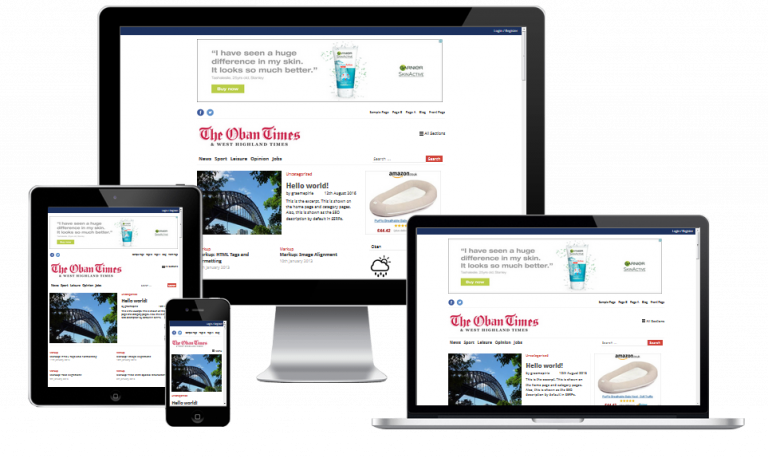 Want to read more?
We value our content  and access to our full site is  only available with a  subscription. Your subscription entitles you to 7-day-a-week access to our website, plus a full digital copy of that week's paper to read on your pc/mac or mobile device In addition your subscription includes access to digital archive copies from 2006 onwards
Just want to read one issue? No problem you can subscribe for just one week (or longer if you wish)
Subscribe Now
Cyclists blighted by an irresponsible few
I have to agree with the letter re cyclists from John Gosling of Barcaldine in last week's Lochaber and Oban Times, but I do feel that the vast majority of cyclists are being 'done down' by the irresponsible actions of the few who seem to think that 'it's all about them'.
Please correct me if I'm wrong, but, as I understand it, it was the cyclists themselves who originally bitched about having to share the public roads with normal vehicular traffic.
At great expense, a network of cycle paths was built, many of them right alongside main roads, but all too many cyclists still seem to prefer to ignore them and dice with death on the main roads instead.
I have no problem with cyclists as such using the roads, but at least do it responsibly. The average speed of a leisure cyclist is around 15mph whereas the average speed of a motor vehicle is around 45mph, and bear in mind too that around half of the motor vehicles are working vehicles which have schedules to which to keep, so I think it's a bit off when cyclists refuse to let motor vehicles past them.
Davie Kerr, Onich, Lochaber.
Deer are being driven from wintering ground
Jamie Hammond, SNH deer officer, is right to warn drivers about the dangers of deer on our public roads during the hours of darkness (Letters November 14 ) but it is a pity he does not explain why they are there.
In most cases, the reason is their traditional wintering ground is rapidly being replaced by thousands of acres of new, grant-rich, woodlands.
Don't blame the deer, Mr Hammond. The few that have survived your organisation's relentless eradication policy in the past few years are only trying to find shelter.
SNH has an input into deciding fence lines when a planting scheme reaches Forest and Land Scotland. Its staff should tackle the problem then and give both deer and the travelling public a break.
Iain Thornber, Knock House, Morvern.
MSP and MP should make the case for more money for council
You ran a version of the very long open letter addressed to me from the local SNP MP and MSP, a letter that they found the time to send to the press, but didn't have the courtesy to send to me directly (Letters, November 7).
On the council, all councillors work well together – particularly when addressing the major challenges the local authority faces. Last year the SNP councillors supported the administration's budget, and this year there were only slight differences between the administration's budget and the SNP's.
It would be great to see our MP and MSP work with the council to make the case to the Scottish Government for more money for Argyll and Bute. COSLA has made a very clear ask of the Scottish Government in terms of funding for local councils next year – three per cent plus inflation.
The choices facing the council would be substantially different if this was delivered and of course it is the Scottish Cabinet, including our MSP, who actually make the decisions.
The fact is that over the past 10 years, the council has had to make savings of over £50 million. That means real hardship for many local people – many jobs lost, many services withdrawn. That's the sad reality.
Like all councillors, I'm sure, I would be happy to work with the local MP and MSP to make the case for more funding for Argyll and Bute.
Councillor Aileen Morton,
Leader – Argyll and Bute Council.
When are we going to have heating on trains?
Here we are once again in a winter of discontent with ScotRail doing its annual impression of a fridge freezer on wheels – ie, the Mallaig to Glasgow and return train service.
Question to ScotRail: why is this ongoing? Passengers are paying good money to sit in these ice boxes for over four hours.
The staff onboard suffer the same, and must be sick to the teeth with travellers complaining about these conditions.
So, ScotRail, when is it going to improve for passengers and staff alike?
It wouldn't happen on ScotRail's pet Glasgow to Edinburgh route.
Joe Wilson,
Aonachan Gardens, Spean Bridge.
Uist dental services wishes are being ignored
The Western Isles Health and Social Care Integrated Joint Board (IJB) is seriously at odds with the Uist Locality Planning Group (ULPG), and with all other groups in the Uists who have cared to comment on the protracted decision-making of the IJB with regards to relocation of three community-based dental practices into a hub model of service delivery at Ospadal Uibhist agus Bharraigh at Balivanich.
The original proposals from the IJB go back over three years. The chair of the ULPG has recently written in an open letter:
'Consultation – unanimous and community wide; informed opinion – ignored! As chair of the Uist Locality Planning Group for Health and Social Care, I write this having witnessed Uist-wide opinion being completely ignored regarding dental services.
'The starting point as far as the community was concerned was on 10.10.16 when the Options Appraisal paper was received. It is known that the proposal for a single dental hub for Uist was recommended by policy decision makers before being brought to the community.
'In September 2019 we know that the original pre-consultation recommendation has now been approved. What is the point of a whole community from Berneray to Eriskay voicing opinion through local meetings in village halls if it is to simply be overruled and ignored?' (Chair: Theona Morrison.)
After the September meeting of the IJB, MSP Dr Alasdair Allan has written to me: 'Ultimately, I do not believe this redesign of services should go ahead with the present level of local opposition. I have asked the minister whether the Scottish Government is in a position to call them in or, failing that, consider establishing an Independent Scrutiny Panel to scrutinise the proposals.'
Rhoda Grant MSP has also raised these concerns with ministers at Holyrood. All seven community councils from Berneray to Eriskay opposed these proposals and issued a press release, as did both the SNP and Labour. Yes, our politicians at all levels speaking with one voice.
Of more concern is the manner by which this decision was reached, not by the IJB but by a report by two chief officers to the September meeting of the IJB. The eight voting IJB members were informed that they would not be given the opportunity to vote on this recommendation – nor could they raise the issue again for 12 months without a change to Standing Orders.
Is this how an important democratic institution should be functioning in the 21 st century?
I drafted a petition to the Scottish Parliament Petitions Committee but regret this was vetoed on the grounds that the committee will only entertain petitions of national interest. I had thought that community empowerment is of national interest.
The IJB manages a budget of £60m. The comhairle and NHSWI are presently engaged in significant budget savings exercises, and in my view a clear conflict of interest exists in terms of them deciding on the future of dental services in the Uists.
Have dental patients and Uist communities and their representatives been shafted by a centralised institution – the IJB – not fit for purpose?
Andrew Walker, ex-member of the Uist Locality Planning Group.