Morvern Lines – 14.11.19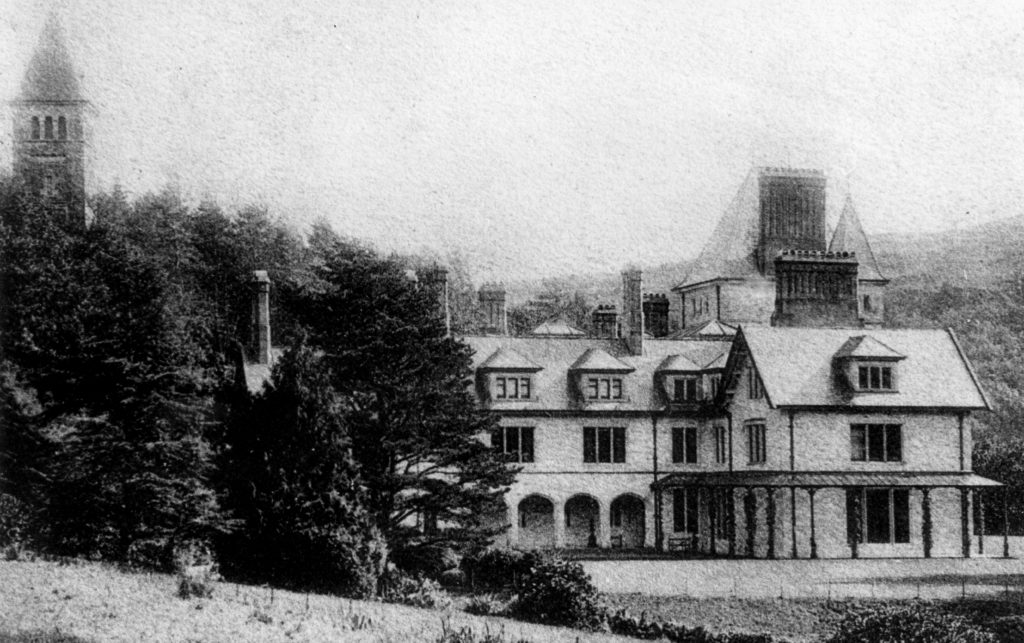 Want to read more?
We value our content  and access to our full site is  only available with a  subscription. Your subscription entitles you to 7-day-a-week access to our website, plus a full digital copy of that week's paper to read on your pc/mac or mobile device In addition your subscription includes access to digital archive copies from 2006 onwards
Just want to read one issue? No problem you can subscribe for just one week (or longer if you wish)
Subscribe Now
'The past is a foreign country: they do things differently there.' The immortal first line to L. P. Hartley's The Go-Between, wistfully condenses the problems often associated with memory loss among the elderly. There was no such problem with Lochaline resident Mrs Elizabeth Wotherspoon's recall when I dropped in recently to ask about her childhood days in Morvern.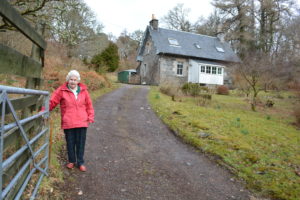 Elizabeth, or Betty as she is affectionately known locally, is the only surviving child of John and Elizabeth Munro.
She was born on August 10, 1931 at Torr Molach, now a holiday-cottage renamed Keeper's Cottage, on the 35,000-acre Ardtornish Estate where her father was head stalker and gamekeeper to Mr and Mrs Owen Hugh Smith, from 1931 until his death aged 62 in 1946.
One of 11 of a family, John came from a long line of Sutherland and Ross-shire shepherds, foresters and gamekeepers. His father was Alexander Munro who lived with his wife and family at Corrievarkie – a lonely, road-less, spot on the south shores of Loch Ericht in Inverness-shire.
One winter's day in the early 1900s, Alexander was out hind shooting on the moors when he came across a man lying unconscious in the snow. He managed to carry him home on his back where he was put to bed and given gruel and whisky. He came to his senses a few days later and enquired where he was and how he had got there. Elsie, Alexander's wife, told him and asked him what his name was. 'Robert Menzies', he replied.
The stranger was Sir Robert Menzies, the owner of Castle Menzie Estate near Aberfeldy. Sir Robert made a full recovery and in return for saving his life he presented Alexander with a large house in Kingussie called Leask and provided the children, including Betty's father, with a first-class education. John, who had been head stalker for Col Grant of Rothiemurchus, came to Ardtornish on May 28, 1931 with his wife and family; his belongings included a tame hoodie-crow and his wage was £3 a week.
When the Munros arrived at Torr Molach, Betty's mother had almost lost her eye-sight. At Corrievarkie she had enjoyed knitting, sewing and reading, often straining her eyes in poor light long into the night. This, and living in the hills 1,200 ft above sea level constantly surrounded by snow for much of the year, is thought to have been the cause.
'What are your earliest recollections?' I asked Betty. 'Many,' she replied, and settled back in her chair by a glowing fire, to tell me some of them.
'Breaking the ice on the dogs' dishes on a winter's morning before going to school; my father had to look after about fourteen black and brown retrievers and a magnificent deer house that lived in the long concrete kennel below the house – which I hear is about to be converted into another holiday cottage – and in wooden buildings in a large fenced enclosure between Torr Molach and Rose Cottage. It was my job to help look him. I loved handling and walking the young puppies as they grew. The retrievers were used during the grouse and pheasant shooting season and the deer hound, called Tilt, for tracking wounded deer if they escaped into the woods.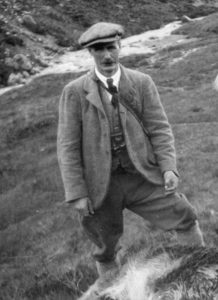 'I can see in my mind's eye yet many of the farm workers' wives coming to the deer larder in the evening to get livers, tongues, hearts and kidneys when they heard Dad was home from the hill with a stag in the trap. We had venison during the hind season and, come the spring, a fresh-run grilse or two from Mrs Maitland's Pool in the early morning. Straight home and into the frying-pan – they were delicious!
Mrs Maitland's, named after Rosalind, sister of Gerard Craig Sellar who owned Ardtornish before the Smiths bought it, was Dad's favourite pool on the River Aline. When the days got a bit longer and warmer we would ride up to Loch Tearnait on one of the stalking ponies to fish for trout and look for seagull's eggs on the little island in the middle of the loch.
Dad would say, "I bet you I find the first one", he usually did but it wasn't difficult as dozens of birds used to nest there then. These little eggs were delicious fried in butter.
'Every morning during the week, all the stalkers, pony men and fishing ghillies would congregate in our kitchen to get their orders for the day which had been telephoned up from the big house. Dad was told by Mr Smith not to accept tips as his guests were too poor, but gave him a cheque for £11 in lieu at the season's end. Dad was allowed to keep the fat from the deer which he sold to a well-known firm of Edinburgh saddlers which helped he and Mum to pay the bills in the lean times of the year. I remember Donald Cameron, Peter Fraser, Hughie Cameron, Jimmy MacGregor and Allan MacPherson – all fine men.
'My father was in charge of the Home Guard and, being the head keeper, looked after the ammunition, which was kept in a specially-built cupboard high up in on one of the kitchen walls, well out of reach of we children. The allocation was one round per man, but occasionally he would find extra for target practice, but they often wondered how they would be able to defend the village of Lochaline if the enemy ever landed!
'Dad taught me to use a .22 rifle and said I wouldn't be able to consider myself a good shot until I could hit a pheasant in the neck. He could. I never managed, although I did shoot a deer once but seeing its blood on the snow, put me off and I never killed another. He used a .303 rifle with open sights for hind shooting. Guests brought their own more expensive weapons. We had ferrets for bolting rabbits but I was always frightened they would bite my hand when I put food into their dishes.
'We never went on holiday. Dad had a motor bike but no car. In any case he couldn't leave the dogs, especially when they were whelping.
Every year a puffer from the Clyde came with a cargo of coal for the estate. It beached below the first boathouse and from there it was delivered to every house in carts. Our allocation was two tons; I can see yet the sparks from the horses' shoes as the carter tried to turn his wagon on the small area beside Torr Molach. Sometimes he couldn't manage and dumped it further away which meant that we had to barrow it up to the coal shed which was an awful nuisance. Of course we had plenty of wood, but Dad had to cut it which wasn't always easy during the season and when he had to work a six and a half day week. Often the coal allocation would run out a few months before the next load was delivered so we had to buy extra and found out just how expensive it was.
To be continued next week.