Morvern Lines with Iain Thornber 03.10.19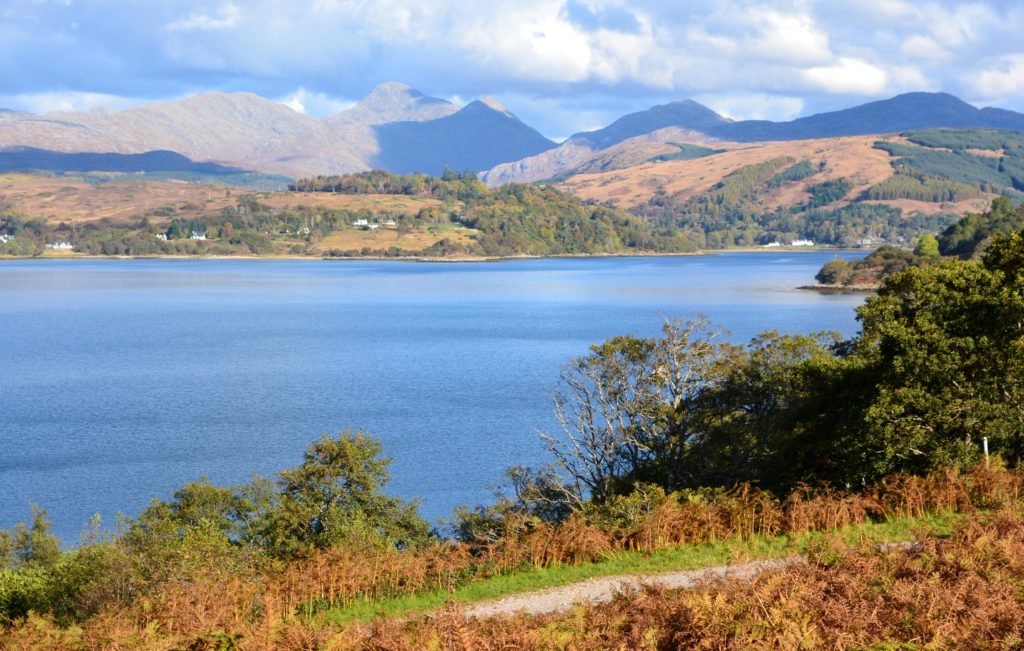 Want to read more?
We value our content  and access to our full site is  only available with a  subscription. Your subscription entitles you to 7-day-a-week access to our website, plus a full digital copy of that week's paper to read on your pc/mac or mobile device In addition your subscription includes access to digital archive copies from 2006 onwards
Just want to read one issue? No problem you can subscribe for just one week (or longer if you wish)
Subscribe Now
From 1796 to 1802, a strange figure riding on a white horse and wearing a leather cap trimmed with brown fur and dressed from head to foot in tartan was to be seen wandering around the west Highlands and Islands.
Her name was the Honourable Mrs Murray from Kensington, London, and she was in search of material for a book she called A Companion and Useful Guide to The Beauties of Scotland, which was published in 1803 in two volumes.
The summer of 1801 found her in Appin and from Ballachulish she wrote: 'I determined to visit the district of Aird-na-murchan, Loch Sunart and Loch Shiell, that I might myself collect from the lead mines at Strontian some of the newly discovered earth called Strontianite.
'Mr Stewart [the laird of Appin] lent me his boat to convey me to Inversandie [Inversanda], the beginning of a glen leading from the sea running to Fort William to the head of Loch Sunart, near which the small town of Strontian is built.'
It would seem that even in those days there was a holiday cottage trade in the area, as Mrs Murray was accompanied by an Englishman in search of a summer residence in Sunart.
By prior arrangement, they were met at Inversanda by an Angus Cameron who was to convey them by cart to Strontian. The road must have been extremely rough because after a few miles the Englishman decided he would be more comfortable walking the nine or so miles to Strontian.
Mrs Murray described Ardnamurchan as being a large rugged peninsula formerly covered by a thick forest being cut down for timber for export, building and fuelling the smelters for the huge lead mining activities going on above Strontian at the time. She remarked: 'After these woods were cut down, the landlords neglected to inclose the ground on which the felled timber and birch woods grew, by which means, sheep and cattle having free access to it, the young shoots were successively cropt, consequently many glens and sides of mountains are now bare, that in former times were thickly covered with fine trees.
'When I arrived at Strontian, I could hire no horse fit to carry me over the shoulder of Ben Risiepol to Glen Heurich; I was therefore under the necessity of sending Angus Cameron to my friend Mr Hope, of Glen Heurich, for one to come over to Strontian, to fetch me to his house, to which the English gentleman took a walk in order to view Loch Shiell, and to learn if there was in that quarter a house to let. He was unsuccessful, and called at Strontian on his way back to Bailiechoalish. He very gravely enquired if I had made a will, because, he said, "If you intend to ride to Glen Heurich, it is 10 to one that you but break your neck".
'The horse came; and notwithstanding the gentleman's prognostication, I mounted, and a difficult task indeed I found it to climb the ascent, and scramble amongst the rocks, some loose and some firm, all the way up the mountain. Once I was nearly accomplishing the gentleman's prediction, for a crumbling sheep track on a precipice gave way when I was on it, and had not Angus Cameron, who was leading the horse, been on the precipice side, and Atlas-like, supported the animal with his shoulder, we would all three, mistress, servant and beast, have rolled to the bottom.'
They rested on the summit where Mrs Murray drank from a well of 'exceedingly fine spring water', before arriving at Glen Hurich where she passed the night with Mr and Mrs Hope. The following day her hosts rowed her down Loch Shiel, presumably from Polloch, to visit the MacDonalds at Dalilea.
During the journey she was told of a large monster which had been seen in the loch. 'It's skin,' she heard, 'resembled that of an eel, and it lay in waves. The length of each wave was a sailor's measure, namely that of a boat, but when it floundered, it extended its body to a very great length, agitating the water exceedingly, so much so, that the fishermen made their escape from the monster, and never dared to approach it sufficiently, to be able to give any correct account of it.'
Mrs Murray spent most of the day sightseeing, walking over to Loch Moidart where she obtained: 'A view down the lake closed by the Scur on the island of Eigg, forming altogether one of the finest and richest landscapes of mountains, wood and water, I ever beheld.'
Somewhat daunted by the experience of her journey over the hill to Glenhurich, she decided to return to Dalilea and cross back into Sunart by way of Acharacle and Loch Sunartside. From there, she was escorted by Mr MacDonald of Dalilea and his brother-in-law to the foot of Loch Shiel. At Acharacle she wrote: 'We perceived a boat steering east; it contained a gentleman and his wife, who had carried an infant from the head of the loch, where there was a doctor inoculating with the vaccine or cow pox. I was surprised that this inoculation should be so generally adopted as it was in 1801, in such remote regions as Aird-na-muchan and Moidart.
'When we arrived at the foot of Loch Sheill we could not gain a dry landing, but Highlanders are never at a loss on such occasions, for they either wade to shore, or if a gentleman's dress does not permit it, he jumps upon the back of a dependent, and thus rides to dry ground. A chair formed by the united arms of two men was soon constructed for my use.'
At Kentra, the intrepid wanderer gazed wistfully at the distant hills of Rum and Skye before taking the road, or track, along the shores of Loch Sunart, likening the scenery to the Trossachs near Loch Katrine, and so to Strontian. There she felt compelled to ask Mr Jeffrey, factor to Sir James Riddell, owner of the estate, for lodgings, 'for the only house of public entertainment is too bad to sleep at'.
'This inn,' she wrote, 'was constructed of wood in London from where it was shipped and landed at Strontian; on its arrival it was put together, erected and called the London House. I expected great things from its name, and in fact it might be a tolerable house of reception if it were well kept; but that cannot be expected from the slender profits arising from the custom of miners, the chief frequenters of the London House.'
Her caustic remarks must have been noted, for not long afterwards the London House, now the Strontian Hotel, was described in another travel guide as, 'affording excellent accommodation for the stranger except at fairs and other public occasions'.
Mrs Murray's description of Strontianite is of great interest. Although it was discovered around 1790, it was Dr T C Hope of Edinburgh, probably related to her friends in Glenhurich, who named it after the nearby village making it famous throughout the world.
Iain Thornber
iain.thornber@binternet.com