Morvern Lines with Iain Thornber 12.09.19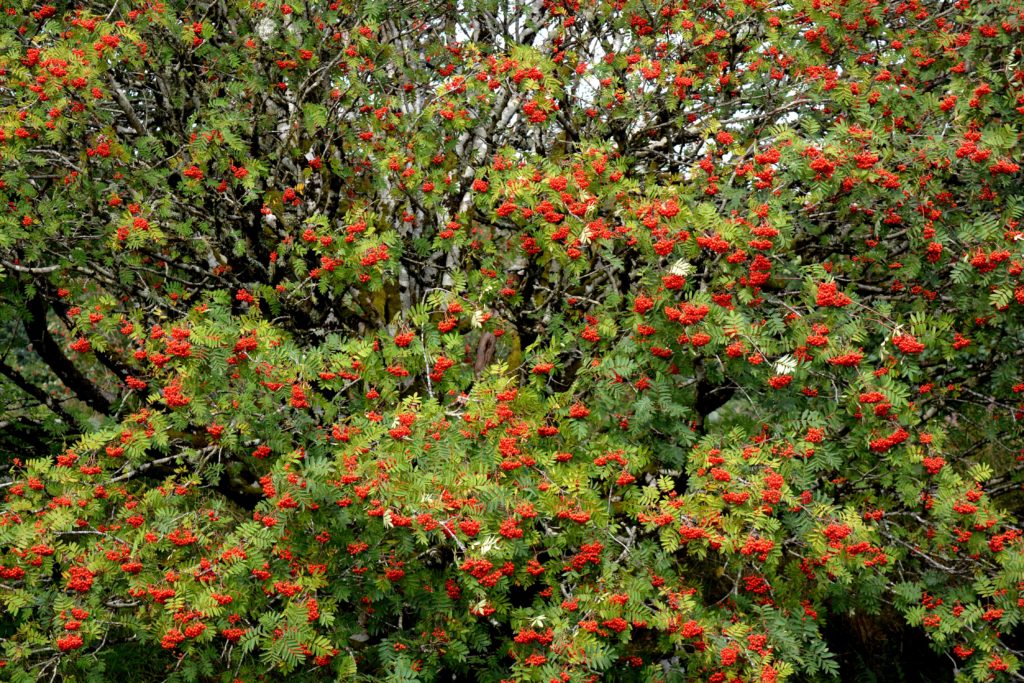 Want to read more?
We value our content  and access to our full site is  only available with a  subscription. Your subscription entitles you to 7-day-a-week access to our website, plus a full digital copy of that week's paper to read on your pc/mac or mobile device In addition your subscription includes access to digital archive copies from 2006 onwards
Just want to read one issue? No problem you can subscribe for just one week (or longer if you wish)
Subscribe Now
'Oh! rowan tree, oh! rowan tree, thou'lt aye be dear to me, entwin'd thou art wi' mony ties o' hame and infancy. Thy leaves were aye the first o' spring, thy flow'rs the simmer's pride; There was na sic a bonnie tree in a' the countrieside. Oh! rowan tree.' So wrote the Scottish Jacobite songwriter Caroline Oliphant, Lady Nairne (1766-1845).
You wouldn't need to be a forester or indeed be in the least interested in trees to have noticed the sheer volume of bright red berries on the rowans by roadside, brae and ben this year. The best seen in many years, according to some.
An older generation used to maintain that a heavy crop indicated a hard winter to come but, unless someone can produce any scientific proof of this, I would say it has more to do with the warmth, light and dryness of the preceding spring and summer. Popular on account of the beauty of its flowers, leaves and fruit and graceful as that of any of our native trees, the rowan is one of our country's favourites.
It can be found in gardens and parks but looks best in remote places, high on dry hills, in the heart of a thick forest or by the side of a purling burn. The rowan is the clan badge of the Maclachlans and the Malcolms.
The rowan has an easy grace and airy lightness that makes it pleasing to the eye wherever it is found. Another name for it is mountain ash, but although it flourishes in mountain habitats, it is no relative of the ash. The rowan is a member of the rose family but is actually a member of the apple's genus; Pyrus aucuparia is its scientific names.
It has five sepals, five petals and a large number of stamens. The petals are of a fine creamy-white colour and the flowers are sweetly-scented. The fruits look like tiny, bright, orange-red apples, and are especially attractive to birds. About September, when the leaves are still on the trees, the berries ripen but are soon devoured by hordes of fieldfares, hooded crows, ravens, redwings and other fruit-eaters. The birds are unable to digest the seeds within each fruit, and these are, therefore excreted, often far from the tree on which they grew. Distribution is thus ensured.
As for the name of the tree, 'rowan' may be derived from the same root as 'rune', referring to the fact that it was on this tree that runes, or charms, were inscribed, while its twigs were cut and used to ward off evil spirits. A third name is 'quicken', referring to the movement of its leaves stirred in a breeze.
Fans of otter enthusiast Gavin Maxwell will recall the incident in his famous memoir, Ring of Bright Water, when, following a row, his companion Raine ran out of the house to a nearby rowan tree. Grasping it with both hands and weeping, she cried out, 'Let Gavin suffer in this place as I am suffering now!'
In Celtic mythology, rowan trees possess magical properties, traditionally planted to ward off evil spirits. Maxwell took it to be a curse and called her a witch. He was later to blame her and the curse for the tragedy and misfortune that then befell him, which his readers will be all too familiar with.
We live in an age of plastic, steel and concrete and a world of Twitter and Facebook, yet I have hardly ever met anyone who does not know that it is very bad luck to cut down a rowan tree. The old Highlanders believed that good or bad luck is connected with various trees, none more so than the rowan. Its Gaelic name is caoran or fuinnseach coille, 'the wood enchantress' and was considered to offer the best protection. Consequently, it was planted close to houses, and huts even those far up mountain glens, still marking the spot of old shielings.
Fishing boats had a piece of rowan fastened to the yard arm to ensure safe passage and a small twig was tied to a cow's tail as a charm against witchcraft. Its fruit was supposed to bring about longevity and increased the proof of another kind of spirit. To guard against ghosts, a piece of a rowan tree was shaped into a cross with red thread and inserted between the lining and the cloth of a garment and, according to an old saying, as long as it lasted, 'neither ghost nor witch shall ever interfere with you'. A similar arrangement was laid over the threshold of byres and barns.
Many of these old customs associated with rowan trees have long since disappeared but eating rowan berry jelly with venison is as popular today as it was centuries ago.
The following is taken from an old family recipe: Gather the berries when almost ripe. Remove the stalks and wash and drain the berries. Put them in a preserving-pan with enough with enough cold water to float them well. Simmer them for about 40 minutes, or until the water is red and the berries are quite soft. Strain off the juice, being careful not to press the fruit. Measure the juice and return it to the pan. Add sugar in the proportion of a pound to each pint of juice. Boil rapidly for half an hour or until some of it sets on a plate when cold. Skim it well, pour it into small jars, and seal quickly. If you allow pound for pound of apple juice to rowan juice you will get a fine jelly. Allow a pound of sugar to each pint of apple juice.
Rowan jelly is also a fine accompaniment to grouse and saddle of mutton as well as venison. To clarify sugar; to every pound take a quarter-pint of water and the half of the white of an egg beat up. Stir this till the sugar dissolves and when it boils and a thick scum comes to the surface, add another quarter-pint of cold water to each pound. Let it boil, edging the pan forward from the heat till all the scum comes to the surface. Remove from the heat source and when it has settled remove the scum with a sugar skimmer. Put in a sieve over a dish. When full, return the drained sugar into the pan and boil and skim the whole again.
Once, in Paris after the failure of the '45 Rising, Prince Charles Edward Stewart and Cluny Macpherson, whose two lives had been broken on the wheel of fortune, met to talk over the Jacobite defeat at Culloden. They sat in silence for much of the time, the thoughts of both alike, straying to the country where each had first seen the other's face. Suddenly, the Prince said in a low voice, 'It is September. The rowans should be red in Lochaber.'
He slumped a long time in his chair, staring vacantly. 'Ah, the Highlands!' he whispered.
Iain Thornber
iain.thornber@btinternet.com