Morvern Lines with Iain Thornber 05.09.19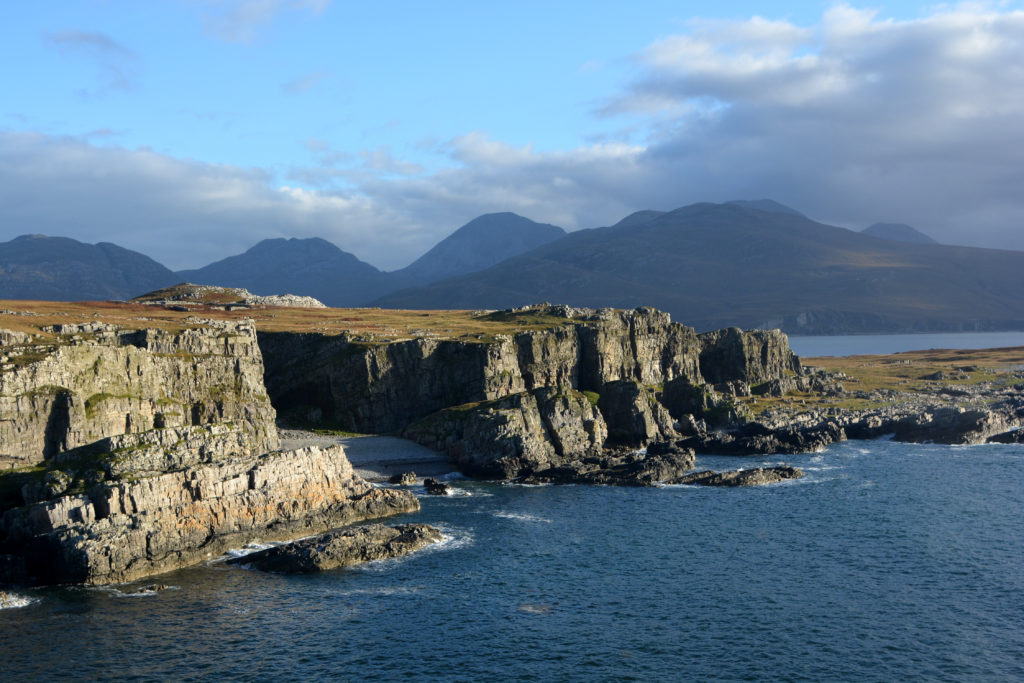 Want to read more?
We value our content and access to our full site is only available with a  subscription. Your subscription entitles you to 7-day-a-week access to our website, plus a full digital copy of that week's paper to read on your pc/mac or mobile device.  In addition, your subscription includes access to digital archive copies from 2006 onwards.
Just want to read one issue? No problem you can subscribe for just one week (or longer if you wish).
Subscribe Now
'You're mad!' was the general opinion of most of my friends when they heard that a boyhood ambition to holiday on the uninhabited west coast of Jura was about to become a reality.
The trip was to chart a course through the Corryvreckan whirlpool, Europe's most dangerous tide-race, in order to spend a long weekend living in a cave among wild goats and spiders on an adder-infested island.
I had my reservations but was not going to be deterred. As a boy, I had been influenced by an islander's thrilling legends of giants, whirlpools, caves, Fingalian warriors and of the supposed treasures of Beinn an Oir, the Mountain of Gold. The Viking invaders called the island Deura – deer island – after the wild herds that roamed over it.
Years later, I had heard from Ian and Cubby Mackinnon from Jura that some of the of the large caves along the west coast were used as shelters by funeral parties conveying the bodies of friends, and relatives to the sacred burial-grounds of Oronsay and Craignish.
More recently, I had come across a little-known local tradition that Robert the Bruce and his henchman Angus Og MacDonald had hidden in one of the Jura caves after their skirmish with the MacDougalls at the Pass of Brander in 1308. And that it was here and not on Rathlin Island, off Ulster, that Bruce supposedly encountered the spider that inspired him to keep on trying to overthrow English rule.
The prospect of exploring this piece of Jura in mid-May, with no bracken or midges, was enhanced by having a companion, Brian Wilson, author and conservationist, who had passed this way before on a solo canoe journey around Scotland. Moreover, I discovered from his book, Blazing Paddles, that he was a survival instructor. His presence was reassuring.
The main purpose of our visit was to explore the many caves for signs of early occupation. The early inhabitants of Jura probably did not live only in caves, but some of these primitive refuges had yielded archaeological finds, including some 9,000-year-old bone and flint implements. Few of the caves on the northern section of coastline had been thoroughly investigated.
I was keen to go, yet bothered particularly by one thing: adders, Scotland's only poisonous snakes. Tales of 'huge serpents' crawling into the caves at night for warmth had an unsettling effect and the advice from the Mackinnon brothers that they were likely to be less frisky in May than in June determined the date but did little to assuage my concerns.
Where to linger and which cave to choose? It was preferably to be free of dead goats in varying stages of decay. An hour's search and we settled on one near the head of Glentrosdale Bay, with a 20ft high entrance, fully twice that deep and half as broad, where there was not only fresh running water, but a plentiful supply of driftwood thrown up on the nearby beach.
For sheer desolation and raw landscape, the north coast of Jura is unique. The crumbling cliff which extends more or less the entire length of the west coast is punctuated by a few shingle beaches and deep streams. Raised beaches, relics of the Ice Age, are now high above the level of the sea but still have shoreline birds nesting on them whose eggs are a welcome treat for hungry adders, and provide a feeling of uncharted territory, much akin to an Arctic wilderness. We had visitors that first night.
In the gloaming, a herd of wild goats, keen to gorge themselves on the tangle of succulent kelp stems left behind by the most recent high tide, descended from the high ground. An hour later 30 of them stood at the entrance to our cave snorting, head-shaking and hoof-stamping, clearly annoyed by having their lodgings taken over. More driftwood was put on the fire to deter them and they ambled off seeking shelter elsewhere.
They belonged to the largest herd of feral goats in Britain. Robert the Bruce had held them in esteem when they discouraged his pursuers above Loch Lomond from entering a cave in which he was hiding. Consequently, he issued a decree that goats should never be molested. Gaelic lore has references to these creatures killing adders and, subsequently, giving me some peace of mind!
Our plan was to investigate as many of the 40 or so caves shown on Ordnance Survey maps between the Gulf of Corryvreckan and Loch Tarbert. Soon, however, we discovered caves by the hundred. One, though, was distinctive in being a bothy used by shepherds and stalkers not that long ago. It had stone benches and had been wood-lined.
We wondered whether this was the place in which the Edinburgh scientist, Dr John Walker, might have worked during his classic experiments conducted on Jura in 1812, concerning the boiling-point of water at sea level and high elevations. However, the remains of sheep-shears, brass cartridges and empty whisky bottles were less do with past research, more with recent times.
Caves are more numerous further south along this inhospitable coast. They are graveyards for livestock, especially the young goats and deer born in January and February. We found the remains of a kid and a yearling deer calf lying side by side. They must have lain together for warmth, only to be overcome by cold and hunger. It was a pathetic sight.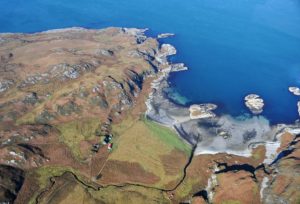 Near Glengarrisdale, there is a cave shown on the Ordnance Survey map as 'Maclean's Skull Cave'. Allegedly, the skull belonged to a Maclaine of Lochbuie who had been killed on the field in front of the old house, which is now looked after by the Scottish Mountain Bothy Association, in a fight with the Campbells in 1647.
We could find no trace of the skull or its rock-shelter, but we did have our share of excitement when we discovered a large and very much alive stag sheltering from the scorching heat in another cave nearby as it rushed out. I was knocked to the ground and, when I struggled to my feet, realised that I was wrapped in a spider's web that was thick with huge wefts of ancient-looking gossamer.
Later that day, beyond Glengarrisdale, I discovered more of these webs and saw the large, grey and white spiders which make them.
All too quickly our time had come to an end but before departing we took the opportunity to visit Breacan's Cave where this Scandinavian prince is said to be buried. Close by its entrance, we found the smooth side-slabs of a prehistoric stone cist or coffin. It had been robbed many years ago and nothing now remained to suggest this had been a royal tomb.
We may not have made any startling historic finds, but at least we could confirm that there are sufficient caves on the west coast of Jura to hide an army – and that some of them contained spiders.
A return to this fascinating coastline to discover more was planned, as what could be more in the tradition of Robert the Bruce than to try, try and try again?
Iain Thornber
iain.thornber@btinternet.com