Clouds part for sunny and busy Lochaber Agricultural Show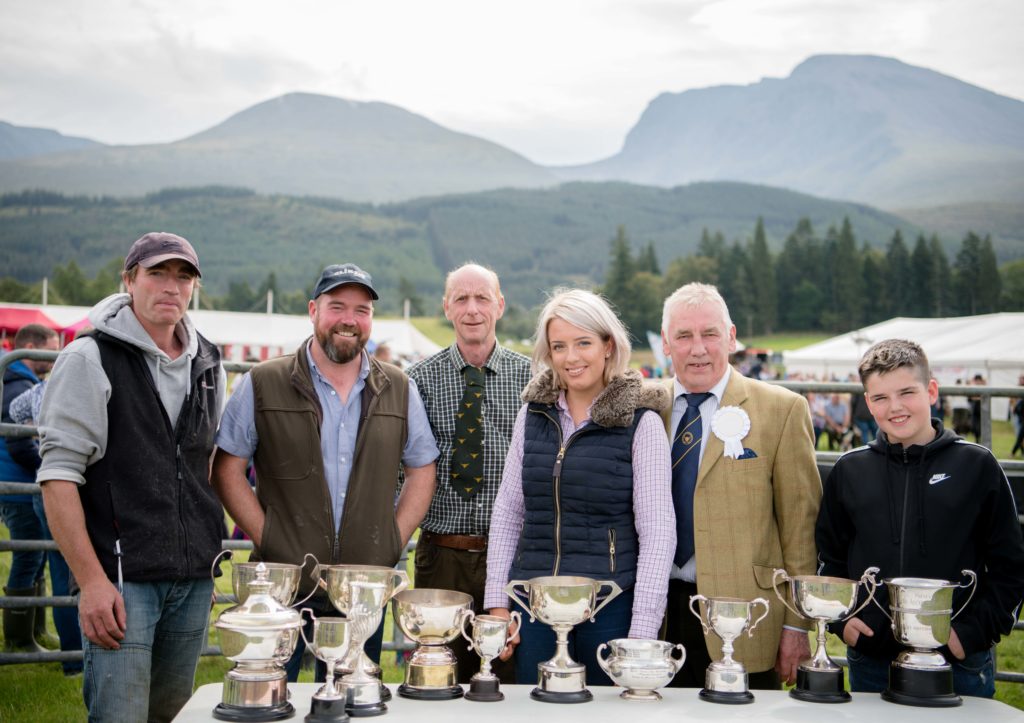 Want to read more?
We value our content  and access to our full site is  only available with a  subscription. Your subscription entitles you to 7-day-a-week access to our website, plus a full digital copy of that week's paper to read on your pc/mac or mobile device In addition your subscription includes access to digital archive copies from 2006 onwards
Just want to read one issue? No problem you can subscribe for just one week (or longer if you wish)
Subscribe Now
After a pretty miserable week of drizzling rain and mist, Saturday saw the clouds part to let the sun beam down on the show field at Happy Valley for the 122nd staging of the Lochaber Agricultural Show and Family Fun Day.
Held by kind permission of Ewen Campbell of Inverlochy Castle Farm, the show, organised by the Lochaber Agricultural Society, enjoyed its usual high turnout of residents and visitors.
Traditional music sounded in the main field thanks to the Lochaber Schools Pipe Band, which added to a poignant audible background for the Highland dancers.
Elsewhere the Great Glen Swing Band set many a foot tapping, while patrons were fed local produce in the food and craft tent or watered in the Lochaber Rugby Club pop-up bar.
Family fun surrounding the main ring included a keenly contested handicraft tent, birds of prey and ferret racing to name just a few activities.
Inside the ring there was sheep shearing, horse fancy dress, a children's pet parade and terrier racing, while in an adjacent ring there was an equine gymkhana displaying the skill of horse and rider.
Venture further and agricultural machinery had crept out of barns and depots for display. A carefully restored Fordson Narrow Wing and Massey Ferguson 65 proudly stood beside the newer progeny on offer from machinery dealers.
A far older hand-cranked wooden grain sieve originally from Granton winnowed chaff in to the summer air and quietly separated grain from straw.
Go deeper still and you found the heart of the show – the clue is the backdrop of rowed up livestock trailers.
At the core of the show is the livestock competition. Early in the morning the pens had been filled ready for judging.
On display here, pen by pen, is the inter-generational pride and joy of rural life. You could see it in the horns grasped by old and young, and in the engraved names of the stock trophies.
In two sheep rings, one dedicated to the ubiquitous Blackface the other to cross sheep, wool had been brushed and oiled.
Under the attentive lean of shepherd and shepherdess,  the crook of the judge moved sheep around for viewing.
John Nudds of Torr-na-Faire, Lochaline, earned a fair trophy hoard for his blackface entries, including the overall champion, and Callum MacDonald of Inverlochy, Fort William, took the cross sheep champion.
In the cow ring, halters were firmly gripped and cows either obediently led around at the correct pace, or alternatively tested their handlers with stubborn immovability.
Under the steady gaze of the judge both the Highland cattle and the non-Highland cattle were assessed, and rosettes handed for display.
The champion Highland animal went to Montgomery of Cnoc Farm, Appin, with the cross cattle champion went to M and S Cameron of Spean Bridge.
If you are not from agricultural background, the ritual and language surrounding the stock judging pens can be a daunting marvel.
But symbolic of the show as a whole, alongside the professional judging, the show runs an open stock judging competition.
Contribute a small fee to help with the show costs and you get a scorecard to try your skill at judging the quality of livestock.
At the end of the day the community declares their open winner. This year it was Donald MacColl and Kenny MacCallum who snagged the community's eyes and scorecards.
There is something deeply magical about the open culture of the show. Chairman of the Lochaber Agricultural Society, George Fulford, described the annual event as 'the real community show'.
He closed the show by expressing thanks to 'all participants, dedicated volunteers and sponsors who made it happen'.
Speaking after the event, society press spokesman John Weller said the event had seen an increase on spectator and sheep numbers compared to last year.
'It was a very good day. The field surface held up really well throughout, especially after the week we had weather-wise. The car parking did see some people needing pulled out but overall it wasn't too bad on that front,' he told us.
'Gate numbers were up, as was sheep entries, and the standard was very high.
'Cattle numbers were a bit down on last year but we think that's just generally reflective of the farming climate across the country at the moment.
'One highlight was the unexpected appearance of Scotland's strongest man, Tom Stoltman, who took on youngsters at the tug-o-war.
'And all the feedback we've had about this year's show has been really positive.'
All photographs by Abrightside Photography.
Lochaber Agricultural Show 2019 Trophy Winners
Blackface Sheep
Glen Gloy Cup – Best Tup Lamb: Sam MacKenzie, 16 Moss Acharacle
Dr Van Voss Cup – Best Ewe in Milk: John Nudds, Torr-Na-Faire, Lochaline
Braeroy Cup – Best Gimmer Bred in Lochaber: John Nudds
Major MacDonald Cup – Best Ewe lamb: John Nudds
Glenfintaig Trophy – Best pair of Prime Blackface Lambs: Beradelli
Alistair MacKenzie Memorial Cup – Best Local Homebred Group; John Nudds
Ben Nevis Auction Mart Cup – Local competitor with most points: John Nudds
Welcome Foundation Shield – Best Sheep Bred in Lochaber
Outwith Champion and Reserve: Sam MacKenzie
Locheil Estate Cup – Local Reserve Champion Blackface: John Nudds
Major MacDonald Cup – Local Champion Blackface
(all Local 1st prize winners to compete): John Nudds
Laggan Farms Trophy – Open Best Homebred Group; John Nudds
Bidwells Shield – Open Reserve Champion Blackface: Fulton Ronald, Saulmore Farm, Connel
Ian Macrae Memorial Cup – Open Champion Blackface
(all Open 1st Prize winners to compete):John Nudds
Open Champion: John Nudds
Open Res Champion: Fulton Ronald
Local Champion: John Nudds
Local Res Champion: John Nudds
CATTLE TROPHY WINNERS
Glen Nevis Trophy – Best Highland Calf: Cnoc Farm, Appin
Mary MacLean Balure Cup – Reserve Champion Highland: Tordarroch Estates
Miss E. Weir – Champion Highland Animal: Cnoc Farm
Royal Bank of Scotland Cup – Best Pedigree Animal (out with Highland): Malcolm and Chris Cameron, Strone Farm
Ewen MacPherson Cup – Best Cross Calf Bred in Lochaber: M and S Cameron, 2 Balmaglaster, Spean Bridge
The Mr & Mrs Jock Carmichael Cup – Best Cross Cattle Exhibit bred in Lochaber: M and S Cameron
Major MacDonald Cup – Best Beef Calf: M and S Cameron
British Alcan Cup – Best Breeding Beef Cow (Highland, Pedigree & Cross): Malcolm and Chris Cameron
Bank of Scotland Cup – Best Female Bred in Lochaber (Highland, Pedigree & Cross): Ewan Campbell, Camaghael
The Carmichael Cup – Best Calf of Native British Breeding: Ewan Campbell
West Highland Estates Office Cup – Best Crofters Animal: Ewan Campbell
Cross Cattle Champion: M and S Cameron
Cross Cattle Res Champion: S M Troughton, Ardachy, Oban
N.F.U. Salver – Best animal bred in Lochaber out with Champion and Reserve (All 1st prize winners bred in Lochaber): Ewan Campbell
Inverlochy Castle Cup – Reserve Champion: M and S Cameron
Hon Wills Cup – Supreme Champion: Cnoc Farm
CROSS SHEEP TROPHY WINNERS
West Highland Oil Cup – Best Pair of Prime Cross Lambs: M and S Cameron, 2 Balmaglaster, Spean Bridge.
Highland Livestock Services Cup – Reserve Champion Cross Sheep: M and S Cameron
Glen Gloy Cup – Champion Cross Sheep: Callum MacDonald, Inverlochy.
North Country Cheviot Sheep Trophies:
Achnasaul Bowl – Champion Cheviot: M and S Cameron.
Keil Cup – Reserve Champion Cheviot: Iain MacKay, Torloisk Farm, Mull.
Archie MacColl Cup – Best Cheviot Ewe lamb bred in Lochaber: M and S Cameron.
Any Other Breed Sheep Trophies
David MacDonald Trophy – Best Cheviot Tup Lamb: M and S Cameron.
Millennium Shield – Reserve Champion Any Other Breed: Michael Slimon, Breakachy, Newtonmore.
L Macnally Open Cross Sheep Shield: Callum MacDonald
Alistair MacDougal Cup – Champion Any Other Breed: Chloe MacDonald Cameron, Glenborrowdale Farm, Acharacle
Cheviot Champion: M and S Cameron.
Cheviot Res Champion: Iain MacKay
AOB Champion: Chloe MacDonald Cameron.
AOB Res Champion: Michael Slimon
Cross Champion: Callum MacDonald
Res Cross Champion: M and S Cameron
Stan Proudfoot Memorial Cup – Champion of all Sheep Champions Inc B/Face: John Nudds
Horse and Pony Championships
Highland Pony In-hand, Champion: Mandy Lenz, with Murdoch Mhor Of Croila Croft
Res Champion: Caitlin Campbell, with Islay Luchag Of Croila
Highland Champion: Mandy Lenz, with Gnomag Of Croila
Highland Reserve Champion: Jessica Curtis, with Hellustow Elsa
Tack & Turnout Shield : Lindsay Miller, with Arisaig Sea Kelpie
Lead Reign Champion: Jill Gosney, with Elsa
Overall Champion Cup: Rebecca Cameron with Knights Templar
Marion Campbell Res Trophy: Alison Garvey, with Rathaspic Ralph
Dog Show Results
Terrier and Hound – John Henderson with Breagha
Gundog – Helen Brooks with Murdo
Toy and Utility – Dobrochna Czapla with Foxy
Working and Pastoral – Imogen with Lumi
Best pedigree in show – John Henderson with Breagha
Crossbreed – Archie Rodgers with Duke
Waggiest Tail – Liza Glaze with Zezi
Junior Handler – Dobrochna Czapla with Foxy
Prettiest Bitch – Dobrochna Czapla with Foxy
Handsomest Dog – Sophie Carver with Lorek
Best Novelty in show – Archie Rodgers with Duke
Handicraft Tent Results
Section 1 – Home Baking
Mrs Isabel Campbell Cup (most points in Home Baking) – Hydi Flux, Roy Bridge – 43pts
Silver Spoon (presented by Shaw Family) Champion Baker – Hydi Flux, Roy bridge
Mrs Van Voss Cup (runner-up in Home Baking) – Amy Fulford, Glen Loy – 14pts
Spean Bridge Hotel Cup (best exhibit in Home Baking) – Hydi Flux, Roy Bridge –
Rosette for winner Class 5 (Victoria Sponge Cake) – Hydi Flux, Roy Bridge
Section 2 – Produce & Preserves
Mrs A McColl Cup (most points in Produce & Preserves) – Hydi Flux – 40pts
Mrs M Bateman Cup (most points in Home Baking and Produce & Preserves) – Hydi Flux – 83pts
Braeroy Estate Cup (most points in Wine & Refreshments) – Hydi Flux – 4pts
Rosette for Best Exhibit (Classes 14 – 25) – Maisie Dennison (Salmon Pate)
Rosette for Best Exhibit (Classes 26-27) Hydi flux (lemonade)
Section 3 – Knitting
Mrs R MacLennan cup (most points in Knitting) – Hydi Flux – 37 pts
Mrs Isobel MacPhee Quaich (Runner-up in Knitting) – Sheena McGillivray – 20pts
Rosette for Best Exhibit – Jenny Cooper
Section 4 – Handcraft
Lochaber Agricultural Society Cup (B Kirkbride Cup) (most pts in Classes 39-49)- Hydi Flux, Roy Bridge – 28 Pts
Rosette for Best Exhibit – Classes 39-49 – Kirsty Bloom (Needle felted animal)
Helen Leslie Plaque (most points in Art & Photography Classes 50– 56) – Mark Reynolds – 10 pts
John Kerr Trophy (most points in Classes 50 – 52) photography – Mark Reynolds – 10 pts
Rosette for Best Exhibit across whole Handcraft section (Classes 50 – 59) – Blair
Section 5 – Floral Decoration
Mrs Ann MacCallum Cup (most points in Floral Decoration) – Mo Mason, Fort William – 18 pts
The BOSS Salver (Runner-up in Floral Decoration) – Ann MacPherson, Strontian – 13pts
Rosette for best exhibit in class 60 (Winter) – Ann MacPherson, Strontian
Section 6 –Floral
Ness Motors Shield (most points in Floral Section) – Sheena McGillivray, Fort William – 17 pts
Vic MacPherson Shield (most pts for Dahlias) – Rick Atkinson, Corpach – 12 pts
Rosette for winner in class 71 (3 Stems Begonia) – Sheena McGillivray
Section –Honey
Peter Brown Memorial Trophy (most points in Honey section) – Alison Blair, Fort William –
Section 8 – Garden Produce
P Robertson Shield (most points in Garden Produce) – John Whyte, Glenfinnan 22pts & Maisie Dennison 22 pts
Ruth Langan Cup (Runner-up in Garden Produce) – Amy Fulford & Liz MacDonald 18pts
The Hunter Rose Bowl (most points in Floral & Garden Produce) – Amy Fulford 24pts
Rosette for best exhibit – Class 95 (White Potatos) – John Whyte
Section 9 – Children's
Lundavra cup – Primary School with most points) – Banavie Primary School
Jessie Corson cup (Nursery/Playgroup with most points) – Spean Bridge Primary School
Lochaber Show Medals (Boy and Girl with most points in each age group)
Nursery/playgroup Boy – Ewan Kelly/Lenny Martin, Spean Bridge; Girl – Morven Strachan, Spean Bridge
Primary 1 & 2 Boy – Cooper Spence, Inverlochy Primary School; Girl – Layla Black, Lundavra
Primary 3 & 4 Boy – Merry Wells/Aaron Tresidder, Banavie; Girl – Shannon Stevenson, Spean Bridge
Primary 5 & 6 Boy – Magnus Matheson, Banavie; Girl – Charlotte Millar, Banavie
Primary 7 Boy – Alex Drysdale, Banavie; Girl – Sophie Eaves, Spean Bridge
WRI Cup – Marion MacDonald, Blarour, Spean Bridge
Mrs Elma MacKellar Cup (most points in whole Handcraft Tent) – Hydi Flux, Roy Bridge –
149pts