Morvern Lines with Iain Thornber 15.08.19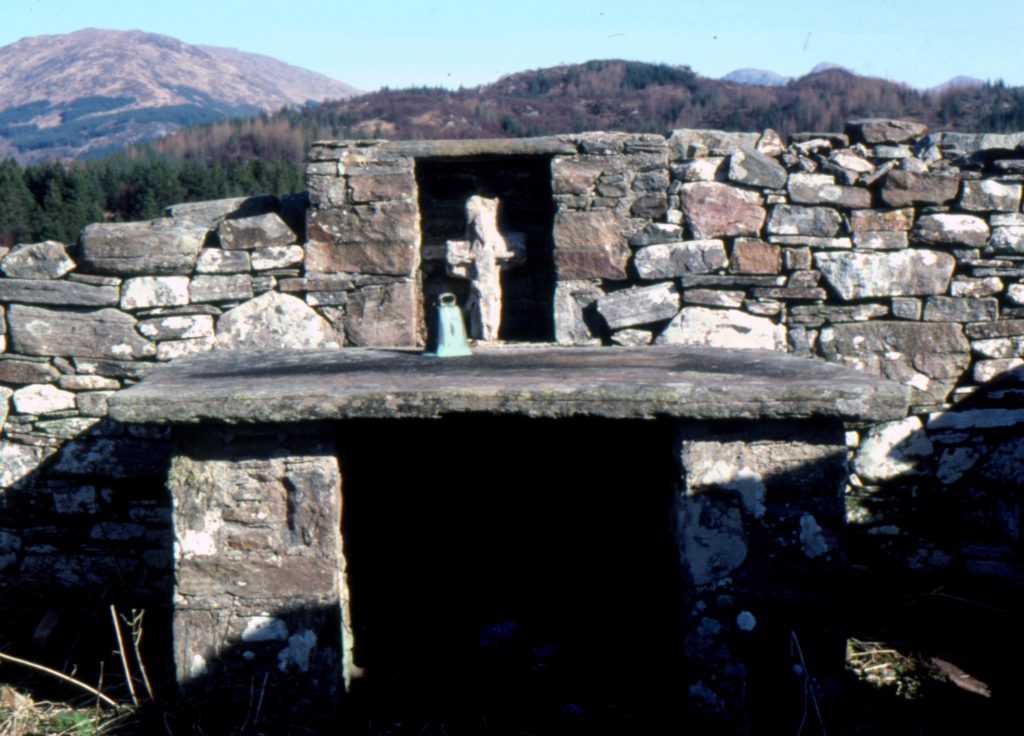 Want to read more?
We value our content  and access to our full site is  only available with a  subscription. Your subscription entitles you to 7-day-a-week access to our website, plus a full digital copy of that week's paper to read on your pc/mac or mobile device In addition your subscription includes access to digital archive copies from 2006 onwards
Just want to read one issue? No problem you can subscribe for just one week (or longer if you wish)
Subscribe Now
Scotland has not so many early bells still in their original place of use that the theft of one, dating back to distant antiquity, cannot fail to stir emotion and condemnation on a national scale.
St Finan's Isle, sepulchre of the dead for thousands of years, lies at the western end of Loch Shiel some 11 miles from Glenfinnan between the wild and remote districts of Sunart and Moidart. It is named after St Finan, an Irish leper from Leinster, who is said to have landed at Kilchoan in his coracle from Iona in the sixth century.
From Ardnamurchan, he travelled slowly northwards, carrying a small Celtic bronze hand-bell, introducing Christianity to the pagans of the area until he established a little island sanctuary and church on Loch Shiel. The bell was the last relic of the patron saint to be preserved on the site of his labours.
Little or nothing is known of his ministry, but St Finan left behind a gracious memorial, and his name is associated especially with the long romantic loch along part of which Prince Charles Edward Stuart travelled to raise his standard at Glenfinnan in 1745. St Finan's well is on the eastern side of Ben Resipole, the guardian mountain of St Finan's Isle and a flat rock with an indelible footprint on the summit of Beinn Bhreac, above Kentra, is known in Gaelic as 'Suidhe Fhianain' – St Finan's Seat.
Shortly after the death of St Finan at Kilfinnan near Invergarry, his relic, held in deep veneration, was entrusted, not to the clergy who carried on his work, but to laymen living in Moidart. As these custodians succeeded each other over the generations they were given a free grant of land from the Crown and later the chiefs of Clanranald, in virtue of their office.
Custodians of such relics were called in Gaelic 'deoradh', a word whose original meaning was stranger, wanderer or exile – a term which came to be applied not only to the keeper but to the relic itself, as it was carried about the countryside for special purposes.
St Finan's bell was held to have healing powers; an oath sworn on it was specially binding. More curiously still, if property or cattle were stolen from the loch-side, the custodians could be called on to recover it, using the bell to help his search. In this manner the bell came to serve important public functions long after it had ceased to be of ecclesiastical importance, or even to express any particular religious ideas.
For years it was always brought down from the ruined church to the boat- landing place to await the arrival of funeral parties, and carried 'deisal' [sunwise] round the island in front of the cortege before the burial. When the hereditary line of its custodians failed, the bell stood unguarded on the large flat stone altar of the ruined church from which it was stolen in 1715 by a soldier in the Hanoverian army on his way from Castle Tioram to Fort William with several colleagues who must have regarded it as a fine piece of loot.
Fortunately, a Moidart man witnessed the theft and gave chase. He overtook the party and, getting hold of the culprit, took the bell from him and returned it to St Finan's Isle although during the struggle the tongue, or clapper, was lost and had to be replaced by an iron copy.
There are two types of Celtic bells: iron and bronze. The former is older, though both were in use at the same time. Of the bronze, there were four known to be in Scotland. They were quadrangular in shape and cast in one piece unlike some of their Irish contemporaries which were of sheet metal and riveted down one or both sides.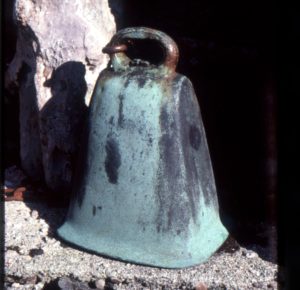 St Finan's measured about eight inches high and six inches by five inches at the mouth. It was a rich pastel green in colour and thickly patinated. Although it did not appear to have had an inscription, a large capital letter had been etched on one side.
Several weeks ago two volunteers who, at their own expense, have spent the past five years systematically removing an impenetrable jungle of rampant azaleas, black-thorn, gorse and brambles that had overwhelmed most of the gravestones and damaged some, noticed that the bell inside the ruined church had disappeared.
At this point we have to ask how old was this bell? According to experts, it belongs to a much later period, which, if they are correct, means it could not possibly have been brought to the island by St Finan. That shift in time does not, and should not, alter the importance of this relic. What became of the original we will never know.
Until its sacrilegious theft, the bell we know was attached to the wall of the church by a chain and protected from the elements inside a little stone alcove with a weather-worn crucifix for company. It survived secured by the deep reverence which Roman Catholics and Protestants alike held for the place and, according to local tradition, by a maledictory prayer cursing the thief with misfortune and death which would be handed down through his or her descendants.
The only other occasion on which it is recorded that the later bell was taken from the island was in 1911 when it was lent by the Very Reverend Donald Mackintosh, priest in Moidart, for a Scottish Exhibition of Natural History, Art and Industry in Glasgow. There is actually another bell on St Finan's Isle. It appears on a late medieval grave slab to a female on the collar of a small dog standing on its hind legs in the act of licking her left hand.
When Bannockburn was won and Flodden lost, when the Spanish fleet was defeated and the Highland charge at Culloden ended in chaos, this bell was sounding its clear tones of old, half-remembered things across still Shiel waters. Until it comes home, not even the dead or the deer which swim across to the island to graze hear it now.
It would be good to believe that the thief's conscience will be struck and that it will be quietly returned so that we may hear its voice again, reminding us of our beliefs and our ancient heritage. Prayers for its recovery and for the perpetrator have been said in Inverness cathedral, in the Diocese of Moray Ross and Caithness, and at the altar in St Margaret of Scotland Episcopal church in Aberdeen during the celebration of the Blessed Sacrament.
Iain Thornber
iain.thornber@btinternet.com