Henry Woodman: a larger than life 'legend'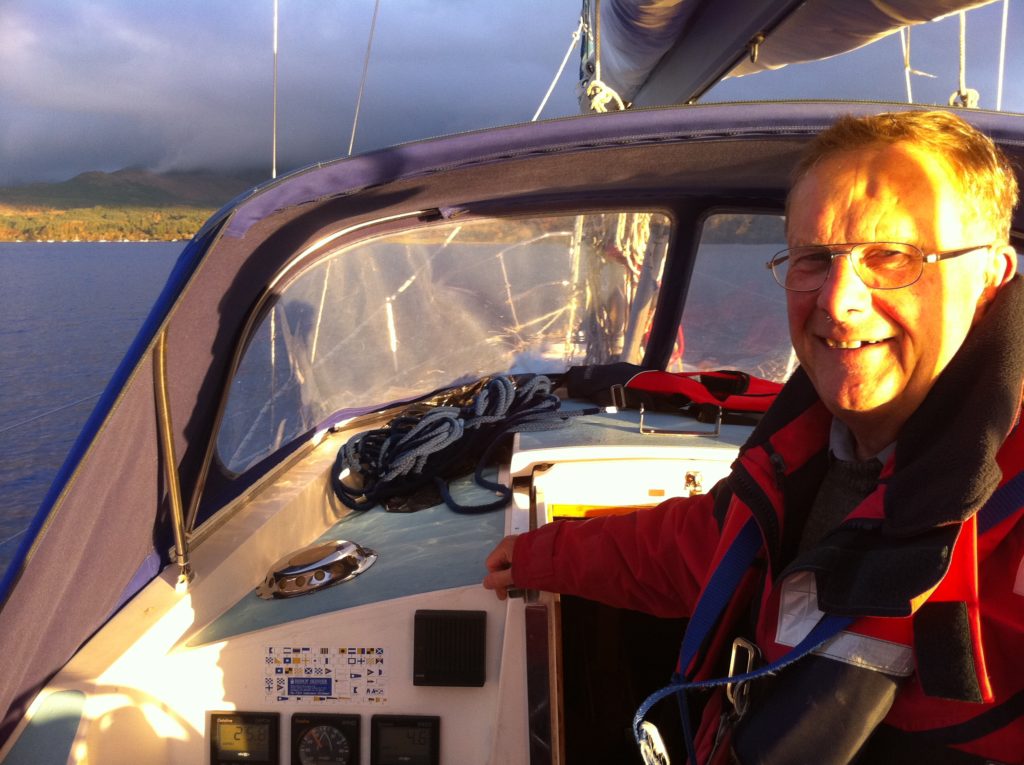 Want to read more?
We value our content and access to our full site is only available with a  subscription. Your subscription entitles you to 7-day-a-week access to our website, plus a full digital copy of that week's paper to read on your pc/mac or mobile device.  In addition, your subscription includes access to digital archive copies from 2006 onwards.
Just want to read one issue? No problem you can subscribe for just one week (or longer if you wish).
Problems logging in and require
technical support?
Click here
Subscribe Now
Argyll said a fond farewell recently to Henry Woodman, described by many as a larger than life legend.
At a poignant celebration of his life, he was outlined as a truly 'wonderful man' living life to the full, but also being the embodiment of what it means to be human in all senses of the word.
Henry was born on October 2, 1939, in Coniston to Frances Louise and Jack Woodman. They were farmers and Henry was the eldest child, with brothers John, David and sister Helen following.
He had a great childhood on the farm – except he remembers going to a friend's party and when the cream cakes were getting handed out, the boy's father saying: 'You don't need the cream as you come from a farm. It made a huge impact on Henry as he spoke of it often throughout his life and tried his best to remedy this at every opportunity.
The family used to  holiday at Tarbert, Loch Fyne, and it was here that Henry started to learn and love sailing, which was to became a lifelong passion.
At the age of nine he was sent away to Dollar Academy boarding school, 200 miles from home. He was not happy here, although things improved when he was introduced to the bagpipes, which also became a lifelong love for him.
He developed a liking for photography and was very enterprising. He had a business taking and developing photographs and used to keep copies of the ones of the prettiest girls. These were stored in between the pages of his hymn book and whittled away many a school assembly admiring his work.
He studied mathematical phsyics at Edinburgh Univeristy and loved his time there. He majored in playing bridge and played it so often he had to repeat a year.
His love of piping continued through the Univeristy OTC pipe band where he played at the Edinburgh Tattoo and became pipe major as well as being chief barman, all of which was to set him in good stead for the future.
He met the love of his life Val at a dance in 1960. Val had gone to the dance with two friends and years later when she asked why he had chosen her to dance, he replied: 'Cause you were the one in the middle' Henry was a very romantic man…
Henry and Val were married in Belfast in 1964 and honeymooned in Crinan and Norway. They lived in Edinburgh for a time then moved to Derby as Henry had a job with Rolls Royce & Associates working on the design of water cooling systems for Nuclear submarines. Henry enjoyed the work but yearned to return to Scotland and the sea.
In 1966 they returned to Edinburgh where he worked in the Edinburgh Regional Computing Centre as a computer programmer and then ICL in Dalkeith in the days when computer literally filled the whole room.
Their first child Rona was born in 1970 and son Ian in 1973.  The family then moved to Oban and into the Manor House Hotel in 1976 and were here for two years before they moved to Cologin Chalets and the Barn Bar. Here Henry found his true calling and was at his happiest.
He wore the kilt every day and had such a huge personality many people returned year on year, just because of Henry. He loved meeting and greeting all the guests and was always there to welcome them. He was a people person and it showed in the way he treated everyone.
Henry and Val ran Cologin with Jack and Beryl De Sadleer, each bringing their own skills to the business. Henry and Beryl ran the office, or depending on who you speak to… Beryl ran the office and Henry interfered.
Henry retired from the business at the age of 58 and bought the family home Caolas in Connel and the Highland Apartments, a business in Oban.
Henry always took people as he found them. He was a man with an infectious smile who could see the good in everybody. There was never any pretence, no hidden agenda, just an endless curiosity about the world and about people. He would never judge anyone and would always forgive people and give them a second chance
Henry was not without health issues. He suffered a brain haemorrhage in 1970 and was given a 40 per cent chance of survival. He did survive but this left him with epilepsy. He had another haemorrhage eight years ago and again had a very slim chance of survival, but pulled through. He also survived sepsis, pneumonia and atrial fibrillation. He was also bipolar.
Lesser men would have crumbled, but Henry never once complained about any of these ailments and just got on with life – always with a smile on his face and helping others whenever he could.
Henry's son Ian outlined: 'Everyone has a story about Henry – tales of adventure and much hilarity. And none more so than from the Barn Bar era where Henry was the face of Cologin Chalets and the Barn for so many years.
Ian said: 'Henry was the poster boy of a golden age of the Barn Bar. Although the Barn had a very strong backroom team in my mum Val and partners Beryl and Jack, as well as a host of other employees, dad was the front man – he loved nothing better than a 'spree' and to see people enjoying themselves – which is why the Barn was such a great pub.'
The stories from the Barn are as legendary as the man himself. Whether it be the raft race, where the raft sank but Henry piped on board all the way down; the screaming woman when the eel came out the bath tap in chalet 7; or the ram that escaped from the field and repeatedly butted its reflection in the shiny Porsche outside chalet 3! The goats raiding the tobacco store, the legendary ceilidhs and impromptu music jams or the parties of the divers and the Hash House Harriers –it was an era that anyone who was part of it will never forget.
Although running the chalet business and pub/restaurant was hugely onerous, Henry found time to indulge his passion for sailing. Sailing trips were as legendary as he was – leaving in November at the end of the season when most people were pulling their boats out of the water.
Ian said: 'There would be a keg of heavy in one cockpit locker and a keg of Lowenbrau in the other, complete with a compressed CO2 cylinder and a font. My job was chief barman and squat lobster peeler. My dad could have a short temper especially for those closest to him and I learned a lot of nautical words and quite a few naughty words also while being shouted at on the fore deck, but I was hooked for life on west coast sailing and all that it encompasses.
'That same compressed CO2 was used to clear the drains at the Barn when the coffee grounds blocked them. On one occasion dad upped the pressure a bit too much and another screaming woman came shooting out the ladies covered in coffee grounds.'
Henry was never more content than when afloat and he and Val enjoyed many sailing adventures throughout their lives, be it just the two or them or with their children Ian and Rona and their subsequent grandchildren, or with friends. Val shared his love of sailing and this grew, even when pulling up the anchor in her nightie!
He shared his love and passion for the sea and the West Coast with everyone he met, and with his son Ian in particular, sailing aboard their boat Sundance.
'Without him I would not know the beauty of the phosphorescence in the sound of Mull, the roar of the Corryvreckan, the craic of the Old Forge, his favourite anchorage of Loch Scavaig or a Barra beach at sunset, and I am eternally grateful for that,' said Ian.
They both agreed it was a privilege to sail west coast waters. Ian added: 'I think of my dad as a pioneer who followed his dream of sailing on the West Coast. He was one of the first people to try and charter yachts from Ardfern. It didn't work out but it is where Rona was conceived in a house called 'Beinn An Dun', so they always said they had been and done it!'
Henry's other big love was piping and his chanter was never far from his hand. He piped whenever it was wanted, at ceilidhs, for people leaving and arriving, and sometimes when it wasn't, such as the 06:30 revile on the Classic Malts cruise after a big spree the night before.
He piped at many weddings at the Black Castle in Barcaldine, always donating some of the money he received to Argyll Couple Counselling. Henry was a great fund raiser for a range of local and national charities.
He once did a 14-mile charity walk from Loch Arkaig to the Old Forge at Inverie raising £700, and carried his pipes the whole way, playing at the top of every hilltop and keeping everyone awake in the bothy at night.
Ian remembers going to meet them on Sundance and Henry piped them all the way in on the boat, which took a while! Someone placed a double whisky at Henry's feet. 'We never worked out if it was to say thanks or just to distract him,' said Ian. He was a personal piper for Val, Rona and I at many times and would learn tunes just for us. 'In tribute to Henry, music at his celebration was played by Scott, John, Diarmid, Chris and John who brought the band back together for this occasion.
Henry found a whole new lease of life when his beloved grandchildren came along – and he adored every one of them. Rowan, Eilidh, Erin and Harris brought him so much laughter and joy, and he was immensely proud of them. Erin described Henry as an 'epic grandad' and he and Harris had many a happy time together walking to the Connel shop or searching for crabs on the beach. Rowan and Eilidh spent several summer holidays at Caolas enjoying many activities which were as always thoughtfully planned.
Henry always did things a bit different from everyone else. There was the time he thought it would be better to disconnect the gas cooker on his boat Sundance and bring it home in the dinghy for Val to clean rather than clean it himself. Thereafter the gleaming cooker had to be taken back to the boat along with a gas fitter to refit and Corgi certify it at great cost.
He loved his food and knew what he liked. When offered tuna pasta on the way to Inverie so everyone could get to the pub earlier he shouted 'Hellfire' and threatened mutiny unless we diverted to Mallaig for fish and chips.
Henry never did things by half as the queues back to Pennyfuir will attest to on the day of his accident.
The Kilmore Games bar remains the only one that stocked Crème de Menthe and his family always laughed about the little bit of bread he enjoyed with his butter.
Henry was always getting into sticky situations, such as the time he got stopped by US customs because his bagpipes looked like a machine gun under the x-ray or when he went out for a smoke in another US airport and Val had to be called by the security to come and identify him.
Henry could also be a very precise and meticulous man. Living at Connel, he knew the Oban bus timetable off by heart but always managed to miss it so he could have a cake at the Bridge cafe. He created the most incredible fruit salads with each piece cut exactly the same size and spent hours reading the Microsoft licence agreement before finally trusting that it wouldn't wipe his bank account.
Once in the pub in Ellenabeich on Seil Island a stranger shouted "Henry Woodman! You crashed into the back of my car once on the A82 back in the seventies". Anticipating trouble, there was a quiet period till the man retorted: "But its fine because you're a living legend.' Henry was the only man that could make friends by crashing into them.
Henry's final wish was to be burned on a pyre floating out into Corryvreckan.
Ian said: 'I like to think there was a bit of Viking in him even if his pillaging was largely focused on the cake selection at Bossards. We are going to honour that wish as far as is legally possible with his ashes later this year.'
Henry will be remembered as selfless, clever, generous, funny, cantankerous at times, kind, genuine, gregarious, inquisitive, and a persistent human being.
Henry's favourite saying from Robert Burns is never more pertinent to his life well lived: 'Enjoy yerself while yer living cause yer a lang time deed'.