Morvern Lines with Iain Thornber 20.06.19
Want to read more?
We value our content  and access to our full site is  only available on subscription. Your subscription entitles you to 7-day-a-week access to our website, plus a full digital copy of that week's paper to read on your pc/mac or mobile device In addition your subscription includes access to digital archive copies from 2006 onwards
Subscribe Now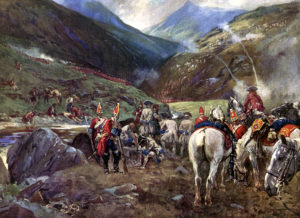 Visitors to Glen Shiel in Kintail on Saturday June 9 could be forgiven for thinking they were in the Sierra Nevada in Andalucía rather than the West Highlands.
They would have heard the Spanish national anthem resonating from the bagpipes while a beautiful young senorita in Spanish national dress proudly displayed the flag of her homeland and paid tribute in Spanish to her countrymen who had taken a prominent part in a battle there 300 years ago.
The piper was the young and talented Iain MacGillivray, commander in chief of the Clan MacGillivray, ably assisted by his friend, Fuensanta Guerroro Alba from La Linea in the province of Cadiz. But the attendant midges and dampness certainly confirmed the location as Glen Shiel.
Here, in the driving wind and rain, unlike June 8, 1719, when one of the Spanish soldiers collapsed and died of heat stroke, Mrs Janet Bowen CVO, Lord Lieutenant of Ross and Cromarty, Skye and Lochalsh, with several clan chiefs, local children and others, laid wreaths by a cairn erected to those who fought and died there.
The battle of Glen Shiel, coming four years after the ill-fated 1715 Rising, was another attempt by the followers of James Edward Stuart to regain the thrones of England, Ireland and Scotland for the exiled House of Stuart. The Jacobite army, totalling some 1,600 men, was made up of Camerons, Mackenzies, MacGregors, MacDougalls, Macraes, Campbells, MacDonalds, Mackinnons, Atholl men and more than 300 regular Spanish troops led by Colonel Don Bolano, as well as those described by a contemporary source as being 'not very fond of their enterprise', which I take to mean clansmen and mercenaries there under sufferance.
The Hanoverians, commanded by Major-General Joseph Wightman, consisted of more than 850 infantry, comprising 150 Grenadiers, four companies of Dutch, 136 Highlanders including some Lovat Frasers, Munros, 120 mounted troops of Campbell's dragoons (later the Scots Greys) and four cohorns or mortars. These were stubby artillery pieces each weighing 90lb capable of throwing 8lb fused bombs several hundred yards being used here for the first time in Scotland.
To the Gaelic-speaking Highlanders they were, An gunna a leig urchair aig gach ceann – the guns that spoke twice – the double noise referring to the projectile leaving the mortar, and then exploding when it hit something.
Accuracy may not have been their strong point but as a show of over-whelming power and a spectacular display of force, they literally set the heather ablaze in Glen Shiel and succeeded in paralysing the enemy's position and destroying their will to fight or 'crowd-busting by shock and awe', as my American friends would call it.
The Hanoverian deaths were 21, including three officers and 121 wounded. The Jacobites had no more than 10 wounded and, according to tradition, only one local man, Finlay Macrae, was killed. The following day 274 Spaniards surrendered, the remainder, presumably, being wounded and were taken to Edinburgh as prisoners of war until they were released a few months later and returned to Spain. Some of them must have died as two named burial places are pointed out on Eilean nan Gall and at Clachan Duich burial ground near the head of Loch Duich.
What actually happened at the battle is easily found on the internet and in several new books, therefore I do not intend repeating it here. The Jacobites officially lost despite being up against horses, mortars and well-ordered troops, but the number of casualties on the Hanoverian side is telling.
Mark Twain wrote: 'Fluid prejudice is the ink with which history is written', or, as Winston Churchill said more simply: 'History is written by the victors.' This is certainly true of the battle of Glen Shiel, most likely because following it and the earlier '15, the English government felt it necessary to suppress the courage and tenacity of the Highlanders at war.
Not much Gaelic poetry or bardachd about the battle has survived in writing other than a rather sarcastic, sometime lewd but witty contemporary song, attributed to the Gaelic bard, Murdo Matheson (c1670-1757) in which he ascribes victory to a minor action in the closing moments of the battle by Major Patrick Robertson of the Scots Greys and his dismounted troopers.
The tercentenary commemoration was arranged by the Association of Highland Clans and Societies in conjunction with the Clan Mackenzie Society and the 1745 Association as part of a weekend of activities based at Inverness.
Included in the Saturday itinerary was an exhibition in Dornie village hall arranged by Mrs Anne Maclean of Dochgarroch, showing a replica of a cohorn mortar, a large plan of the battlefield made by Lt Jean Henri Bastide, an officer in one of Wightman's regiments, present at the battle, and several musket balls, shrapnel, and a bullet mould found on the site. There was also a tour of Eilean Donan Castle which played a strategic part in the conflict.
In May 1719, the government, getting wind of Jacobite troops amassing in the north-west, sent three Royal Navy warships, HMS Worcestor, HMS Flamborough and HMS Enterprise, to the area who opened fire on the castle which was being held by a detachment of Spaniards, and captured it.
According to one of the ships' logs, in the castle were 'an Irishman, a captain, a Spanish lieutenant, a sergeant, one Scottish rebel and 39 Spanish soldiers, 343 barrels of powder and 52 barrels of musket shot'.
The naval force spent the next two days and 27 barrels of gunpowder almost completely demolishing the castle. HMS Flamborough then took the Spanish prisoners to Edinburgh.
The senior military officer on parade at the tercentenary commemoration was Argyll's well-kent Brigadier John Macfarlane of Taynuilt, who read extracts from Murdo Matheson's poem in Gaelic. The Very Rev Allan Maclean of Dochgarroch said a prayer in English and wreaths were laid following that of Her Majesty's representative, by Fiona Hyslop MSP, Cabinet Secretary for Culture, Tourism and External Affairs; Neil Oliver, president of the National Trust for Scotland; Lt-Col Geraint Davies on behalf of the Army in Scotland; the Earl of Cromarty for the Clan Mackenzie; Sir Malcolm MacGregor of MacGregor for Clan Gregor; Madam MacDougall of MacDougall for Clan MacDougall; Hector Munro of Foulis for Clan Munro; Lois MacDonnell of Glengarry for Clan Donald; Baroness Miranda van Lynden for Clan Macrae; the Very Rev Dr Emsley Nimmo, for the 1745 Association; Graeme Mackenzie for AHCS representing all other clans; and, finally, two school children.
Andrew MacLennan played the pibroch, The Battle of Glenshiel composed by Angus Mackay and I will return home to Glenshiel during the march to the cairn.
It was unfortunate that no one from the Spanish Consulate-General's office in Edinburgh was able to be present due to Brexit commitments, which I interpret as relating to the Catalan situation. However, Commander Iain MacGillivray's impromptu rendering of the Marcha Real on the pipes and his companion's display of Spain's flag and her widely applauded moving words in praise of her fellow citizens, more than made up for their absence.
Iain Thornber
iain.thornber@btinternet.com