One man and a boat: the story of MV Dayspring
Want to read more?
We value our content  and access to our full site is  only available on subscription. Your subscription entitles you to 7-day-a-week access to our website, plus a full digital copy of that week's paper to read on your pc/mac or mobile device In addition your subscription includes access to digital archive copies from 2006 onwards
Subscribe Now
Neill Bo Finlayson
Standing under the hull of the MV Dayspring, it is easy to see why boat-builder Lukas Pomahač wanted to make it his home.
Although now worse for wear, far from its days trawling the North Sea for mackerel and herring, the charm of this once commanding fishing boat is not all lost.
Resting idly on the shingle beach overlooking Loch Linnhe, Dayspring has taken up permanent residency on the Kilmallie shoreline, listing as if reclined, admiring the view.
We spend a brief moment doing likewise, marvelling at the vista across the loch towards Fort William and the majestic Nevis mountain range, before clumsily navigating the rocky foreshore towards the beached trawler.
'It's still solid,' Lukas says caressing the bow of the ship with his calloused hands. 'A beautifully built boat, one of a few left of its kind.'
Better known among locals as the 'Corpach Wreck', Dayspring has become an iconic landmark in Lochaber, with photographers from all over the world traipsing along the beach, tripod in hand, each day to capture a dramatic shot.
It has remained a cause of intrigue for locals, too, since it appeared perched on the shorefront one morning after a fierce storm hit the area in December 2011. That night eight years ago was particularly fateful for Lukas, who not only saw his beloved boat washed ashore, but his home too.
Sitting below the high tide line, Dayspring is still classed as being afloat and  so does not fall within the remit of the Receiver of Wrecks, despite being land-bound for the best part of a decade. As it is not polluting the area, not posing a hazard and, as Lukas puts it, he is 'not causing any trouble', no laws are being broken.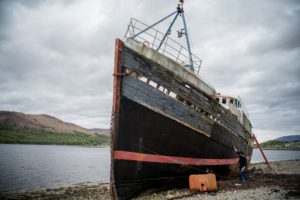 However, boarding the vessel without permission is illegal and, having had two emergency distress calls activated by trespassers on the ship in recent years, Lukas is concerned that the persistent vandalism falls foul of the law.
'I would like people to realise that it is my home and not theirs to destroy,' he said. 'People can take pictures, fine, but they need to realise they are taking pictures of private property. I just want people to not think they can do what they want.'
A highly-skilled carpenter, Lukas moved from Czech Republic to Scotland to learn traditional boat-building skills and worked at Corpach Boat Building Company in 2007 to learn the trade.
He began restoring wrecks in his spare time and, after successfully rejuvenating two smaller clinker-built boats, Lukas's attention turned to the much larger Dayspring. Stretching 26m in length, the boat was originally built by J&G Forbes in Sandhaven in 1975 and eventually found its way to Kinlochleven pier in 2000 where it lay untouched for several years.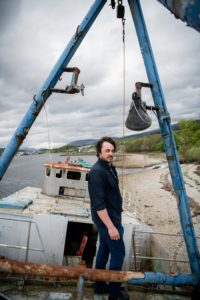 Plagued by gribble and leaking water, Lukas nonetheless purchased the vessel with his then wife, Alla, in 2008, determined to restore the trawler to its former glory and convert for living.
'We bought the boat to do it up and live on it,' he told me. 'One, for the love of boat building and, two, also for our own home.'
After countless hours and a significant investment, the pair eventually got it to a condition where it could be towed it to Camusnagaul Bay. This is where they lived, aboard the boat, until disaster struck on December 8, 2011.
'It was my fault,' Lukas admitted quite plainly. 'It's not any kind of mystery. It was me who put an underrated shackle on the mooring system.'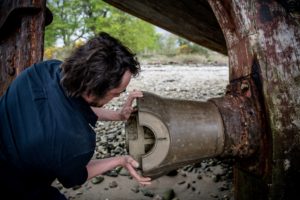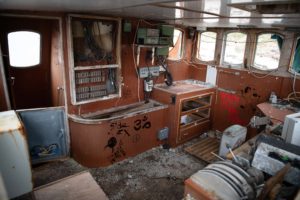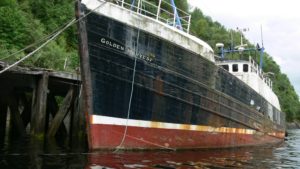 Lukas and Alla were visiting family when they got a call that the boat had broken its mooring. Crestfallen, yet still retaining a sense of reason, Lukas told the Coastguard not to divert their rescue effort to save his boat. They had more important things to focus on, he felt.
The Coastguard nevertheless helped control the landing of the vessel on the shore. The next day, some of Lukas's friends tied some lines to the shore and help secured Dayspring.
Although safe from sinking, the boat was now a target for looters and vandals. Cordless grinders were used by some to recover valuable metal, brass plates and instruments from the ship – even the propeller was stolen. The living quarters on the inside were not safe either as cupboards were ransacked and the galley destroyed.
The tipping point came when one day he found that the ropes securing his boat to the shore had been cut.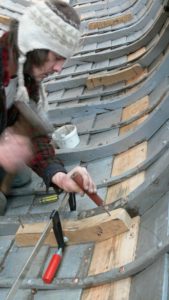 Lukas first moved to Scotland from Czech Republic to pursue a career in boat-building. NO F23 MV Dayspring Lukas 11'When people started cutting ropes, that made me feel sick,' said Lukas, who still lives and works in Lochaber. 'I felt very sad. I felt that this wasn't very healthy behaviour in a community. Everyone sensible knows that there is a reason the boat is tied to the shore on a line.'
The scale of the damage, which he believes to be of 'serious' value, is almost too galling for Lukas to remedy.
'Years on, I'm trying to fight the same situation by putting up signs and boards to stop people coming aboard. People are acting illegally by boarding a shipwreck in the first place. We would do three days' work and then we'd come back and it's all gone.
'Now people realise there's nothing to steal, they have gone for just purely destroying things.
'After all this, and I've been here for 13 years now, I still call the Highlands my home.'
Keen to pass on his hardened boat-building skills to future generations, Lukas feels there is an opportunity with Dayspring to invoke the spirit of marine culture again.
'I'm a person who wants to keep the old-fashioned skills, learn it and then pass it on,' he said. 'There used to be small jetties everywhere along Loch Linnhe and now they are ruined and not in use. I like the Highlands, the scenery, the wilderness. But we have somehow lost touch with the sea and marine activities.
'I will persevere with Dayspring and not let it rot. It's a case of a paint job and tidy to make the boat look okay again. I am not letting it go and I would like people to realise that such a boat is becoming rare.'
Lukas remains grateful to all of those who have helped him over the years with Dayspring and would like to thank everyone who played a part in its restoration, rescue and recovery, from Corpach Boatyard and Boyd Brothers to Alla and his friends in the area.
Now, he is willing to be creative in how to protect the future of the boat and perhaps recoup some of the costs of the damage. He is even still hoping to live on it.
'I feel for this area and would like to do something the community can benefit from. Instead of throwing stones at it, let's make it useful and serve people. I would like 2019 to be the year of change for Dayspring.'
For more pictures, find the story on the Lochaber Times' website and for more on the history of the ship visit mvdayspring.co.uk.
Photos: Abrightside Photography.