Morvern Lines – 02.05.19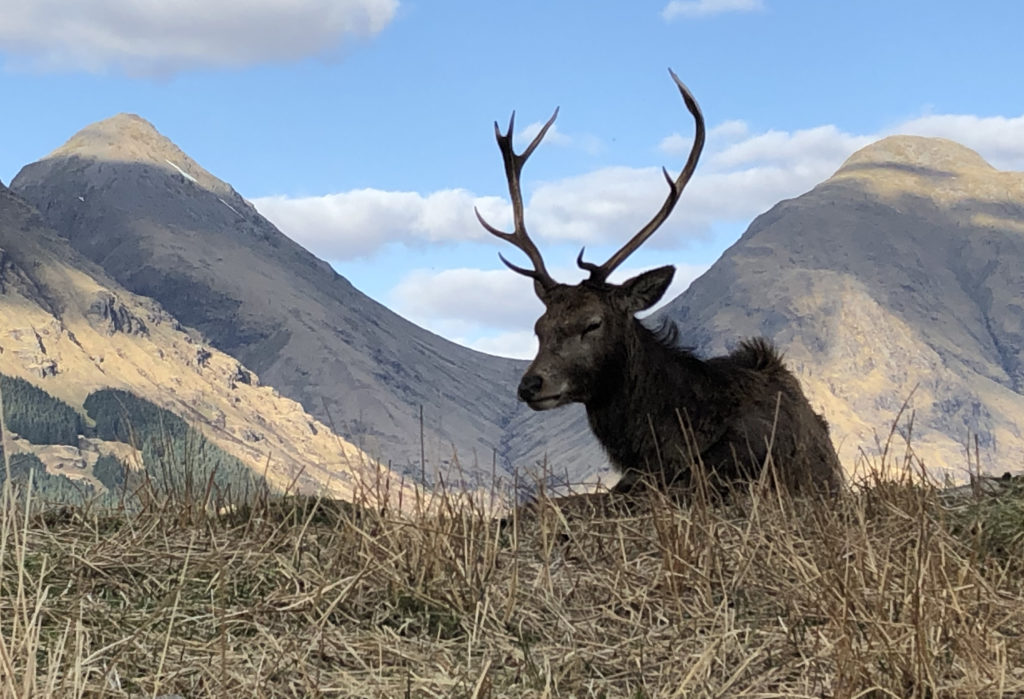 Want to read more?
We value our content  and access to our full site is  only available with a  subscription. Your subscription entitles you to 7-day-a-week access to our website, plus a full digital copy of that week's paper to read on your pc/mac or mobile device In addition your subscription includes access to digital archive copies from 2006 onwards
Just want to read one issue? No problem you can subscribe for just one week (or longer if you wish)
Subscribe Now
Deer, burning issues and cuckoos
Wild venison is considered by modern nutritionists to be one of the healthiest meats for human consumption in the western world. Since deer are inherently wild animals living on a healthy diet of grass and wild plants, their meat is all-natural and hormone free. Venison is higher in moisture, similar in protein and lower in calories, cholesterol and fat than most cuts of grain-fed beef, pork, or lamb. Little wonder dieticians recommend it.
Our forebears may not have been familiar with carbs, calories, diet and detox, but they certainly knew when venison would be at its best.
'Thanks , dear Sir, for your venison, for finer or fatter never roam'd in a forest, or smoked in a platter', wrote Sir Walter Scott to a deer-stalking friend who had sent him a haunch of venison.
They did so using their knowledge and common sense by not killing deer when they were either breeding, carrying young or migrating to different areas to feed on mosses, lichens and other plants. In due course, by acts of parliament, these became closed seasons during which it was not permitted to kill animals except if they got into young timber plantations or among crops on agricultural land. Even then a good case had to be made to obtain the necessary licence to shoot them.  The statutory closed seasons for red deer in Scotland are: stags, October 21 to June 30: hinds, February 16 to October 20. That was in the good old days.
This was all fine and dandy until after the First World War which saw the demise of many sporting estates followed by the mass slaughter of deer throughout the Second World War to help feed the nation. Deer were shot at any time of the year. Seasons were ignored and the net result was that carcasses were often left out on the hill for days, dragged through peat and dirt to the nearest road and badly butchered in makeshift larders when they eventually got there. By the time the end product entered the food chain much of it was unfit for human consumption. This gave it a bad name and put people off eating it for life – a memory that survives despite today's high standards demanded by EU Food Hygiene Regulations on traceability and handling.
Attitudes by politicians, the Forestry Commission and other government quangos towards deer have changed.  Stalkers, to whom deer are a valuable asset in terms of income and employment, are concerned that their numbers are falling at an alarming rate throughout Scotland because licences to shoot out of season and at night are being issued willy-nilly by Scottish Natural Heritage (SNH). According to legislation these licences should only be allowed when, 'No other means of control which might reasonably be adopted in the circumstances would be adequate'.
A recent freedom of information request (FOI) has revealed that Forestry Commission Scotland (FCS) has culled more than 37,000 deer out-of-season and at night using a standing 'general licence'. The recently released figures show that in 2017-2018 FCS staff and contractors shot 37,115 deer; 16,746 of them out of season and 14,556 during the hours of darkness. Additional licenses held by FCS allow out-of-season shooting on unenclosed woodland and night shooting of deer using vehicle-mounted spotlights and thermal-imaging devices. Private estates and contractors are now, wrongly in my view, applying for these licences and getting them. The deer stand no chance and the question must be asked, where exactly is this huge volume of out of season venison going – surely not into the food chain?
There is a belief within SNH supported by statisticians and some radical new-age conservation groups chasing a mouse across a screen, that the Highlands are overrun by deer. This is a myth. How many red deer there are no one knows, in the same way as no one knows how many gannets alight on a shoal of herring-fry off St Kilda, but it is all too obvious to those who work with them that there are a great deal fewer than there were a decade ago.
Computer modelling and dung-counts are worthless. The real issue has little to do with ecosystems or biodiversity and more to do with land-nationalisation and expensive community buy-outs. Get rid of the 'toffs with guns and the unacceptable face of capitalism',  is what is going on. With new and better means of extracting deer from the hill and more people interested in stalking, there is no need for general licences to be issued to the public or the private sector to shoot deer out of season and, worse still, at night which is potentially dangerous and barbaric. Call me old fashioned but I believe all animals which are taken in the wild or killed in abattoirs, deserve to be treated with dignity. Readers with strong views on the subject should write to Roseanna Cunningham MSP, Scottish Cabinet Secretary for Environment at Holyrood, to complain.
We have all read reports and seen photographs in the newspapers of huge moorland fires raging across the Highlands during the past few weeks. If further destruction of some of the finest natural habitat in Europe is to be halted and, more importantly, the risk of life to fire-fighters lessened, the government agencies must address the underlying reason.
Sunny days with high winds have created tinderbox conditions, but no more than usual. Paradoxically, the real problem lies with FCS, SNH, the National Trust for Scotland (NTS), the Scottish Wildlife Trust (SWT) the John Muir Trust (JMT) and the RSPB who, as landowners, do not always practice – and even actively discourage – any form of traditional, controlled muir-burning.
Not so many years ago Scotland's uplands were burned regularly by shepherds and stalkers who knew what they were doing. Nowadays, with fewer sheep and deer grazing the hillsides and an unprecedented increase in injudiciously placed conifer plantations making the land more awkward to manage, there has been a massive increase in under-growth. Easily ignited, this thick mat is almost impossible to extinguish.
Spring has been heralded, as always, in Morvern by the arrival of cuckoos, lambs, wheatears and shell-duck in Fiunary Bay. I heard my first cuckoo of the season at Uladale near the foot of Morvern's White Glen on the evening of Monday April 22, two days after shepherd-farmer John Nudds heard it at Achnaha along the Sound of Mull.
A lamb had a lucky break the same week when a local cyclist, who helps keep Morvern's highways and byways litter-free, stopped to pick up one of many discarded tins of a popular energy drink near Ullin in the White Glen. Hearing an unfamiliar noise, he looked round and discovered a new-born lamb, still partly clad in its after-birth, shivering in a pool of mud below a river bank with no sign of its mother. John Nudds was summoned by mobile telephone and quickly arrived on the scene. But for these caring countrymen there would have been one less lamb in the world.
Iain Thornber
iain.thornber@btinternet.com
Image and caption
More than 37,000 deer were shot in Scotland out of season and during the hours of darkness in 2017-18. Where have their carcasses gone? (Photograph William Cameron).