Morvern Lines with Iain Thornber 11.04.19
Want to read more?
We value our content  and access to our full site is  only available on subscription. Your subscription entitles you to 7-day-a-week access to our website, plus a full digital copy of that week's paper to read on your pc/mac or mobile device In addition your subscription includes access to digital archive copies from 2006 onwards
Subscribe Now
Towards the foot of Loch Shiel in West Inverness-shire, there is an island called St Finan's. Here the dead from Ardnamurchan, Sunart and Morvern have been buried for generations.
It goes without saying that there is a great assortment of headstones. These range in style and scale from simple cairns to free-standing crosses and about every other type of mortuary honour you might expect to find in a small Highland cemetery.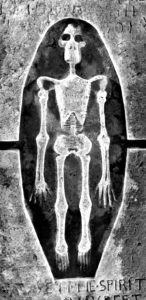 One recumbent slab in particular catches the eye as on it there is a skeleton. Now, skeletons on grave slabs are not uncommon as they form part of an assortment of objects such as skulls, winged angels, hour glasses, scythes and long bones, reminding us of the inevitability of our own death.
This one, however, is different not only because of the size of the skeleton – one of the largest I've come across in stone – but the above average knowledge of the human body which the mason must have had and captured in relief using tools we would describe these days as primitive.
This is a very interesting image which, although resembling a human skeleton, has some very distinctive characteristics that cannot be attributed to normal human anatomy.
Craig Cunningham, senior lecturer at the Centre for Anatomy and Human Identification at the University of Dundee, has examined a photograph of the stone for me and provided the following comments. 'The main areas where this carving differs from true human skeletal form are: Skull: distinctly non-human, more like a primate, however, details regarding the mouth area (maxilla and mandible) appear to be over-simplified. Cheek bones (zygomatics) are also distinctly primate and do not represent the human form. Neck: (cervical vertebrae): appear to be very slender and elongated compared to a normal skeleton and do not meet with first rib. This would form an oblique angle at the superior aspect of the thorax, however, the stone displays a horizontal boundary at the top of the thorax.
'Shoulders (pectoral girdle): Probably the most anatomically incorrect region is the articulation of the arm (humerus) with the shoulder (scapula) which is wrong, resulting in the apparently elongated upper limb. The humerus should articulate laterally with the scapula and not inferiorly as is displayed. Rib cage (thoracic skeleton): The fused nature of the rib cage is not anatomically possible even with some ectopic bone formation. The pliability of the thoracic cage is required during normal respiration and so I can't see this plate of bone being viable in a healthy individual. Additionally the lower ribs appear to extend too far inferiorly as compared with normal anatomy, leading me to conclude that the anatomy of this region may have been poorly understood. Pelvis: The pelvis appears to be more 'squashed' than would be expected, however the shape of the top part of the pelvis (the ilium) appears to be more characteristic of a human specimen than the more gracile form of the primate ilium for example. Limbs: The limbs appear to display normal anatomical form, although are perhaps a little out of scale.
'In summary, it appears that the carving represents a composite of a man/animal where certain features have been exaggerated to perhaps
support his status/strength in life?'
This must have been an expensive commission. So who or what are we looking at here?
According to tradition and some documentary evidence, it and three other stones in that particular part of the island represent a well known family of MacDonalds who lived at nearby Dalilea (Gaelic, the Field of the Physicians), one of whom was the Rev Alexander MacDonald, Episcopal minister of Ardnamurchan, better known as 'Maighstear Alasdair' and father of the celebrated Jacobite bard Alasdair MacMhaighstir Alasdair, and others who may have been physicians in the early to mid 18th century. Local tradition, the store-house of knowledge, has us believe that the skeleton represents the minister but not according to a set of initials at the head of the stone; having said that, headstones were so often recycled their inscriptions cannot be relied on.
The minister, by all accounts, possessed enormous strength but not, it seems, as great as that of his eldest son Angus who, although small in stature, was regarded for his Herculean feats well beyond the bounds of Ardnamurchan.
The Rev Charles MacDonald (1835-1894) Roman Catholic priest of Moidart for 33 years, records in his well known book, Moidart, Or Among the Clanranalds, published by The Oban Times in 1889: 'The Moidart people have a curious idea that his thorax, instead of being formed of ribs like that of an ordinary mortal, was composed of one undivided mass of bone, a sort of steel cuirass supplied by nature, and that to this phenomenon must be ascribed his extraordinary power.'
Fr Charles, or 'Maighstear Tearlach' as he became known, goes on to provide his readers with several instances where little Angus's strength was witnessed. A kinsman, MacDonald of Boisdale, on meeting him for the first time and seeing how small he was, thought he would try him out. Throwing off his plaid and waistcoat, it wasn't long before Boisdale, although a remarkably tall and muscular man, was lifted into the air and thrown to the ground.
On another occasion, when on his way home to Moidart from the Outer Isles, Angus and a party of friends had to find shelter somewhere at the back of Mull on account of the weather. Requiring peat with which to light a fire to cook a meal on, one of his companions helped himself to a creel full from someone's peat stack. The owner chased him and when another of the party tried, he, too, was given short shrift and came back to the boat not only with an empty creel but a battered, blood-stained head.
In the end, Angus ambled across the moor where he found the Mull man by this time guarding his precious fuel supply. When close enough he explained why they wanted the peat, adding that if common courtesy wasn't forthcoming he would help himself and take some pleasure in teaching the man a lesson.
As a red rag to a bull, the Muileach attacked Angus and soon paid the price.
But, the story goes, on establishing that he hadn't been dealt with by the Devil himself, the islander is said to have shouted out: 'Then you must be Angus Beg of Dalilea, for no one else in the west of Scotland could give me that ugly squeeze that nearly smothered me.'
Honour was satisfied and, until the storm passed, Angus and his party were warmly entertained at his house.
We will never know for certain whose likeness appears on this stone. The mason may well have seen the body but it is unlikely that he would have had the opportunity of examining the actual skeleton stripped of its flesh. The size, the out of proportion limbs and the reference to the peculiar thorax, all point to one person and his legendary strength.
If I were asked who it is, I would wager my last Irish florin that Angus Beg MacDonald's name would at least come high on the list.
Iain Thornber
iain.thornber@btinternet.com