Morvern Lines with Iain Thornber week 51
Want to read more?
We value our content  and access to our full site is  only available on subscription. Your subscription entitles you to 7-day-a-week access to our website, plus a full digital copy of that week's paper to read on your pc/mac or mobile device In addition your subscription includes access to digital archive copies from 2006 onwards
Subscribe Now
St Patrick and Pontius Pilate were here
In the days when The Oban Times did its printing in-house, it used to produce a number of books and pamphlets ranging from 10 to 50 or so pages. These cannot have generated much income, indeed if one could examine the old company ledgers they probably didn't even wash their face.
What these short-run publications did achieve was a far greater thing: they encouraged and provided local historians with an opportunity to put their lifelong research into print which would otherwise have been lost.
'Better to write something now, than everything never,' said a wise old Highlander.
I have one of these booklets in front of me. It is called, St Patrick's Boyhood Home, and runs to 38 pages. It was written in 1948 by the Rev Dr P J O'Regan , Glenfinnan, who maintained that St Patrick, the fifth-century primary patron saint of Ireland, also known as the Apostle of Ireland, was born at Banavie, outside Fort William.
What an extraordinary statement but perhaps not really, for, according to the Rev Alexander Robertson, Doctor of Divinity and Church of Scotland minister at Kilmallie, who wrote the foreword, Dr O'Regan was a competent scholar and a man of balanced judgement.
Patrick was born in Britain of a Romanised family – that we can be certain of from his own writings. At the age of 16, he was taken by Irish raiders from the villa of his father, Calpurnius, a deacon and minor local official, and carried into slavery to Ireland where he spent six years before returning to Britain and his family.
Patrick, who was credited with bringing Christianity to Ireland and probably responsible in part for the Christianisation of the Picts and Anglo-Saxons, is known only from two short works, the Confessio, a spiritual autobiography, and a letter to Coroticus, the Britonnic king, denouncing British mistreatment of Irish Christians.
Before the end of the seventh century, Patrick had become the stuff of legends. He drove the snakes out of Ireland and into the sea and raised people from the dead.
Another legend, probably the most popular, is that of the shamrock, which has him explain the concept of the Holy Trinity, three persons in one God, to an unbeliever by showing him the three-leaved plant with one stalk. Traditionally, Irishmen have worn shamrocks, the national flower of Ireland, in their lapels on St Patrick's Day, March 17.
Taking the works of eminent Roman historians and combining them with place names and local traditions, Dr O'Regan puts forward a convincing case that St Patrick was born and spent his boyhood in Banavie, one of a chain of military outposts along the Great Glen. To support his theory he quotes from a writer of the 10th century who says: 'St Patrick belonged to the village of Bannavie, not far from the western sea.'
His readers were also told of the little known discovery at Fort Augustus in 1777 of a blue earthenware urn containing 300 Roman coins dating from the time of the emperor Diocletian, who ruled from 284-305. As very little Roman history was taught in Lochaber in Dr O'Regan's time, it attracted some ridicule, which still surfaces today when his name comes up in conversation, because no one thought that the Romans legions had penetrated as far west.
However, modern archaeology makes it clear this was not the case. At Dun Fiadhairt on Skye, excavation uncovered a terracotta model of a bale of hides or fleeces, which is certainly Roman, and a few Roman coins and other objects have been found elsewhere, including fragments of Roman glass and pottery vessels from Dun More Vaul, Tiree. Clearly the Romans circumnavigated the west of Scotland, trading as they went.
Dr O'Regan's work should not be dismissed altogether. Perhaps one day someone more familiar with the Roman conquest of Scotland than me will look afresh at his findings.
If the great St Patrick was indeed born in Banavie it is surely to Lochaber's advantage to make this more widely known.
Notices outside Strontian tell the world that it is the village which gave its name to the element Strontium so why not something similar at Banavie – from wooden chariot wheels to alloys and a few bunches of shamrocks to go with it?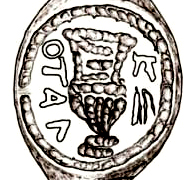 The identification by archaeologists of a ring found during excavations of the royal palace of Jerusalem, near Bethlehem in the late 1960s but only now been cleaned and subjected to a new form of photography that revealed the inscription, provides another link between Scotland and the Romans – this time of world-interest.
It clearly says 'Pilato', meaning 'belonging to Pilatus', who can be no other than Pontius Pilate, the fifth prefect of the Roman province of Judaea, who oversaw the trial and crucifixion of Jesus Christ. The writing is in reverse, implying its use as a seal for authenticating documents, as was standard for official rings belonging to Roman officials.
There is no proof that the ring actually belonged to Pilate. However, the surname was unusual and the figure in the Bible, whose identity has been confirmed by a contemporary inscription, is the only Pilatus recorded as living in the region in the first century AD.
There is a tradition in Scotland that Pilate was born in Fortingall, a village at the foot of Glen Lyon in Perthshire famed for its ancient yew tree said to be 3,000 to 8,000 years old which, if correct, probably makes it the oldest living thing on the planet.
The Romans arrived in Glen Lyon about AD26. Between their first incursion into Britain and their later invasion, Caesar Augustus dispatched envoys to establish diplomatic relations with some of the important British and Caledonian chieftains. These included a Caledonian chieftain called Metellanus, whose stronghold was at the head of Glen Lyon.
A member of the Roman delegation to Metellanus's tribe fathered a child with a Caledonian woman, and this child subsequently returned to Rome with his parents, and was brought up as Pontius Pilate.
General Roy, in his military survey of 1747-55, shows a 'Roman fort' near Fortingall which appears on many other maps. Excavations over the centuries have produced no Roman remains, leading modern archaeologists to believe that the 80-acre site is medieval, borne out by the discovery of a dateable copper pot, with a beak, handle and three legs.
We do know, though, from a chambered burial cairn that for more than 5,000 years, the area has not only been inhabited but also regarded as a sacred place.
So, where was Pilate born? I understand that there is an ancient stone slab at Caesaria in Palestine inscribed 'Hiberieum Pontius Pilate', suggesting that his birth may have been in Scotland because, at the time, the UK's northern and western regions, including Ireland, were known as Hibernia.
Should we accept this inscription to reinforce the story according to the old Glen Lyon tradition or does it not really matter?
Every Easter, as they have done for nigh on 2,000 years, practising Christians will recite the words 'suffered under Pontius Pilate' as part of the Creed.
Iain Thornber
iain.thornber@btinternet.com