Letters to the editor week 48
Want to read more?
We value our content  and access to our full site is  only available on subscription. Your subscription entitles you to 7-day-a-week access to our website, plus a full digital copy of that week's paper to read on your pc/mac or mobile device In addition your subscription includes access to digital archive copies from 2006 onwards
Subscribe Now
We are so much better off being part of the EU
D Cameron's attempt to justify Brexit on the backs of fallen heroes in two world wars is at best just plain wrong, and at worst mendacious and malicious (Letters, November 8). To do it at the time of remembrance is an obscenity, and cannot pass unchallenged.
I was born in Birmingham in 1942 during an air-raid, which, fortunately, we all survived. But my grandfather was killed on the Somme in 1918 and he never saw his daughter – my mum – though he did send her a first birthday card – in silk – and delivered after his death. My dad was injured in Normandy in 1944, Mentioned in Despatches and invalided home.
I spent a large part of my professional life seeking to extend mutual knowledge and understanding via a series of initiatives involving teachers and students in France, Germany, Austria and Hungary. They were very successful and would have been completely impossible without a range of over-arching EU initiatives, not least the TEMPUS programmes.
For a long time I had become increasingly worried by trends in English politics, especially Margaret Thatcher's turning selfishness into a virtue (remember 'There is no such thing as society'?), and I resolved to leave as soon as I could.
My chance came in 2002, when I was able to move to Scotland, which I found much more congenial, culturally and politically, having a level of personal and public consideration and humanity I found  generally more lacking south of the border.
In 2014, I voted for independence and, when this failed, I joined the SNP. In 2016, in common with 62 per cent of my fellow persons of Scotland, I voted to remain in the European Union. We have had 40 years of peace and great benefits. Britain's place in the EU was and is a huge bargain, not least retaining our own currency while simultaneously enjoying all the benefits of full membership – the envy other members.
To give up on all this is total madness. It is the last convulsion of Empire. So let's consign D Cameron and his sidekick Colonel Blimp to the dustbin of history where they belong, and ignore the lies of the Tory posh boys and Moggites. Let's achieve independence, stay in the EU, remember the Declaration of Arbroath and make Scotland great again.
John Gosling,
Siskin, Barcaldine.
Parking charges resonate with classic song
The scramble for the last of Oban's space and to turn it into high charging parking spaces, rekindles memories of the classic Joni Mitchell song from 1970, Big Yellow Taxi.
The song should remind the council that it is Argyll, the paradise, that tourists come to see and not its non-functional parking meters and overworked, harassed traffic wardens.
Big Yellow Taxi
They paved paradise
And put up a parking lot
With a pink hotel, a boutique
And a swinging hot spot.
Don't it always seem to go
That you don't know what you've got
Till it's gone
They paved paradise
And put up a parking lot
They took all the trees
And put them in a tree museum
And they charged all the people
A dollar and a half to see 'em.
Don't it always seem to go
That you don't know what you've got
Till it's gone
They paved paradise
And they put up a parking lot
Angus Files,
The Glebe, Kilmelford.
Great pleasure to visit Oban High school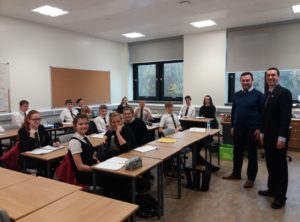 It was a privilege to visit Oban High School after being invited to speak to Mr Carswell's modern studies classes about many local, national and international subjects. These included the global rise of populism, the impact of social media on previous and future elections, and the influence their generation will have on elections yet to come.
It was great to speak to such interesting, engaged and well-informed students. I also got the chance to speak to head teacher Peter Bain about the terrific work Oban High School is doing in preparing our young for the future.
I look forward to my next visit to Oban High School.
Councillor Alastair Redman,
Islay.