Shinty boss looks to extend winning run
Want to read more?
We value our content  and access to our full site is  only available on subscription. Your subscription entitles you to 7-day-a-week access to our website, plus a full digital copy of that week's paper to read on your pc/mac or mobile device In addition your subscription includes access to digital archive copies from 2006 onwards
Subscribe Now
New Scotland head coach Garry Reid is looking for his squad to continue their recent unbeaten record at the Bught Park, Inverness, as Ireland come calling in the latest Marine Harvest shinty/hurling international on Saturday October 20.
The Bught is gaining fortress status with the Scots coming out on top in their last four home fixtures in this spectacular cross-codes contest.
Previous boss Ronald Ross led his charges to a 23-14 win in 2014 in his first year at the helm. Three more home wins followed, proving Ross will be a tough act to follow.
Garry Reid knows all about these games, however. He was involved with the Scotland U17 squad for many years and his tenure as Scotland U21 head coach included a first Scottish win on Irish soil at that level in 2014.
Scotland's recent Bught Park record reads: 2017 – Scotland (2-12) 18, Ireland (0-15) 15; 2016 – Scotland (0-14) 14, Ireland (0-5) 5; 2015 – Scotland (3-15) 24, Ireland (2-8) 14; Ireland; 2014 – Scotland (3-14) 23, Ireland (2-8) 14.
Garry started his senior shinty playing career at Lovat before switching to Bute followed by Glenorchy and then Strathglass, who he also managed, winning the Balliemore Cup as boss on Rothesay in 2009, beating the emerging Kinlochshiel side 5-1 in the final.
Garry Reid was upbeat ahead of the much anticipated meeting between the Celtic cousins. 'Preparations have gone as well as they could go,' he said. 'So many of our players have had really big matches for their clubs in the lead up to the international but they are done now and our focus is on Ireland this Saturday.'
He appreciates the lengths the 32 players in the training squad went to in an attempt to win a place in the final pool of 20 players. 'I contacted each of the 12 players who didn't make it to let them know and thank them for their commitment. It's unfortunate the players only get this one chance during the season to play in a game like this and although they weren't picked this time, I have no doubt they have the ability to play in this fixture. It's all about making choices and we have selected a really good squad. People say there aren't so many good players out there these days but that's not been my experience. You also worry that the commitment from the players might not be there and that they might not want to be involved but that's certainly not what I've seen. The players are right up for it and they've given me their total respect.'
The 20-player squad includes one goalkeeper – Lovat's irrepressible Stuart MacDonald – and six outfield substitutes. 'The physicality of this game means you need the option of having as many as six outfield substitutes and I intend using them all at some point in the match,' added Garry.
There were initially six changes from last year's 18-15 winning side. John Barr, Keith MacRae, Craig Mainland, Daniel Cameron, Ryan Borthwick and Andrew King are the players left out for various reasons – with Barr, MacRae and Mainland the only starters last time around. However, in a late switch, Kinlochshiel's John MacRae was forced to withdraw after suffering an open fracture on one of his fingers in the weekend win over Caberfeidh so Craig Mainland was called up in his place.
'The spine of the squad is from Newtonmore and that should not be any surprise given they have just won the treble,' explained the Scotland boss. Kinlochshiel and Lovat are also well represented and they and Newtonmore combine to account for 13 of the 20 players selected.
There are places for Oban Camanachd duo Lorne Dickie, who featured in 2016, and Andrew MacCuish. 'Lorne has had a great season and he has so much ability. He's a great passing player and we'll use these attributes to get the ball up front to our forwards. Andrew has had an exceptional season and I think it's important the international rewards players that have done so well for their clubs throughout the year. He offers physicality and he's always amongst the goals. He's so enthusiastic too, but you can say that about all the players.'
Newtonmore skipper Andy MacKintosh returns after missing out in 2017 through injury. Lochaber's Shaun Nicolson has plenty experience of these encounters and he is recalled following his absence last year.
Evan Menzies' inclusion is no surprise. He is a big match player, underlined by his two goals and man of the match performance in Newtonmore's Camanachd Cup Final success last month.
Fort William's Arran MacPhee, the only player selected from out-with the premiership, is perhaps the manager's wildcard having had limited game time since his return from a serious knee injury. 'Arran has shown his worth and looked really good in training. He gives us a different forward option. He scored twice for the U21s last year and I thought Fort William missed him when he was injured this season.'
There was also a word from Garry for some of the players who missed out. 'Oban Camanachd's Daniel Cameron has been carrying an injury whilst Kilmallie's Liam MacDonald is on holiday. We also lost Kinlochshiel's Keith MacRae through injury early on. They are all good players as is Caberfeidh's Blair Morrison who came very close to securing a place but he will, I'm sure, feature for the U21s and his time in the senior side will come.'
The Scottish mantra in recent games has been to keep the ball on the ground and to use the wide open spaces to stretch the Irish defence and not allow the hurlers to build up a head of steam with their aerial game. 'Our approach will be similar,' said Reid. 'However our squad includes the top six scorers in the Marine Harvest Premiership – Greg Matheson, Evan Menzies, Andrew MacCuish, Shaun Nicolson, Kevin Bartlett and John MacRae – before he was forced out – and we want them doing what they do best so we will be going for goals. To do so, it's important we keep our full forwards up top, close to the goal so they have the best chance of scoring. I don't want them to drop too deep where they will be less effective. We'll work on getting the ball up to them and it may be that we do so by making short passes rather than trying to hit long balls as that would be meat and drink to the Irish defence. Passing the ball along the ground may be difficult on the Bught Park surface at this time of year but we'll still go for it.'
Caberfeidh's dead-ball expert Kevin Bartlett will again be key. He scored 12 of Scotland's 18 points a year ago.
There are no rule changes as such this year but there will be an Irish referee, John Keane, which brings its own dimension. 'The interpretation of the rules will be key. In general, Irish referees tend to let more go and there may be more of a tendency to get away with hands on the back and perhaps more pulling and shoving. We'll just need to be careful and concentrate on our game. However there's no doubt this will make for a fast pace as it will let the game flow and that's important for the international to remain a spectacle for the supporters.'
Ireland have found goals hard to come by on Scottish soil having drawn blanks on their last two visits. Their co-managers William Maher and Conor Phelan, who gained experience managing the Irish U21s before taking charge of the seniors for the first time in 2017, are a year wiser and although their squad is yet to be confirmed, they are believed to be keen on including the likes of Kilkenny attacker and former GAA/GPA Hurler of the Year Richie Hogan, Tipperary full forward Jason Forde, Waterford's Noel Connors and Clare defender David McInerney.
Garry Reid finishes by recognising the support of his backroom team. 'Robert Geddes is a big help to me and with Kenny Ross still playing, he provides a great link to the players. Their roles are very important. We're also lucky to have Alison Thomson as our physio. Alison is based in Inverness and works with the Ross County youth teams.'
The support doesn't end there. 'Ronald Ross is also helping with the transition and he's always there to turn to,' added Garry. 'Ronald is a big help with the organisation and he's able to offer a view on a range of things as he's been through it all before. He will maybe watch the game from the stand and offer advice. However I have my own style and will make my own decisions and be in no doubt, I want to win this game.'
Scotland from:
Stuart MacDonald (Lovat)
Rory Kennedy (Newtonmore)
Andy MacKintosh (Newtonmore)
Daniel Grieve (Lovat)
Conor Cormack (Kinlochshiel)
Mark MacDonald (Kinlochshiel)
Michael Russell (Newtonmore)
Finlay MacRae (Kinlochshiel)
Steven Macdonald (Newtonmore)
Shaun Nicolson (Lochaber)
Grant Irvine (Kyles Athletic)
Kevin Bartlett (Caberfeidh)
Greg Matheson (Lovat)
Roddy Macdonald (Kyles Athletic)
Lorne Dickie (Oban Camanachd)
Craig Mainland (Lovat)
Glen MacKintosh (Newtonmore)
Andrew MacCuish (Oban
Camanachd)
Evan Menzies (Newtonmore)
Arran MacPhee (Fort William)
There is no live television coverage this year but the match will be shown in full on BBC ALBA from 4pm on Saturday October 20.
Throw-in is at 2pm and earlybird tickets can be bought at www.shinty.com
Kyles Athletic's Grant Irvine will captain Scotland. The Kyles Athletic playmaker has significant experience in these encounters and will be a popular choice amongst the players.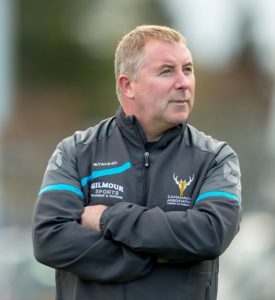 It's winner takes all in shinty/camogie clash
The third and final match in the shinty/camogie series between Scotland Ladies and Dublin Ladies also takes place at the Bught Park on Saturday October 20.
The Scots, led this year by Stuart Reid and Ross Brown, are in confident mode having won 19-10 in Dublin last year to cancel out Dublin's 12-2 success in Inverness a year earlier. Ross Brown, who was involved in both, said: 'Preparation has been good and we will have had four full sessions together ahead of the match – in Newtonmore, Ballachulish, Glengarry and Inverness.
'The girls have had a really busy few months with Scotland training added to crucial league and representative games. The commitment from everyone has been really good and the girls have shown great application during the sessions.
The Scotland ladies squad remains as initially listed but Ross added: 'We have a few players carrying niggles but plans have been put in place for physio and rest to make sure they are as well prepared as possible.'
This is the third and final match of the series against Dublin and Brown knows they will present a strong challenge. 'We have learnt from each game so far. The camogie players are very fast and have high levels of fitness so it will be our aim to match them in those departments.'
Brown also confirmed the Scotland leaders on the pitch. 'We are captained by Kirsty Deans who has been in sparkling form this season with Badenoch & Strathspey. The link-up play demonstrated in training with her fellow forwards is really encouraging. Vice captains Rona Stewart, Badenoch & Strathspey, and Caitlin MacLean, Skye Camanachd, have also had great seasons. Both have plenty internationals ahead of them and will be influential across the half back and centre line in repelling Irish attacks and providing balls for the front line.'
Scotland Ladies from:
Elizabeth McGregor – Badenoch &
Strathspey
Jeanette McGregor – Badenoch &
Strathspey
Rona Stewart – Badenoch &
Strathspey, vice captain
Mairi Stewart – Badenoch &
Strathspey
Zoe Reid – Badenoch & Strathspey
Kirsty Deans – Badenoch &
Strathspey, captain
Lorna MacRae – Skye Camanachd
Rhianna Kirk – Skye Camanachd
Caitlin MacLean – Skye
Camanachd, vice-captain
Sarah Corrigall – Skye Camanachd
Ilana Paterson – Skye Camanachd
Rachel McCafferty – Glasgow Mid
Argyll
Laura McCafferty – Glasgow Mid
Argyll
Shannon Wilson – Fort William
Donna MacKenzie – Glenurquhart
Christy McIntyre – Lochaber
Katie Booth – Aberdour
Vicki Henderson – Aberdour
Martin MacLean is the match referee for this one.
Throw-in is at 2pm and earlybird tickets can be bought at www.shinty.com
Shinty round-up
Kinlochshiel go second in the Marine Harvest Premiership, the Marine Harvest South Division 1 title race goes down to the wire, the Inveraray seconds lifted the Mod Cup and the countdown is underway ahead of the Marine Harvest shinty/hurling/camogie internationals between the Scots and the Irish following the shinty action on Saturday October 13.
Marine Harvest Premiership
Kinlochshiel 7
Caberfeidh 2
Kinlochshiel climb to second place in the table after they beat Caberfeidh 7-1 at a very wet Kirkton.
Kinlochshiel keeper Scott Kennedy was still sidelined with a back problem so Graham Kennedy continued to deputise in goal despite being a late arrival with Ali Nixon, who was carrying a hamstring injury, primed to step in between the sticks if called upon. Paul MacRae started at full back, with Finlay MacRae at full centre.
Caberfeidh's Ally MacLennan remained out with a foot injury whilst manager Jodi Gorski was also minus Colin MacLennan, Gavin Mclachlan as well as Graham MacGregor and his son Conor MacGregor. Boss Gorski was Caberfeidh's only substitute but he resisted the temptation to come off the bench. Craig Morrison and Kevin Bartlett both started in the visiting defence with Blair Morrison at buckshee forward.
Caberfeidh, playing up the slope in the first half, made a bright start. The ball was played forward to Iain McCall, who usually features in goals for the Caberfeidh seconds, around 20 yards out but he couldn't get a shot on target from a central position.
Play quickly switched to the other end and when Duncan Matheson's corner from the right fell for Jordan Fraser at the back post, he slammed the ball into the side netting.
Kinlochshiel went back on the offensive and Scott MacLean played in Duncan Matheson but Caberfeidh keeper Ewan Pilcher got behind the ball before scrambling it away for a corner. Keeper Pilcher saved again; this time from Jordan Fraser following the resultant corner.
The pattern of play continued toward the away goal and Kinlochshiel took the lead following a set-piece on six minutes. Jordan Fraser fired goalwards and Ewan Pilcher went for the ball with his hand but couldn't clear the danger and John MacRae forced the ball home from close range.
Ewan Pilcher did well to save with his hand, keeping out a stinging shot from Finlay MacRae three minutes later. The hosts doubled their lead on 15 minutes. Scott MacLean drifted in a corner from the left. Donald Nixon saw his initial low shot saved but he ran forward to ram the rebound over the line to make it 2-0.
Ewan Pilcher made a solid save with his feet to deny Duncan Matheson following another Scott MacLean corner.
Kinlochshiel went for the kill and Jordan Fraser and John MacRae combined on the left to set up a chance for Scott MacLean who steered the ball low into the net, despite falling to the ground under a challenge, making it 3-0 with 22 minutes on the clock.
A rare Caberfeidh attack saw Jamie Matheson tug the ball wide of the keeper's right post following a corner on the right.
Kinlochshiel's Finlay MacRae then saw Ewan Pilcher save with his feet and although Scott MacLean played the rebound into the danger area from wide on the right, the ball was cleared by the Caberfeidh defence.
Kinlochshiel added a fourth on the half hour mark when a shot from John MacRae on the right found the net.
Moments later, Finlay MacRae cut in from the right and Ewan Pilcher did well to first parry the ball before getting it away to safety.
John MacRae always looked dangerous and he completed his hat-trick with 10 first half minutes remaining. MacRae hit a vicious shot across the keeper from the Kinlochshiel left, beating Pilcher on his left side to make it 5-0.
Kinlochshiel's Scott MacLean was forced off shortly afterwards after being caught in the face with a stick following a tussle with Kevin Bartlett. Andrew MacKenzie came on in midfield with Duncan 'WD' MacRae pushed forward into attack.
A dangerous Iain McCall ball from the left had Kinlochshiel keeper Graham Kennedy racing from his line to clear at the expense of a corner and the home side went into the break with a 5-0 cushion.
Caberfeidh's Blair Morrison struck a shot over the bar on his back-hand early in the second half.
Caberfeidh pulled a goal back on 56 minutes. Iain McCall sent a low cross into the danger area from wide on the right and Jamie Matheson took a great first touch to control the ball before shooting low into the net to make it 5-1.
Any respite was short-lived as Kinlochshiel scored again a minute later. Conor Cormack showed a smart presence of mind as he sent a quick free-hit from the left of midfield over the top of the Caberfeidh defence and Duncan Matheson broke free to go one-on-one with the keeper and gleefully guided the ball home.
Straight after the goal, Graham Kennedy stepped off his line to first chest down and then clear a high ball forward from Blair Morrison.
Caberfeidh came within a whisker of scoring a second when a lofted Ryan MacKay ball from the left came off the face of the Kinlochshiel crossbar and deflected wide. Iain McCall, who was having a fine game, fizzed the loose ball in on goal from wide of the right but Graham Kennedy saved with his feet before quickly flicking the ball away for a corner.
Kinlochshiel went back on the attack and when the ball broke to an unmarked Jordan Fraser, keeper Pilcher saved with the rebound coming out to Duncan Matheson. He turned the ball back in to John MacRae but his low shot rolled just outside the keeper's left post.
A nice Caberfeidh move saw Iain McCall find Blair Morrison from the Caberfeidh right. Morrison's powerful drive looked sure to find the net but Graham Kennedy made an outstanding reflex save with his stick and the visitors had to settle for a corner on the left. From the corner, Kennedy made an even better stop to again deny Morrison who had darted in from the right of the 'D'. This time the goalie parried Morrison's bulleted, shoulder-high shot with his club to his right, some-how turning the ball over the top for another corner.
Kinlochshiel's seventh goal came on 69 minutes when a nice flick infield from John MacRae found Duncan Matheson who steered the ball goalwards under pressure from three Caberfeidh defenders, suffering a knock in the process. With the ball rolling slowly towards the goal, Jordan Fraser knocked the ball over the line from close range. Matheson limped off, although he did return later, with another youngster, Martin MacRae, coming on.
The hosts almost scored again with 15 minutes remaining when Jordan Fraser played a short one-two with Andrew MacKenzie from a corner on the left. Fraser's blistering shot took a slight deflection off Kevin Bartlett's caman which made Ewan Pilcher's stunning save to his left all the better.
Ryan MacKay had a good game and, with 10 minutes remaining, he scored his first senior Caberfeidh goal. MacKay did well in the heavy conditions as he jinked in from the right side before tucking the ball low past Kennedy and turning in delight following a fine individual goal.
Ahead of the restart, and with the pitch cutting up badly in both goal areas, referee Brian MacKay spoke to both managers – Johnston Gill and Jodi Gorski – about the worsening conditions, before playing out the remainder of the game.
Caberfeidh finished the game strongly with Ryan MacKay coming close to getting a second and Graham Kennedy again displaying his shot stopping skills in goal.
Kinlochshiel's John MacRae suffered a hand injury in the game, later confirmed as an open fracture on one of his fingers, which requires an operation and rules him out of this Saturday's Marine Harvest shinty/hurling international against Ireland.
The result leaves 2017 champions Kinlochshiel in second spot in the league although they will drop down a place if Kyles Athletic take a point from their final match at home to Glenurquhart.
Caberfeidh picked up their points earlier in the season and whilst complacency may have set in over the second half of the term, when at full strength, they are probably only a couple of players away from being a very good side.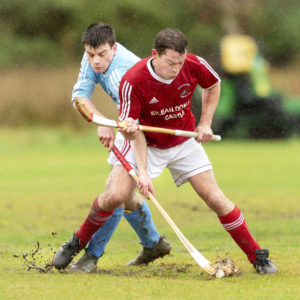 Kyles Athletic P
Glenurquhart P
Kyles Athletic's push for another second placed finish will have to wait as their meeting with Glenurquhart at Tighnabruaich was postponed.
The game was called off on Friday evening as the pitch was waterlogged which may have been a relief for Glenurquhart who were missing a number of players and looked to be travelling with three of their ladies players included in their squad.
The game has been rescheduled for Saturday October 27.
Marine Harvest
South Division 1
Lochside Rovers 2
Kyles Athletic 1
Lochside Rovers showed they have no intentions of giving up their title without a fight when they toppled league leaders Kyles Athletic reserves 2-1 at Mossfield.
The match went ahead following a Saturday morning pitch inspection with the Mossfield pitch in terrific condition given the elements.
Lochside included youngsters Daniel MacCuish and Daniel Sloss who started in attack with Ross Campbell and Lewis Buchanan. Gavin Stobbart returned in goal but Niall MacFarlane, Lennon Campbell and Gary McKerracher were all unavailable.
Kyles brought a good sized support, boosted by the inclusion of Sandy MacKenzie and Scott MacDonald, although both started on the bench.
There was a physical start to the match and Christopher Blair was spoken to by referee Des McNulty for a robust challenge which caught Daniel Sloss on the knee.
Lochside took the lead thanks to a sublime individual goal on 13 minutes. Daniel Sloss picked up the ball 22 yards out from goal and turned before running in on goal, riding three challenges, before calmly slipping the ball past advancing keeper Douglas Nicolson to make it 1-0.
Lochside spurned some chances before doubling their lead five minutes before the break with a well-worked goal. Craig Easton found Iain MacMillan on the wing who sent the ball into the corner where Daniel Sloss was first to it. Sloss picked out Daniel MacCuish who took a touch before thumping a waist-high shot into the net.
Kyles immediately brought Sandy MacKenzie and Scott MacDonald off the bench.
While Lochside could have been further ahead at the break, the second half belonged to Kyles and they may have regretted not introducing MacKenzie and MacDonald earlier.
Lochside knew Kyles would come at them after the break and the visitors pulled a goal back on 59 minutes when Sandy MacKenzie scored following a free-hit to make it 2-1.
Sandy MacKenzie was proving a real handful for the Lochside back-line so manager Gareth Evans brought Daniel Sloss back into defence to counter MacKenzie's threat.
Kyles came within a whisker of a leveller when Sandy MacKenzie's effort deflected off Chrissie MacMillan and the spinning ball dropped down on the roof of the net with the keeper beaten.
Lewis Buchanan passed up a chance at the other end with 15 minutes remaining with the wet weather now making it difficult for the players to grip their sticks.
This was a great battle in the rain and a throw-back to the old winter shinty days. Lochside have proved to be Kyles Athletic's bogey team all season, beating them twice in the league and in both cup competitions.
Respective keepers Gavin Stobbart and Douglas Nicolson were solid, whilst Lochside full back Chrissie MacMillan and Kyles Athletic attacker Sandy MacKenzie also played well. Lochside's Iain MacMillan was a class apart, spreading play to great effect all afternoon.
Lochside now go into their match against Inveraray's second team at the Winterton this Saturday trailing leaders Bute, who have completed their fixtures, by just two points with the islanders five goals better off. The throw-up time has still to be confirmed.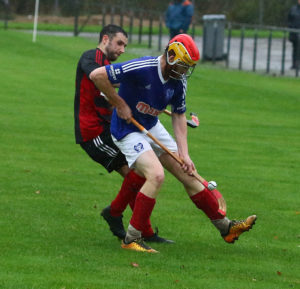 Taynuilt 1
Bute 4
Bute did all they could in the hope of finishing top of South 1 as they overcame Taynuilt 4-1 at Taynuilt Sports Field.
Iain McDonald put Bute ahead on 15 minutes. Craig MacKay and Craig Fisher combined at a short corner and MacKay played the ball to the back post where Iain McDonald struck it on his back-hand on a slight angle.
Taynuilt's Keegan MacPhee levelled on 20 minutes, ensuring the sides would go into the break level.
Bute made a strong start to the second half and regained the lead on 46 minutes following great one-touch passing between all four forwards close to the Taynuilt goal. Crag Fisher played the ball across the goal leaving Iain McDonald to roll the ball into an empty net.
Bute extended their lead on 52 minutes when Ryan Craig knocked the Taynuilt keeper over with a firm but fair challenge following a ball over the top and Iain McDonald fired home to complete his hat-trick.
Bute rounded off the win with 20 minutes remaining. The goal came following a hit-in and Iain McDonald beat two players before thumping the ball on the move into the roof of the net to make it 4-1.
Bute's young squad hope to be playing National Division shinty next year should they win South 1 but they have to wait to see if Lochside can match their points total and better their goal difference.
Marine Harvest
North Division 2
Kilmallie W/O v
Lochcarron
The Kilmallie second team were given a walk-over when Lochcarron were unable to field a team for their clash at the Canal Parks.
This was Lochcarron's final fixture of the season, whilst the Kilmallie colts end their campaign at home to their Beauly counterparts on Saturday October 27.
Lochaber P
Beauly P
The contest between the Lochaber second team and the Beauly second team at Spean Bridge was postponed on Friday evening because of an unplayable field.
The match has been rescheduled for Saturday November 3.
Mod Cup
The Inveraray second team beat Col Glen 6-3 to lift the Mod Cup following their 2pm throw-up at Dunoon Stadium.
Craig Taylor, Lewis MacNicol and Fraser Watt all scored twice for Inveraray with a Conor Kennedy brace and Finan Kennedy counting for Col Glen.
Graham Fisher was the match referee.
Oban defeated Cowal & Bute 5-1 to win the ladies match.
WCA round-up
There were two Women's Camanachd Association league fixtures over the weekend.
Marine Harvest
North Division 1
Skye Camanachd 11
Lochaber 2
The Skye Camanachd Ladies second team were 11-2 winners against the Lochaber Ladies second team in their 2pm throw-up at a wet Pairc nan Laoch, Portree, on Saturday October 13.
Helen Lamond, Abby MacLean and Holly MacLean were amongst the Skye goal scorers, whilst Natalie MacDonald and Shanna Michie scored for Lochaber.
Marine Harvest
South Division 1
Tayforth 0
Ardnamurchan 5
The Ardnamurchan second team defeated Tayforth 5-0 at Musselburgh on Sunday October 14.
Hannah MacDonald grabbed a hat-trick, whilst Frances MacDonald and Iona Cameron got the others.
The win means Ardnamurchan and Dunadd are now level on points at the top of the table so they will now play-off for the title.
John Stewart is new Kilmallie boss
Kilmallie have announced John Stewart is their new first team manager, replacing Mark MacPherson who stood down after leading the club to a Marine Harvest National Division title and Balliemore Cup success at the end of last season.
John Stewart is one of Kilmallie's most recognised players over recent times and was the club's number one choice as soon as Mark MacPherson confirmed his intention to step down at the end of the 2018 shinty season.
He played his early shinty for Caol Primary School and Kilmallie at U14 and U17 level before making his first team debut aged 15 years.
His performances on the field helped towards a number of Kilmallie successes and he was recognised with three years at Scotland U21 level and nine years at Scotland senior level.
Injury problems plagued Stewart towards the end of his career, although a comeback coincided with a Camanachd Cup semi-final appearance in 2017 in which Kilmallie lost out 3-2 to eventual winners Newtonmore.
As well as a having a wealth of experience, John has a solid knowledge of the game and is respected throughout shinty.
Following the appointment, John Stewart said: 'I'm delighted and honoured to be asked by the board to manage the Kilmallie first team. It's something I've wanted to do after finally retiring from playing at the end of 2017. I've enjoyed a year off and feel refreshed, ready for the season ahead.
'I'm excited about the challenge of premiership shinty and the opportunity to build on the recent success our previous manager Mark MacPherson has brought to the club excites me greatly. I'd like to thank Mark for all his hard work over the last four years. He's left the team in a very good place. I'm sure he won't be too far away should I need to pick his brains and I've already pre-warned him of that.
'We will be looking to start pre-season training early in the New Year.'
On looking at Kilmallie's ambitions for the 2019 season, Stewart added: "I have to admit staying in the premiership has to be the obvious thing to say. There have been too many promotions followed by relegation the following season in recent times. I'm confident we can achieve that goal along with some decent cup runs; all playing good shinty.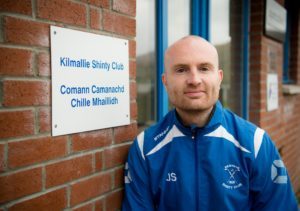 Glengarry Development Day
Glengarry Shinty Club recently held their annual club development day with more than 60 children enjoying a number of events.
Ronald Ross was in attendance to oversee the Glengarry junior coaches lay on some coaching and skills sessions following which the youngsters played some age-group matches against invited guests Ardnamurchan.
In some close, competitive matches, Ardnamurchan won the P3 & P5 games with Glengarry winning the P7 & U14s matches.
The newly-formed Ardnamurchan men's team then played their first match against a Glengarry 'Futures' squad.
It was a decent contest and the experience from a few older heads helped Glengarry seal victory, with Ardnamurchan looking sure to be a welcome addition to the shinty leagues soon.
Glengarry offered thanks to event sponsors The Glengarry Trust and Marine Harvest Community Awards for allowing them to open up the club and bring the game of shinty to so many new faces.
The continued hard work from volunteers, coaches and committee members has helped the club, who finished third in Marine Harvest North Division 1 last season in their first term following promotion from North 2, achieve their bronze level ClubMark certificate, presented to the committee by Ronald Ross.
Glengarry, who have also completed their 2018 Development Plan, have made huge strides forward and have now set their sights on the silver award for 2019.