Morvern Lines with Iain Thornber week 40
Want to read more?
We value our content  and access to our full site is  only available on subscription. Your subscription entitles you to 7-day-a-week access to our website, plus a full digital copy of that week's paper to read on your pc/mac or mobile device In addition your subscription includes access to digital archive copies from 2006 onwards
Subscribe Now
'Who owns the land?' is a question that has been on many lips for centuries.
Dozens of books have appeared on the subject but, as most of them have been published to promote a political agenda, they do not offer much hope or help.
Someone has to own the land; establishing who and exactly what remains a mystery. Confusion reigns supreme.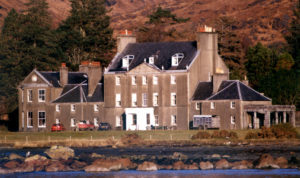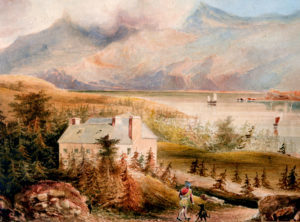 Some years ago the Highland Council's solicitor asked me if I could throw light on the ownership of some ground in Lochaline on which Lochaber District Council had built a number of houses in the 1960s. A tenant wanted to buy but, according to the title deeds, the ground under the sitting room was owned by three different parties.
Of course in all this chaos it is the lawyers and solicitors who benefit. When Inverness was expanding the town provided a good living for 40 of them who were jocularly known as the 'Forty Thieves'.
A similar story was told of two brothers who inherited a farm near Anstruther which was to be divided equally but they fell out over the boundary. One of them consulted a firm of notable Edinburgh lawyers. His brother followed and by coincidence ended up with the same partner, who, rightly, said that he could not act for both.
Recommending another lawyer, apparently an expert in conveyancing, he wrote out an introductory note. On the way the client forgot the street number. Hoping to find it in the letter, he opened the envelope to read: 'Two old birds down from Anstruther, you pluck the one and I'll pluck the other.'
An apocryphal tale I'm sure.
The General Register of Sasines Scotland, is the oldest national land register and consists of a chronological list of deeds with written descriptions of properties but is gradually being replaced by a map-based one. Without local knowledge, these registers are a nightmare to untangle and require the searcher to have the patience of a hungry rock-bound heron and the pockets of a Euro Lottery winner.
The island of Mull proves a difficult subject for anyone trying to work out the pattern of landownership through the ages which the following stab at the subject in 1904 well illustrates:
'Duart: Campbell of Possil, subsequently sold to Arbuthnot Charles Guthrie, merchant, London, 1865. Succeeded by Walter Murray Guthrie, MP.
'Glenforsa: General L Macquarrie bought Killiechronan, Oskamull, etc, from the Duke of Argyll; Gruline, Salen, Calachally, Bentalla, Ishriff, etc, from Maclaine of Lochbuie and was succeeded about 1834, by his son Captain Lachlan MacQuarrie, Scots Greys, who purchased about 1835. The lands of Pennygowan, Leiter, Rhoail, and Ben Bharnach acquired from the trustees of his uncle, Colonel MacQuarrie, who had bought them some years previously from Maclaine of Lochbuie. Captain MacQuarrie called the whole estate Glenforsa. He left the estate in 1845 to the Hon W Drummond, afterwards Viscount Strathallan, who, in 1860 sold it to David Greenhill (afterwards Greenhill Gardyne). The last named sold Killiechronan to Captain Parr, son of a banker in Warrington (the bank is now Parr's Banking Company).
'Gruline, another portion of Glenforsa, was sold by Colonel Gardyne to a MacDonald, son of MacDonald of the firm of Stewart and MacDonald, merchants in Glasgow. MacDonald's trustees sold to J W Melles, of Melles, Reid and Co, London. Glenforsa proper is still the property of Colonel Gardyne.
'Achadashenaig: sold in 1851 by John Stewart to a Campbell, who was succeeded by his niece, Miss MacNab, who sold it to D Fletcher, merchant in China, and is still owned by the widow, the modern name being Glenaros.
'Drumfin. The Duke of Argyll sold to Maclean of Coll, who sold to Crawford. From him it passed to Farquhard Campbell; then Bryce Allan, whose son, Alexander, sold a portion, called Aros to William Lang of Groatholm, Ayr. Lang's trustees sold to D C Maclachlan, Tartan Warehouse, Oban; F W Caldwell bought a portion.
'Mishnish: bought by F W Caldwell from Col Campbell, Knock, before 1850; he was succeeded by his son, Col Caldwell, who left it in 1903 to his sister, Mrs Sandeman.
'Sorn, now Glengorm: Sold by John Stewart of Achadashenaig, before 1850, to James Forsyth, West India merchant, who was succeeded by his son J N Forsyth who sold to William Lang (Drumfin) who, in due course, sold also. At auction the estate fell to the nod of a Nicol Skinner in Glasgow but the 'bode' not being implemented, the next bidder acquired Glengorm, viz, James Cowan, paper manufacturer, whose trustees sold to Frederick Moran, solicitor, London, the present proprietor.
'Quinish: Sold to James Forsyth (as above) by Maclean of Coll, about the year 1857, who was succeeded by his son, the present owner, late 82nd Regiment.
'Morinish: Bought by John Munro Mackenzie from Captain MacKay of Bighouse, was succeeded by his son John Hugh Munro-Mackenzie, the present owner.
'Torloisk: Has not been sold but the Marquis of Northampton's grandfather acquired it by marriage, and it remains in the family.
'Penmore: Was bought by Archibald MacNab from Maclean of Coll in 1857. Succeeded by his son Dr Robert MacNab, Bury St Edmunds, present owner.
'Ulva: Was bought from MacQuarrie of Ulva, by F C WClark about the year 1855. Succeeded by his grandson.
'Kilpatrick: Bought by Clark of Ulva from Campbell of Inverneil in 1865.
'Gometra: Bought from Dugald Campbell, by Messrs Peter and John Maclean. Sold by their trustees to Roderick [Maclean] wholesale merchant in Glasgow.
'West Ardow: Owned by Kenneth Campbell. Succeeded by his niece, Miss Forrest.
'East Ardow: Owned by David Watson whose trustees sold to Hugh C Dickie in 1902.
'Treshnish: Bought from Mrs MacKay of Bighouse by Donald McLellan, a prosperous retired farmer from Uist who left it to John Lothian, a nephew.
'Burg: Belonging to Lochbuie, was sold to Nicol MacIntyre, and then to Thomas Lawson. Another statement says that 'until Martinmas
1903, Burg belonged to John Duncan MacIntyre, insurance broker. At that date it seems to have passed into the hands of John H Turner of Burg'.
'Tiroran: Sold to Henry Pitcairn, then later, to Colonel Cheape, late 11th Hussars. The owner is now Mrs Cheape, the widow.
'Kilfinichen and Killiemore: Sold by Maclean of Kinlochaline, to Ewan Maclachlan, Laudale, whose son, Dugald, sold, in 1852, to C MacDiarmid, Killin. Sold to Professor Skene, Glasgow, then to Campbell of Sonachan who presented it to the Duke of Argyll.
'Kinloch [Scridain]: Sold with Carsaig to Alexander Maclean of Pennycross and D Maclean, jointly. General Maclean, 13th Hussars, then bought Carsaig and his daughter sold to Archibald Maclean. Archibald Maclean subsequently sold to Cheape.
'Kinloch: (another seemingly) was re-bought by Lochbuie, who left it to his younger son, Anthony, who sold it to Peter James Mitchell. Mitchell's representatives sold to Robb, spirit merchants in Glasgow.
'Pennyghael: Sold by Maclean of Pennycross to Campbell of Breachacha, or to John Auldjo first, who then sold to Campbell. It now belongs to Sheriff Robertson, Campbell's grandson.
'Tenga: Was a part of the Aros Estate, retained by Farquhard Campbell, when he sold to Allan; it was afterwards sold by his successor, Campbell of Ballinaby, to Dugald MacKechnie,. Sheriff of Argyll.'
Iain Thornber
iain.thornber@btinternet.com