Kiwis triumph at Argyllshire Gathering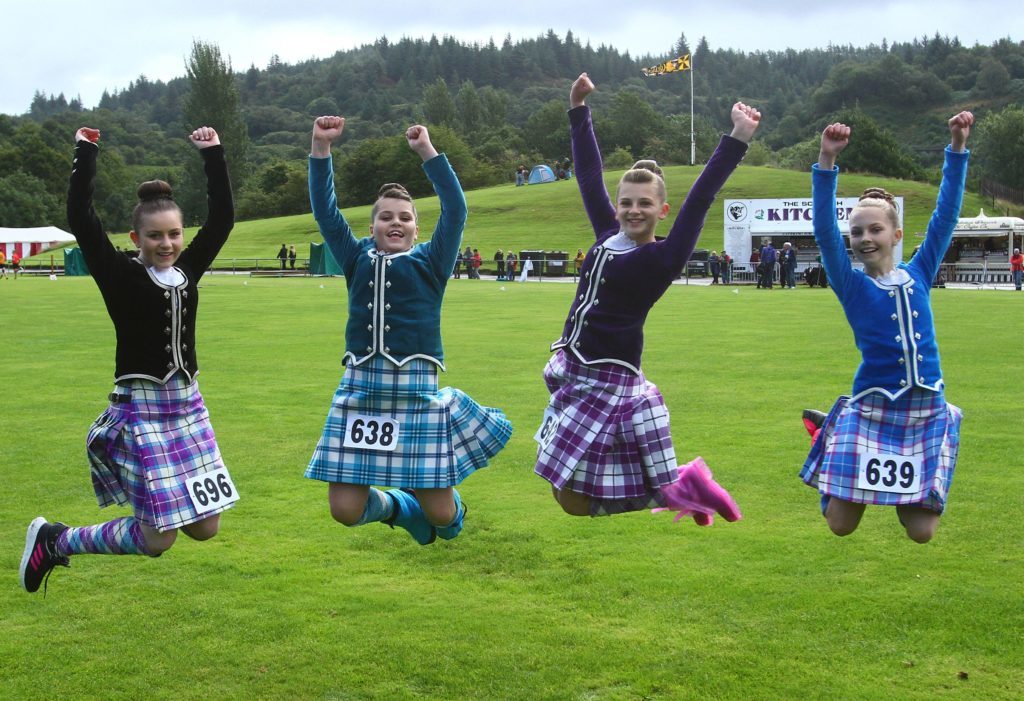 Want to read more?
We value our content  and access to our full site is  only available with a  subscription. Your subscription entitles you to 7-day-a-week access to our website, plus a full digital copy of that week's paper to read on your pc/mac or mobile device In addition your subscription includes access to digital archive copies from 2006 onwards
Just want to read one issue? No problem you can subscribe for just one week (or longer if you wish)
Subscribe Now
Some of the best bagpipers, strongest men and highest jumpers in the world descended on the Argyllshire's Gathering Oban Games and, barring a few mishaps like a judges' tent collapsing and the tug-of-war rope breaking, all seemed to go slickly to plan, mostly escaping the worst of the weather.
More than 100 pipers travelled from across Scotland, Canada, Ireland, Australia, New Zealand and the USA to vie for the most prestigious titles. New Zealander Stuart Easton, playing Brother's Lament, beat 25 competitors to win the coveted Highland Society of London Gold Medal, and £500, in Oban's Corran Halls on Wednesday.
Mr Easton, Pipe Sergeant of the Manawatu Scottish Pipe Band, sobbed as he phoned home to tell his wife the good news, that all the 12,000-mile travel and expense had been worth it. He told the Piping Press: 'I've worked so hard for this. I can't believe it. It's what you dream of as a piper, and it's my son's third birthday today too.'
The Silver Medal, and £300, was won by Darach Urquhart from Kyle, who played Chisholm's Salute. Angus MacColl from Benderloch won the Former Winners' MSR, a prize worth £500, but was pushed into second place in the Senior Piobaireachd by Stuart Liddell, of Inveraray and District Pipe Band, who played Angus MacPherson's Salute to the Cairn at Borreraig, taking home £500. Just four days earlier, Mr Easton led his band to second place in the Worlds Grade 1.
Andrew Ferguson, a piper with Dollar Academy, took the MacGregor Memorial Piobaireachd for intermediate level ceol mor, and the new Angus Nicol Memorial Silver Medal, in memory of the former piping steward Angus Nicol, awarded for the highest aggregate in the MacGregor and Hardie competitions.
The winner of the previous day's Gold Medal acts as the duty pipe major for the march on Thursday from Station Square to the Oban Games field at Mossfield Park, where the 'A', 'B' and Intermediate grade light music, or ceol beag, contests are held.
Connor Sinclair of Crieff triumphed in the A March final, beside Ben Duncan of Edinburgh in the A Strathspey and reel. Liam Kernighan, pipe sergeant of the Canterbury Caledonian Society Pipe Band in Christchurch, New Zealand, was victorious in the B march, while Calum Watson of Lasswade secured top slot in the jig, B Strathspey and reel.
Australia, in the form of Josh Chandler of Mount Martha, took the RG Hardie Memorial Trophy for Intermediate MSR. In the junior section, the under-18 Argyll MSR was won by Ross Connor; Innes Munro was awarded the Oban High School Medal; the Junior MSR went to Erin Byers of Oban; and Ross Connor was given the Duke's Bursary.
In the heavyweights, Lukasz Wenta, a personal trainer from East Kilbride, was enjoying his best season, coming first in 28 Highland games out of 35 so far, and lifting the John MacColl Heavyweight Championship Trophy. The 39-year-old, who plans three more years competing, is fortified by sporting genes: his mother was an Olympic rower and his cousin an Olympic champion for hammer.
The athletics culminated in the gruelling hill race for the Kilninver Cup, won in the open by Finlay Todd of Inverness, in the women's by Eilidh Shearer of Oban, and in the local by Louis MacMillan of Tayvallich. Emma Thompson from Oban won the women's 100m and high jump, while high jumper Allan Smith from Edinburgh, who came fifth in the Commonwealth Games, came top in the open, securing £80 spending money for a holiday in Dubai. The junior athletics champion were, for the girls, Abbie Cato, and Jake Gillespie for the boys.
In the Highland dancing, Eva MacColl won the Webster of Oban Trophy in the local ages seven to 12 bracket and, in the open for 13-15 years, Sophie Baker from Islay won the Calley Fisheries Trophy and Donald Taylor Shield.
Jennifer Watt from Manitoba, Canada, lifted the Argyllshire Gathering Championship Medal; Ailie Munro of Connel took the Oban High School Trophy; and Katie MacPherson from Oban came first in the local Highland fling, sean triubhas and hullachan, winning the Farquhar Martin Memorial Trophy.
Senior steward Robin Nicholson thanked the committee for their 'tireless' work over the past year, the games' principal sponsor Argyll and Bute Council, and Oban High School for contributing their pipe band, dancers and stewards.
Results
PIPING: Highland Society of London Gold Medal: 1 Stuart Easton, 2 Derek Midgely, 3 Glenn Brown, 4 Peter McCalister, 5 Innes Smith; Senior Piobaireachd: 1 Stuart Liddell, 2 Angus MacColl, 3 Finlay Johnston, 4 Callum Beaumont, 5 Greg Wilson; Argyllshire Gathering Silver Medal: 1 Darach Urquhart, 2 Andrew Donlon, 3 Zephan Knichel, 4 Greig Canning, 5 Alex Gandy; March (Local ): 1 Scott MacLean, 2 Jamie Campbell, 3  Alastair MacLean, 4 Jamie Baxter; Strathspey & Reel (Local): 1 Scott MacLean, Alastair MacLean, 3 Jamie Campbell, 4 Jamie Baxter; March, Strathspey & Reel (Former Winners): 1 Angus MacColl, 2 Stuart Liddell, 3 William McCallum, 4 Ian K MacDonald, 5 Bruce Gandy; Junior March Strathspey and Reel: 1 Erin Byers, Oban, 2 Innes Munro, Oban, 3 Gregor MacDonald, Oban, 4 Ross Connor, Campbeltown, 5 Thomas Young, Dunoon, 6 Logie Johnston, Bunessan; March Grade 'A': 1 Conner Sinclair, 2 Sarah Muir, 3 Callum Beaumont, 4 Ben Duncan, 5 Ashley McMichael, 6  Sean McKeowan; March Grade 'B': 1 Liam Kernaghan, 2 Cameron MacDougall, 3 Callum Brown, 4 Calum Moffat, 5 Calum Wynd; Strathspey & Reel Grade 'A': 1 Ben Duncan, 2 Alan Beven, 3 Ben McClamrock, 4  Iain Speirs, 5 Jamie Forrester, 6 Connor Sinclair; Strathspey & Reel Grade 'B': 1 Calum Watson, 2 Callum Brown, 3 Calum Wynd, 4 Liam Kernaghan, 5 Cameron MacDougall; Jigs: 1 Callum Watson, 2 Ben Duncan, 3 Andrew Carlisle, 4 Sarah Muir, 5 Dereck Midgely; Intermediate Strathspey & Reel: 1 Josh Chandler, 2 Andrew Ferguson, 3 Alistair Bevan, Canada, 4 Brodie Watson-Massey, 5 Hamish Reade, NZ; MacGregor Memorial Competition: 1 Andrew Ferguson, 2 Calum Brown, 3 Robert Allan, 4 Josh Chandler; Special Prize: Duke's Bursary Jnr MSR: 1 Ross Connor, 2 Ross Munro, 3 Gregor MacDonald; Angus Nicol Quaich:  Andrew Ferguson; Oban High School Medal: Innes Munro.
DANCING: 7 yrs to 12 yrs (Local) Highland Fling: 1 Eva MacColl, 2 Erin Jackson, 3 Erin Binnie, 4 Iona MacKay; Sean Triubhas:1 Erin Binnie, 2 Iona MacKay, 3 Erin Jackson, 4 Erin Binnie; Winner of Webster of Oban trophy: Eva MacColl; Hullachan:1 Eva MacColl, 2 Iona MacKay, 3 Erin Jackson, 4 Erin Binnie; 13 yrs to 15 yrs (Local) Highland Fling:1 Sophie Baker, 2 Rose Harper, 3 Eilidh MacAulay, 4 Naimh Cameron; Sean Triubhas:1 Sophie Baker, 2 Rose Harper, 3 Niamh Cameron, 4 Eilidh MacAulay; Hullachan:1 Sophie Baker, 2 Elidh MacAulay, 3 Rose Harper, 4 Niamh Cameron; Kitchen Garden Trophy: Sophie Baker; 16 yrs and over (Local) Highland Fling:1 Katie MacPherson, 2 Nicola MacAulay, 3 Ashley Taylor, 4 Ailie Munro; Sean Triubhas:1 Katie MacPherson, 2 Ailie Munro, 3 Nicola MacAulay, 4 Ashley Taylor; Hullachan:1 Katie MacPherson, 2 Ashley Taylor, 3 Ailie Munro, 4 Nicola Munro; Farquhar Martin Memorial Trophy: Katie MacPherson; William MacLennan Trophy: Sophie Baker and Katie MacPherson; 7-12 years Open  Highland Fling: 1 Victoria Wood, Canada, 2 Aislinn Cornelius, Australia, 3 Eva MacColl, Appin, 4 Mya Pilat, Canada, 5 Erin Jackson, Appin, 6 Tessa Vanbueran, Australia; Sword Dance:1 Victoria Wood, Canada, 2 Mya Pilat, Canada, 3 Aislinn Cornelius, Australia, 4 Eva MacColl, Appin, 5 Tessa Vanbueran, Australia, 6 Erin Binnie, Campbeltown; Strathspey & Tulluch:1 Eva MacColl, Appin, 2 Victoria Wood, Canada, 3 Aislinn Cornelius, Australia, 4 Kaitlyn Milne, Canada; Stewart Family Trophy: Victoria Wood, Canada; Overseas Masters Shield: Victoria Wood, Canada; 13-15 years Open Highland Fling: 1 Sophie Baker, Islay, 2 Rose Harper, Oban, 3 Niamh Cameron, Oban, 4 Eilidh MacAulay, Oban; Sword Dance:1 Sophie Baker, Islay, 2 Rose Harper, Oban, 3 Niamh Cameron, Oban, 4 Sarah McConnell, Canada, 5 Eilidh MacAulay Oban; Sean triubhas: 1 Sophie Baker, Islay, 2 Niamh Cameron, Oban, 3 Eilidh MacAulay, Oban, 4 Sarah McConnell, Canada, 5 Darcey Latimer, Oban; Strathspey & Hullachan: 1 Sophie Baker, Islay, 2 Rose Harper, Oban, 3 Niamh Cameron, Oban, 4 Eilidh MacAulay, Oban, 5 Darcy Latimer, Oban, 6 Sarah McConnell, Canada; Calley Fisheries Trophy: Sophie Baker, Islay; Bruno Schroeder Shield (13- 15 years) Sarah McConnell, Canada; Donald Taylor Shield: Sophie Baker, Islay; 16-19 years Open Highland Fling: 1 Jennifer Watt, Canada,  2 Katie MacPherson, Oban, 3 Hannah MacDonald, Canada, 4 Josephine Acton, Canada, 5 Terryn Shiells, Canada, 6 Doneylin Morrison, Canada, 7, 8; Sword Dance:1 Terryn Shiells, Canada, 2 Katie MacPherson, Oban, 3 Hannah MacDonald, Canada, 4 Doneylin Morrison, Canada, 5 Josephine Acton, Canada, 6 Katherine Doell, Canada, 7, 8; Sean Triubhas:1 Jennifer Watt, Canada, 2 Katherine Doell, Canada, 3 Doneylin Morrison, Canada, 4 Josephine Acton, Canada, 5 Katie MacPherson, Oban, 6 Terryn Shiells, Canada;             Highland Laddie:1 Jennifer Watt, Canada, 2 Katie MacPherson, Oban, 3 Terryn Sheills, Canada, 4 Hannah MacDonald, Canada, 5 Ashley Taylor, Canada, 6 Nicola MacAulay, Oban; Argyllshire Gathering Championship Medal: Jennifer Watt, Canada; Bruno Schroder Shield: Jennifer Watt, Canada; Oban High School Trophy Barracks:1 Rose Harper, 2 Eva McColl, 3 Ailie Munro, 4 Niamh Cameron, 5 Eilidh MacAulay; Jig:1 Ailie Munro, 2 Niamh Cameron, 3 Eva McColl, 4 Rose Harper, 5 Eilidh MacAulay; Hornpipe: 1 Ailie Munro, 2 Rose Harper, 3 Niamh Cameron, 4 Eildih MacAulay, 5 Eva McColl;       Winner of the Oban High School Trophy: Ailie Munro, Connel
TRACK & FIELD      Argyllshire 3200 m handicap time/distance Open:1 Finlay Todd, 10m 17s, Record = 9.23.41, 2 Gary turner, D Green, Australia, 2003, 3 Elaine McGeachy, 4, 5; Argyllshire 100m scratch final Open:1 Praise Olatoke, Kilbarchan, 11.09s Record = 10.85 secs, 2 Ben Coates, A. Stuart, Glasgow, 2008, 3 Ewan Dyer, 4 David Allan, 5e Ewan Bradley, 5e Rachael Alexander; Women:1 Emma Thomson, Oban, Record = 12.24 secs, 2 Julie Didcock, Oban, Gemma Nicol, Dunfermline, 2006, 3 Grace Thompson, Oban, 4 Bella Dear, Oban; Local:1 Liam Richmond, 2 Henry De-Klee, 3 Paddy De-Klee; Argyllshire 800 Metres scratch Open:1 Ewan Dyer, 02:14.9, Record = 1:55.06, 2 Ewan Bradley, M Mitchell, Forres, 2006, 3 Finlay Todd, 4 David Allan, 5 Gary Turner; 800m Handicap: 1 Ewan Dyer, 02:12.5, Open, 2 Rebecca Burns, 3 Ewan Bradley, 4 David Allan, 5 Gary Turner, 6; Argyllshire Hill Race Open: 1 Finlay Todd, Inverness, 09:21 Record = 12.31.22, 2 Doug Jardine, Dumfries, Andrew Douglas, Halkirk, 2011, 3 Louis MacMillan, Tayvallich, 4 Rory Dowd, Oban, 5 Mark Shaw, Oban, 6 Hendrick Wendin, Hampshire;       Women:1 Eilidh Shearer, Oban, Record = 14.54, 2 Emily Gladstone, London, Nicola Meekin, Oban, 2010, 3 Emma Baird, Taynuilt, 4 Melanie Gaff, Aviemore, 5 Rebecca Fulton, Dunbeg; Local:1 Louis MacMillan, Tayvallich, 2 Rory Dowd, Oban, 3 Mark Shaw, Oban; Boys:1 Aaron MacKay, Oban, 2 Alfie Smith, Tayvallich, 3 Kenny Gray, Oban; Girls: 1 Caryn Kerr, Campbeltown, 2, 3; Argyllshire 200m handicap Open: 1 Rachael Alexander, 21.63secs, 2 Ewan Bradley, 3 David Allan, 4 Ewan Dyer, 5 Ben Coates, 6 Praise Olatoke; Argyllshire 400 Metres handicap Open:1 Ewan Dyer, 53.26, 2 Ewan Bradley, 3 Gary Turner, 4 David Allan, 5 Ben Coates, 6 Charlie Bainbridge; Local:1 Ewan Dowd, 2 Henry Dardis, 3 Kenneth Black; Argyllshire 1600 Metres handicap Open:1 Finlay Todd, 4m51s, 2 Rebecca Burns, 3 Gary Turner, 4 Elaine McGeachy, 5, 6    Local:1 Gary Turner, Campbeltown, 2 Gary MacGeachy, Campbeltown;     Argyllshire100m Handicap final Open:1 Praise Olatoke, Kilbarchan, 11.06secs, 2 Ben Coates, 3 David Allan, 4 Rachael Alexander, 5 Ewan Bradley, 6; Argyllshire Long Jump     Open:1 Alan Smith, 19′ 8", Record = 22′ 4.5″, 2 Praise Olatoke, 18'00", Alan Hamilton, Edinburgh, 2016, 3 Ben Coates, 17′ 11", 4 Rory Dowd, 16′ 1", 5 Rachael Alexander, 15'8"; Local:1 Ben Coates, 17′ 11", 2 Rory Dowd, 16'1", 3 Cameron Hill, 15'13"; Argyllshire Triple Jump Open:1 Alan Smith, 41′ 10", Record = 47′ 3″ (4.356m), 2 Praise Olatoke, 37′ 11", A Daffurn, Coatbridge, 2014, 3 Ben Coates, 37′ 2",  4 Ewan Bradley, 36′ 1", 5 Rory Dowd, 34′ 10"; Local:1 Ben Coates, 37′ 2", 2 Rory Dowd, 34′ 10", 3 Cameron Hill, 33′ 10"; Argyllshire High Jump Open:1 Alan Smith, Edinburgh, 1.7 Record = 1.96, 2 Praise Olatoke, Kilbarchan, 1.65, Alan Hamilton, Edinburgh, 2016, 3 Ben Coates, Oban, 1.6, 4 Rory Dowd, Oban, 1.5, 5 David Allan, Dumbarton, 1.4; Women:1 Emma Thompson, 1.5, 2 Grace Thompson, 1.4, 3 Jodie Thompson, 1.3; Local:1 Ben Coates, 1.6, 2 Rory Dowd, 1.5, 3 Darryl MacLaughlin, 1.2; Argyllshire Light Stone (16lbs) Open: 1 Lukas Wenta, 53.11.5, Record = 59'3″, 2 Scott Rider, 51.5.5, Lucas Wenta, East Kilbride, 2012, 3 Kyle Randalls, 46.6, 4 Stuart Anderson, 43.6, 5 Munro Masterton, 43, 6 Allan Smith, 41.1.5; Novice: 1 Murdo Masterton, 43, 2 Finbar Dunne, 30.1, 3 Andy Johnstone, 29.1, 4 Darryl McLaughlin, 25.3; SHGA British Light Hammer Championship (16lbs)    Open: 1 Kyle Randalls, 137" 1.5", Record = 155′ 0.5″ (47.256), 2 Lukaz Wenta, 129′, Stephen King, Inverary, 1998, 3 Murdo Masterton, 126′ 5", 4 Scott Rider, 121′ 2", 5 Stuart Anderson, 115′ 11", 6 Allan Smith, 87'6"; Novice: 1 Murdo Masterton, 126′ 5", 2 Andy Johnstone, 67′ 10", 3 Finbar Dunne, 65′ 1", 4 Partick Dunne, 61′ 7"; SHGA British Heavy Hammer Championship (22lbs) Open:1 Kyle Randalls, 116′ 7", Record = 124′ 2.5″, (37.859m), 2 Murdo Masterson, 108′ 10", Stephen King, Inverary, 1999, 3 Lukas Wenta, 105′ 5", 4 Scott Rider, 100′ 7", 5 Stuart Anderson, 99′ 5", 6 Allan Smith, 60′; Argyllshire 28lb weight for distance Open Record = 89′ 1″ (27.152): 1 Lukas Wenta, 77′ 9" H. Davidson, Nairn, 1979, 2 Kyle Randalls, 75′ 11", 3 Stuart Anderson, 74′ 1", 4 Murdo Masterson, 64′, 5 Allan Smith, 42′ 3", 6 Andy Johnstone, 31′ 9"; Local: 1, 2; Argyllshire Caber Local: 1 Murdo Masterson, 2 Andy Johnstone, 3e Finbar Dunne, 3e Daryll McLaughlan; Open: 1 Lukas Wenta, 2 Stuart Anderson, 3 Scott Rider, 4 Kyle Randalls, 5 Murdo Masterton; Highlander Clachd (22lbs) Open:1 Scott Rider, 44′ 2", Record = 49′ 6″, (15.088), 2 Lukas Wenta, 43′ 5", Geoff Capes, England, 1983, 3 Kyle Randalls, 40′ 10.5", 4 Allan Smith, 35′ 9", 5 Stuart Anderson, 35′ 9", 6 Murdo Masterton, 35′ 3"; SHGA British 56lb weight for distance:1 Scott Rider, 37′ 11", Record = 42′ 8″, 2 Lukas Wenta, 37′ 6", Lorne Coulthart, 2016, 3 Kyle Randalls, 35′ 4", 4 Stuart Anderson, 33′ 2", 5 Murdo Masterton, 29′ 4", 6 Alan Smith, 13′ 5"; Highlander 56lb weight over the bar Open: 1 Lukas Wenta, 15'6", Record = 16′ 7.5″ (5.06m), 2 Scott Rider, G. Anderson, Dundee, 1989, 3e Stuart Anderson, 3e Kyle Randalls, 5 Murdo Masterton, 6 Andy Johnstone; Argyllshire 42lb weight over the bar: 1 Murdo Masterton, 2 Andy Johnstone, 3 Patrick Dunne, 4 Finbar Dunne, John MacColl; Heavy Weight Champoinship trophy: Lukasz Wenta, East Kilbride; Highland Tug of War: Cancelled; Tossing the sheaf over 16: Cancelled; Under 16 Argyllshire Youth and Girls 100m: Boys:1 Jake Gillespie, 12.29, 2 Gregor McGeachy, 3 Mark Howson; Girls:1 Ellen McCrae, Mull, 14.13, 2 Poppy McKillop, Oban, 3 Eilidh Cameron, Lochgilphead; Argyllshire Youths 600 metres: Boys:1 Jake Gillespie, Lochgilphead, 2 Mark Howson, Lochgilphead, 3 Gregor McGeachy, Lochgilphead; Girls:1 Abbie Cato, Fionnphort, 2 Ellen MacRae, Salen, 3 Eilidh Cameron, Inverary; Argyllshire Youths High Jump: Boys: 1 Jordan Norman, Oban, 1.65m, 2 Alfie Smith, Lochgilphead, 1.55m, 3 Aiden MacPhee, Oban, 1.55m; Girls: 1 Amy Gibson, Mull, 1.40m, 2 Poppy McKillop, Oban, 1.35m, 3 Karis Kidd, Lochgilphead, 1.30m; Argyll Youths Long Jump: Boys:1 Gregor McGeachy, 15′ 10", Record = 17'10", 2 Rory Dowd, 15'6", 3 Mark Howson, 15′ 2"; Girls: 1 Poppy MacKillop, 12′ 5", Record = 13′ 7″, 2 Abbie Cato, 11′ 11.5", 3 Amy Gibson, 11′ 9"; Argyllshire Youth Shot Putt: Boys: 1 Jordan Normal, OHS, 12.94 record= 46′ 9″, 2 Jake Gillespie, LGH, 11.04, Gregor Cook, 3 Nathan McCulloch, OHS, 10.1; Girls: 1 Caryn Kerr, Campeltown, 7.12m record = 29′ 4″, 2 Abbie Cato, Fionnphort, 7.07m, Abigail Evans, 3 Karis Kidd, Ardrishaig; CHAMPIONS  Argyllshire Heavyweight Championship Open 1 2 3 Local track and field champions: 1 Ben Coates, 2 Rory Dowd, 3 Emma Thompson; Junior Champions All Argyll Games: Boys:Jake Gillespie; Girls: Abbie Cato Records broken