Letters to the editor week 03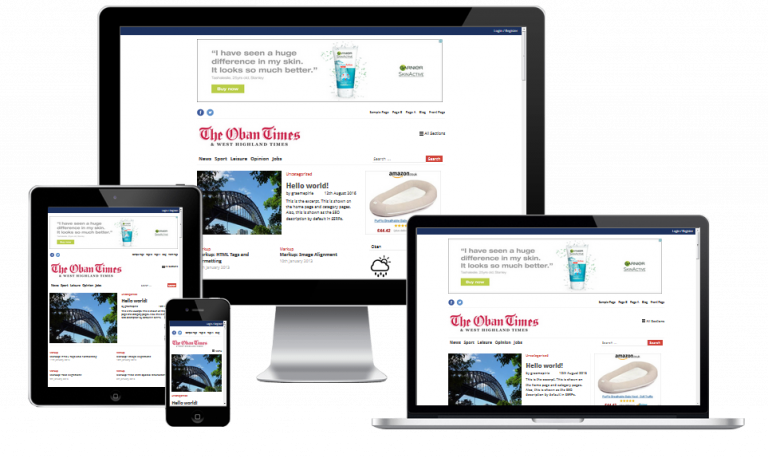 Want to read more?
We value our content  and access to our full site is  only available with a  subscription. Your subscription entitles you to 7-day-a-week access to our website, plus a full digital copy of that week's paper to read on your pc/mac or mobile device In addition your subscription includes access to digital archive copies from 2006 onwards
Just want to read one issue? No problem you can subscribe for just one week (or longer if you wish)
Subscribe Now
Argyll roads have never been so bad
Sir,
With more than 40 years' driving experience on Argyll roads on a weekly basis, I can state confidently that I have never seen the roads in Oban and our major trunk routes in such appalling condition. Potholes and other broken surfaces litter our roads.
Only a few days ago I drove out from Oban to Crianlarich in daylight.  Travelling at between 45mph and 60mph, one had little time to take evasive action with regard to the many potholes.
It is bad enough, and at the very least inconvenient, having to avoid this cratered road landscape in the confines of the town under a 30mph speed limit. Damaged tyres, wheel rims and shock absorbers are the likely victims (and at  not inconsiderable cost).
However, once this scenario is transferred to the trunk roads, where traffic is travelling at up to double town speed maximum, this becomes a real hazard to the safety of all motorists and other road users. Do we have to wait until the first fatality is caused by poor road surfaces before the roads authorities take action?
It was bad enough driving to Tyndrum in daylight but returning along this same road in the dark had obvious risks as the potholes are virtually hidden, especially having to drive with dipped headlights or in heavy rain. A high speed impact could be catastrophic not only for the car and driver involved but potentially for other road users close by.
As for motor bikes, I shudder to think of the results of a high speed impact  with a pothole on two wheels.
Argyll and Bute Council along with BEAR Scotland (which, I understand, is responsible for maintaining  the trunk roads) must urgently get their act together.
I am aware that public expenditure has been cut on roads infrastructure and now we are paying for it dearly. However, money cannot come before public safety.
Many people are airing this issue in daily conversations or on Facebook. That is all very well but we have to raise our game and bring it to the attention of those whose responsibility it is to maintain our roads. I would therefore urge all road users to contact their councillor, MP or MSP  to make their views on this subject known.
Rob MaCallum,
by email.
Gaelic will be left without its soul
Sir,
I write with regard to a report I heard recently on Radio nan Gàidheal in which David Boag, head of Bord na Gàidhlig, was talking (in English) about Gaelic and its uses or abuses.
As a born and bred Gaelic speaker, I have to say that both Mr Boag's spoken Gaelic and English were really bad. When we were in school, we were taught in English but our Gaelic was very good, dramatically and orally, as was our English. I now come across people who cannot speak either very well.
Are we going to end up with a mongrel Gaelic community, and a language and culture without a soul? I believe we are well on the way already.
In the future, there will be very few if any proper speakers of Gaelic because, when its speakers are not brought up within its culture, it becomes a mongrel language. How can this be allowed – and with government money too?
Angus Campbell,
Garrynamonie, South Uist.
Dogged campaigner will be sadly missed
Sir,
On a chance encounter in Oban last Thursday I was saddened to learn of the death of my friend and former neighbour George Doyle, from Seil Island.
I took your paper home as usual and found George's letter and I think there can be hardly be a more fitting tribute to the man himself. With his quiet determination and indomitable spirit, George was a man who commanded respect and who would not lie down in the face of adversity but tackle it head on, regardless of what bureaucracy or the establishment threw at him and all with that beautiful, gentle underlying humour.
He will be sadly missed.
Jim MacKay,
Lianag, Barcaldine,
Islay GP should stay in the NHS
Sir,
I've just read Dr Kate Pickering's letter pinned up in the Port Charlotte Medical Centre that she is migrating to Australia, which gained independence from Britain in 1901.
It was only recently that Dr Pickering stood before the Islay community during the Scottish referendum as a guest speaker arguing for a 'no thanks' vote in a packed Bowmore village hall, expecting people to listen to her and, I am sure, in her position as the clinical lead, would have influenced people to vote No.
The Ileach, the community-owned newspaper, sponsored the referendum debate in Bowmore hall and in its next edition reported on the front page: 'Dr Kate Pickering had a more spontaneous approach – she espoused the view that independence would be dangerous, plucking examples from her professional and family life.'
Scotland's biggest export is our people and I would have expected Dr Pickering to have stayed and make the union work since she won the Better Together vote. Our NHS needs all our professionals.
Colin M Campbell,
Port Charlotte, Isle of Islay.
Salmon farms cause a sea lice soup
Sir,
Iain Jenner from Lochaber is absolutely correct to highlight the downside of salmon farming and its impact on our wild salmonids and marine environment. The tragedy of the Awe/Orchy is typical of the unintended consequences of salmon farming.
I grew up in Glenuig and was lucky enough to fish the Moidart and Ailort fisheries. I remember looking in awe at a 16lb sea trout caught on the Moidart, only to be told that an 18lb sea trout had been caught on Loch Eilt that very day!
Today salmon and sea trout are as good as extinct on these waters, along with another 300 rivers and lochs on Scotland's west coast. The hundreds of jobs these fish supported as ghillies and in the service sector have gone also. The culprit is undoubtedly sea lice generated in their millions by salmon farms causing a coastal sea lice soup that kills migrating smolts once they have left their natal rivers.
Salmon farms are usually located in the cheap, discreet locations of our sea lochs. It would not be difficult to locate them on land where the effluent could be treated and sea lice larvae destroyed with UV light. The cost of this would be mitigated by not having to spend a great deal of money on political lobbyists paid to generate propaganda intended to dupe both government and the public.
What has happened to Scotland's west coast salmonid fisheries is verging on criminal and the big east coast rivers are not immune as their smolts have to pass the lice-infested farms in Orkney and Shetland. This would go a long way toward explaining the increase in marine mortality since the 1970s.
Michael C Smith
Cleish, Kinross.
Perpetuating the myth of the Clearances
Sir,
I object strongly to the use of the word 'Saxon' in the poem by Michael G Kidd printed in The Oban Times (Letters, January 11).
By the time of the clearances in Scotland, the word Saxon would have long been forgotten.
The shepherds of the time would have invariably been Scots. Mr Kidd should re-read his history. The myth is that all these people were forcibly removed; the reality is that many Scots saw the Americas and elsewhere as a chance to improve their lives. It is the same reason that saw many Irish, Welsh and English migrating to Scotland and America.
The proof is that their descendants do not bear any grudge against anyone in the present UK. Racism is a nasty trait in Scotland.
Cyril Bonnett,
Ballachulish.