Morvern Lines with Iain Thornber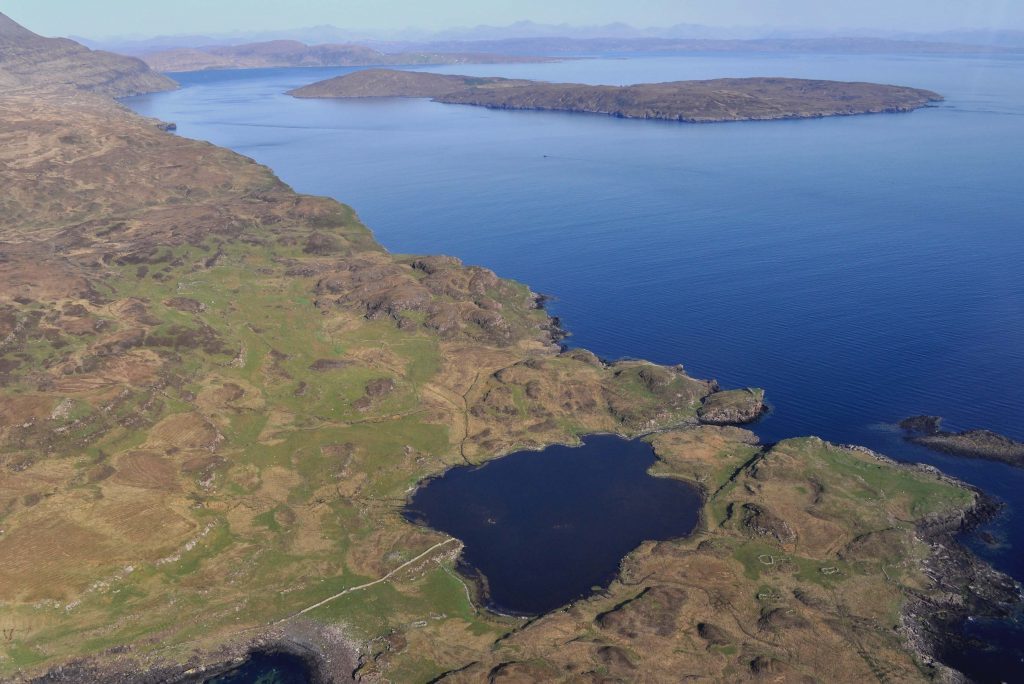 Want to read more?
We value our content  and access to our full site is  only available with a  subscription. Your subscription entitles you to 7-day-a-week access to our website, plus a full digital copy of that week's paper to read on your pc/mac or mobile device In addition your subscription includes access to digital archive copies from 2006 onwards
Just want to read one issue? No problem you can subscribe for just one week (or longer if you wish)
Subscribe Now
No more books about St Kilda, please
I often think that any more books about St Kilda should be banned and those who write and publish them should be heavily fined.
More attention might then be turned to other islands in the Hebridean archipelago that really need it.
St Kilda will always be in the public eye for its spectacular seabird colonies and awesome landscapes but, in reality, the way of life which was played out there until the 1930 evacuation was little different to any other isolated coastal community in the Highlands and Islands.
Thanks, however, to sympathetic curiosity, cultural condescension and an overdose of artificial preciousness, there is nothing, living or dead, that hasn't been photographed, catalogued or recorded in triplex. Little wonder it has been said that with one or two notable exceptions, nothing new has come out of St Kilda for years.
Soay, lying to the west of Loch Scavaig on the south-west coast of Skye, from which it is separated by a narrow sound, is an island with a potentially interesting history. It may not have St Kilda's towering stacs and such an abundance of sea fowl, but it deserves deeper investigation.
Unlike its neighbours Skye and Rum, Soay is only 463ft high and almost cut in half by two large inlets. The main settlement, Mol-chlach, (Gaelic: the stone pile) is on the shore of Camas nan Gall and is normally reached by boat from Elgol. The 2,635-acre island is included in the Cuillin Hills National Scenic Area, which cannot bring many, if any, practical benefits.
The name comes from Old Norse 'Sauda-ey', meaning Sheep Island. Camas nan Gall (Gaelic, Bay of the Strangers) is probably named after Norse invaders although with the discovery of worked flint and the existence of burial cists, the island was obviously inhabited long before.
Laurance Reed, whose family owned a house on Soay for 30 years, wrote an excellent little book called The Soay of our Forefathers (first published privately in 1986 and reissued by Birlinn Ltd in 2002) in which he charts some of its social history.
The highest recorded head count was in 1851 when 28 families, comprising 158 souls, were enumerated in the national census that year. For a long period Soay was possessed by MacCaskills, a family of Norse origin, who feature prominently in the centuries-old struggle between the MacDonalds and the MacLeods for the ownership of Skye. No doubt they were bought off and given Soay and the neighbouring Rubha' an Dunain, with its fort and unique inland galley harbour, by the MacLeods as a reward for their trouble.
The MacLeods of Soay emigrated to North Carolina in the 18th century but the island was resettled largely by folk from Minginish during the Skye clearances.
In 1945, Soay was bought for £900 by the colourful, entrepreneurial Gavin Maxwell from Dame Flora MacLeod of Macleod, whose father had sold St Kilda to Lord Dumfries, later the 5th Marquess of Bute.
Maxwell, author of many books, including Ring of Bright Water, established a shark fishing enterprise here which, fortunately for the basking-sharks, went bust six years later when the price of their oil collapsed.
In 1952, the islanders petitioned the government in favour of evacuation and left the following year for Mull. An eye-witness of the evacuation on June 19 has left us an important record of events: 'The Campbells are going, and so are the Camerons, the Macraes, the Macaskills, and MacDonalds –
over the seas from Skye. All day the Soay islanders have been packing, and a quarter of a mile off this stony beach lies the steamer Hebrides, its slim red funnel fuming as if impatient to be gone. [Actually, three people remained on the island].
'The evacuation of the 30 crofters to Mull looks (deceptively) a simple and even leisurely occupation, and so far the weather has allowed the loading to go according to plan.
'The foreground is surrealism come to life. On the grey, boulder-cluttered shore, so bleak that even June sunshine can barely warm it, stands a Victorian sofa and a number of prim kitchen chairs. They are joined by rolls of linoleum, a heavy table and some huge roped trunks. All are loaded into a motor-boat and taken out to the ship, and another assortment takes their place on the beach. Some of this furniture cannot have seen the light of day since the island was first colonised, and its removal across the sea appears, on the face of it, a sadder business than that of its owners – who go by their own choice and appear (except for a few who admit to last-minute feelings of regret) stalwartly unmoved.
'So houseful by houseful, the physical tokens of a community's life are hauled from their familiar shadows, out into the indifferent sunshine, down into the hold of a ship. What we do not see is as eloquent as what we do. No television sets, no radio, no piano even, but numerous bibles, a spinning-wheel or two, a pair of antlers from a stag shot on the Cuillins, and a single bicycle. This looks as exotic, as useless on Soay, as a motor car or an aeroplane would be.
'The grey-haired postmistress, Mrs Cameron, who has carried on the post office alone since her husband died 12 years ago, bustled about her last duties, which includes receiving a greeting telegram to the islanders from Major Gavin Maxwell, the island's former owner and fisher of sharks.
'Donald Campbell, four today, had no birthday party but is too excited to worry about that. The cows, goats and poultry still go about their affairs as if a thousand years of Soay were ahead of them instead of 12 hours.
'But on a stone wall above the beach perches hour after hour a black and white dog. It dithers as if it were cold, and stares fixedly at the queer things happening below. You feel that at any moment, even if the pipes are silent, it may throw back its head and sound some sort of lament for Soay.'
The following day the same witness, writing from Mull, said: 'The islanders from evacuated Soay are spending the weekend in getting used to the sophistication and sheer pace of life on Mull, their new home. Venturesome males have been dodging motor cars on exploratory walks, while wives and
mothers have excitedly pressed their first electric-lights switches and gazed out across the Firth of Lorne towards the mainland mysteries of distant Oban.
'They have all shaken the hand of Lord Home, Minister of State for Scotland, who, yesterday welcomed them to Mull. The cost of moving and resettling the thirty crofters of Soay seems to have been about £13,000.
'Five of the families have taken over Java Lodge at Craignure, a large and pleasant house with handsome grounds. The big rooms have been divided with plasterboard partitions, and each apartment has its own bathroom as well as scullery, larder and electricity from a generator. The rent will be eight or nine shillings a week; on Soay, the crofters paid a nominal rent of about a pound a year for their holdings.
'The men can choose from forestry, farming, lobster fishing and drainage work, while the women attend to such fascinating mysteries as that of the heat-gauge on their combustion cookers. How long will it take them to bake their bread by numbers?
'Soay went off the map with several bangs. The greater part of the evacuation has been strenuously calm. All was nearly over when three bull calves, which had been left grazing when their elders were slung aboard earlier in the day, made a snap decision to take to the hills. They had to be rounded up with men and dogs, even the island's spaniel contributed zestfully to the confusion and, eventually, we were treated to the heart-warming sight of a Department of Agriculture official hauling steadfastly at a rope with a bucking bullock at the other end. He still managed to look as dignified, say, as an Edinburgh house-holder moved towards the Scottish Department of Agriculture and away from Soay, and before long the rebels were safely gathered into the ship's hold with the rest of the livestock.
'A collie dog had been left ashore and its owner had to be rowed all the way back to the island to retrieve it. The dog didn't want to go, and it was with an obscure sense of guilt that we watched a desolate hill collie being hauled to the boat, its tail trailing along the stones of the beach like a surrendered flag.
'Soon we were disembarking at Salen and the Mull piper was welcoming us with the strains of My Home.'
Iain Thornber
iain.thornber@btinternet.com