Morvern Lines
Want to read more?
We value our content and our journalists, so to get full access to all your local news updated 7-days-a-week – PLUS an e-edition of the Oban Times – subscribe today for as little as 56 pence per week.
Subscribe Now
Isle of Mull is of isles the fairest
This week's column really should be called Mull Lines as it is the result of a recent expedition to that island.
The main purpose of my visit was to photograph a roadside cairn standing on a knoll at Strathcoil, near Loch Spelve. It was raised in memory of Dugald MacPhail (1819-1887), the Gaelic bard who composed An t-Muileach (The Isle of Mull) which has become the island's anthem.
Wherever a few Mull men and women are gathered together socially anywhere in the world, you are likely hear this evocative composition described by Sir Hugh Roberton (1874-1952), conductor of the Orpheus Choir and Britain's leading choral-master, as the finest folk-song in
existence.
The MacPhails, according to tradition, were drovers and cattle-breeders and lived at Rhoail in Glen Forsa upwards of 800 years. By 1819, the bard's parents, Donald and Catherine (nee Campbell), had moved down from the hills to Strathcoil where Dugald was born and became a carpenter.
History does not record the circumstances, but shortly after he married Janet Merry, the couple went south. Perhaps they were evicted.
Dugald, who is described as a clerk of works on his death certificate, died
of pleurisy on November 1, 1887, at Partick on the north bank of the River Clyde, across from Govan. Astonishingly, he is buried in the cemetery of Old Monkland and not on Mull. He left a widow and eight children one of whom, Alexander (1872-1938), is said to have been Inspector for Anatomy for
England and Wales.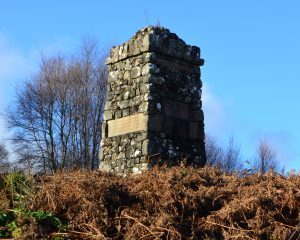 Dugald's memorial at Strathcoil is unusual because not only was it built on the exact site of his old home, but it is constructed with stones from its walls. The monument was completed in March 1929 and unveiled on June 19 that year by Mrs Murray Guthrie of Torosay.
A large number of enthusiastic supporters from Tobermory, Salen, Dervaig and elsewhere on Mull were present. There were speeches in Gaelic and English by Mr MacMorran, Treshnish, and Mr C R Morison, Kingharair, Dervaig, who read quotations from the bard's poems showing his admiration for the beauty of Mull and his regrets that the native population were forced to wander afar instead of remaining in their birth place.
I was pleased to hear that a public appeal, which went out a few days before my visit, for funds to carry out essential repairs to the monument had reached its target. It is good to know that Dugald MacPhail's name is still held in such high regard 130 years after his death.
I enjoyed my jaunt and admired the typical Highland grandeur surrounding Strathcoil as well as the hospitality I received in nearby Inverlussa, from Douglas and Helen Wilson, voted best mussel producers in Scotland by the Association of Scottish Shellfish Growers.
Here, too, I met former Mull councillor John Wilson, who gave his full support to the Glensanda quarry when it was in its infancy, recognising the benefits it and many other innovative schemes in his ward would bring to the island.
Absent during my visit was a tame hind which comes to the kitchen window every morning for her breakfast, and the Jack Russell terrier who hops into the warming oven of the family Aga whenever she feels cold.
Taking the road to Craignure, Salen and Tobermory, I stopped off to look for the reef at the north side of the entrance to Loch Don, which the steamer Merganser hit on the night of December 30, 1902. Owned by Captain Donald MacDonald, Tobermory, the vessel, was on a voyage from Glasgow to Ballachulish with a cargo of coal. The crew, four in number, the master and mate being sons of the owner, nearly lost their lives as they struggled to get ashore before the ship was wrecked.
I was impressed by the old-fashioned courtesy shown by every vehicle, large and small, that I met on Mull. Without exception, visitors and locals pulled into passing-places, some well in advance, with the drivers reciprocating my own wave in a cheery manner – something that has almost disappeared in Morvern and elsewhere on the mainland these days.
I would like to be able to say that I was as enthusiastic about the cost of a bite to eat in Tobermory. Judging by what I was charged for half a dozen tiny scallops and a handful of rabbit food in one establishment in the main street, I came away feeling that I deserved a share in the fishing boat that landed them.
To compensate, I took refuge in the burgh's famous book emporium where I was welcomed by Jean Whitaker, indomitable local historian, recorder of gravestone inscriptions and curator in chief of The Mull Museum, which is crammed with information about the history of the island and its people.
Despite the stunning light on Ben Talaidh and Ben More, I could understand, looking across the Sound on my way to catch the Fishnish ferry, the reason for the old saying that if it weren't for Morvern, the people on the east side of Mull would have nothing to look at!
Iain Thornber
iain.thornber@btinternet.com