Morvern Lines: Did Hitler visit Argyll?
Want to read more?
We value our content and our journalists, so to get full access to all your local news updated 7-days-a-week – PLUS an e-edition of the Oban Times – subscribe today for as little as 56 pence per week.
Subscribe Now
There is a story which surfaces from time to time about Hitler visiting Argyll or, more specifically, the island of Inch Kenneth and attending, incognito, a wedding in Tobermory in 1938.
The suggestion appears ridiculous, yet I have heard these tales from so many different sources, that I am beginning to wonder if somewhere among rumour and speculation they may contain a grain of truth.
Inch Kenneth, named after St Kenneth, a contemporary of St Columba, who died around AD600, lies at the entrance to Loch na Keal between Gribun and the Isle of Ulva. It is a fertile place, less than 150 acres in extent. It comprises a 19th-century three-storey mansion, a farm house, the ruins of a 700-year-old chapel and a tall medieval Celtic cross.
During their famous tour of the Hebrides, Boswell and Johnson were entertained here in 1773 by Sir Alan Maclean, 22nd chief of Duart. Later it was owned by Sir Harold Boulton, composer of the Skye Boat Song.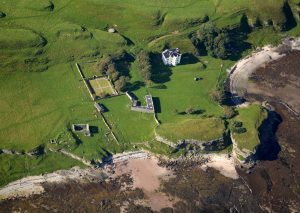 If Hitler set foot on Inch Kenneth, it can only have been to visit Unity, the daughter of David and Sydney Mitford (Lord and Lady Redesdale), who bought the island in 1938. The Mitford family were followers of the fascist movement and among Hitler's greatest admirers in the UK.
Unity had five sisters, one of whom, Diana, married Sir Oswald Mosley, the leader of the British fascists and one-time Labour MP.
Unity (born 1914) was present at the 1933 Nuremberg Rally and, according to her diary, was with Hitler on at least 140 different occasions between 1935 and 1939. She and the Fuhrer were so close it was rumoured that she bore him a child.
When Britain and France declared war on Germany on September 3, 1939, Unity, who had been living in Berlin to be near Hitler, shot herself in the head with a bullet from a tiny silver revolver which he had given her. She was brought back to Britain by her family to convalesce and to keep her
out of the war.
Thinking that Inch Kenneth would be a more suitable place for her recuperation than London, her family made plans to travel north but were banned from doing so until 1944 on account of their connections with the Nazi party and because much of the West Coast, including Mull and its
satellite islands, lay within a protected military zone.
Unity's physical health appeared to improve. In 1948, she left Inch Kenneth for a short time to visit friends in the south of England but a few weeks after her return she became seriously ill and was transferred to the West Highland Cottage Hospital in Oban on May 27. She died the following day from meningitis caused by an infection from her head wound.
Although the war had ended three years earlier, so concerned were the authorities about what military information she might still be holding, a policeman stood outside her room to prevent anyone other than her family
from visiting her.
There are a number of questions one might ask here.
Wouldn't Hitler have been too busy planning his aggressive expansion policies to leave Germany in 1938 and how would he have travelled to Inch
Kenneth? It would be idle to speculate on the first, but the second is easily answered – by U-boat, of course. Many German submarines were sent to sea in pre-emptive moves before war broke out to enable them to gather intelligence and to engage enemy vessels as soon as the conflict began.
I have already written in these columns of submarines being sighted off Jura and in the Sound of Mull.
Less well known perhaps is the number of high-ranking German officers and their friends who travelled with ease between Germany and Scotland to enjoy fishing and stalking prior to the war.
Arthur Nall-Cain, the 2nd Lord Brocket, bought the 62,000-acre Knoydart estate in the 1930s where he entertained members of the Anglo-German Fellowship. So close was he to the German cause that he was invited to Hitler's 50th birthday party.
After the outbreak of war, Brocket attempted to negotiate a peace settlement with Hitler through Reichsmarschall Hermann Göring, Commander-in-Chief of the Luftwaffe, who was also a keen hunter.
Another top Nazi who made regular visits to Scotland to shoot deer, was Joachim von Ribbentrop, ambassador to the Court of St James in 1936, and then Foreign Minister of Germany in February 1938. He stayed in a house in Perthshire where his firearms were stored at the end of the stag stalking season.
He happened to be there when war broke out but, in his haste to return to Berlin, they were left behind. Perhaps he thought he would return the conquering hero. Instead he was tried and convicted for his role in starting the Second World War in Europe and sentenced to death by hanging. I understand his rifles were still there until quite recently.
Argyll has an unexpected history. It would not surprise me if one day a sheaf of documents emerge confirming that Hitler had indeed gazed on Ben More.
Iain Thornber
iain.thornber@btinternet.com