Friends of Kilbride commemorate selfless sacrifice of Oban heroes
Want to read more?
We value our content and our journalists, so to get full access to all your local news updated 7-days-a-week – PLUS an e-edition of the Oban Times – subscribe today for as little as 56 pence per week.
Subscribe Now
By Myra Griffin,
secretary/treasurer  
Friends of Kilbride
On Sunday October 1, two months of planning came to fruition when, at the invitation of Friends of Kilbride, around 50 people gathered at Kilbride historic site at Lerags, near Oban, to commemorate the lives and deaths of three First World War soldiers, whose untimely ends are commemorated on their 19th-century family stones.
The existence of these stones had come to light following a casual visit to Kilbride by a Canadian visitor. A search of the records showed that the McCulloch family stone recorded the deaths in action of Sergeant Iain McCulloch, Cameron Highlanders, and Gunner Donald McCulloch, Tank Corps.
By pure coincidence, the McIntyre family stone, also erected in the 19th century, stands almost side by side with that of the McCullochs, and records the death of Private Hugh McIntyre of the 48th Highlanders of Canada.
These two markers, erected 160 years ago, positioned almost adjacent to each other seem to be the only two Kilbride markers associated with First World War.
That particular McCulloch line seems to have been obliterated with the death of Donald, on August 2, 1917. Ian died in action in 1915, and their remaining sister married late in life, and appears to have had no children of her own.
Hugh McIntyre, a stonemason by trade, emigrated to Canada in 1912, volunteered with the Canadian Highlanders on the outbreak of war, and managed a few days' leave home in Oban before being killed in action at St Julian, Belgium, in 1915.
However, with the assistance of the Canadian government and local researcher, Jill Bowis, we were able to make the Kilbride connection known to the McIntyre family, some of whom now live in and around Edinburgh.
Catherine and Colin, great-niece and -nephew respectively of Hugh, and other McIntyre family members attended the service, and took an active part. Catherine led us in a Gaelic hymn, while Colin ceremoniously planted a commemorative tree.
The non-denominational ser­vice was led by the Reverend Dugald Cameron of Kilmore and Oban Parish Church, the Gaelic scripture being declaimed by Anne Fergusson.
Piper Donald MacDougall, Seil Crofts, played the lament The Taking of Beaumont Hamel and the pibroch, The Old Woman's Lament.
Friends of Kilbride Elaine, Hannah, Deborah, Alistair and Keiran contributed to the affair giving freely of their time in various tasks, directing traffic, setting out Café Kilbride for the post-service brunch and generally ensuring the comfort and safety of our guests. Karen's
and Anne's home-baking was literally the icing on the cake of Silver Laced Catering's wholesome spread.
BBC Alba transmitted a recording of the event in its news programme.
During the service, a gale of wind and the rain swept in from the Atlantic, as we sheltered beneath canopy and umbrella. But our spirits were uplifted as we looked back to that tragic time and thought of the selfless sacrifice made not only by our three Hielan' laddies, but a sacrifice made by some 10 million combatants of all nationalities, and by three million non-combatant civilians, caught up in that tragic, ultimately senseless, conflict.
Friends of Kilbride would like to express their gratitude to all those who participated or contributed.
For further information about Friends of Kilbride, its aims and objectives, please visit the Facebook page, or website at www.friendsofkilbride.scot
The Oban Times reported on November 14, 1914: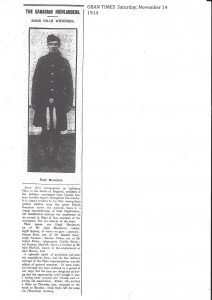 'Since their encampment on Salisbury Plain in the South of England, members of the military contingent from Canada have been familiar figures throughout the country.
It is almost needless to say that, among these gallant soldiers from the great British Dominion across the Atlantic, there is a strong representation of local Highlanders, and considerable interest was manifested on the arrival in Oban of four members of the contingent, who are natives of the town.
'Their names are Hugh Macintyre, son of Mr John Macintyre, mason, Argyll Square; Duncan Scott, son of Mr Donald Scott, burgh foreman; Duncan Fisher, son of Mr Robert Fisher, tobacconist, Combie Street; and Duncan MacColl, who is a brother of Mr John MacColl, mason, in the employment of John Munro, Ltd.
'A splendid spirit of patriotism pervades this magnificent force, and the fine military carriage of the Oban representatives was the subject of general comment. In most cases, the furlough has been confined to a period of four days, but the men are delighted at having had the opportunity, brief though it was, of seeing their parents and friends, and renewing old associations.'