Japanese martial art of Aikido blossoming in Lochaber
Want to read more?
We value our content and our journalists, so to get full access to all your local news updated 7-days-a-week – PLUS an e-edition of the Oban Times – subscribe today for as little as 56 pence per week.
Subscribe Now
'Warriorship is none other than the vitality that sustains all life'
― Morihei Ueshiba, The Art of Peace
Every Thursday night, the local community hall in the village of Roy Bridge turns into a little piece of Japan and the transformation brings with it a sense of calm and positive energy.
For that one night each week, the space becomes the dojo – or training hall – for the members of the Lochaber Aikido Club and it is here that for the past two years men, women and youngsters have been devoting themselves to learn this traditional Japanese martial art.
But you'd be forgiven for thinking that, upon hearing the term 'martial art', that it means the classes are all devoted to learning how to fight because there is much much more to the art of Aikido than fighting. True it is about struggle, but it is the struggle to develop and improve oneself as a human being that is the real battle each Aikidoka – or Aikido practitioner – faces.
Founded by Morihei Ueshiba, Aikido is a Japanese martial art that utilises a comprehensive system of throwing, joint immobilisation, striking and pinning techniques, coupled with training in traditional Japanese weapons such as sword and staff.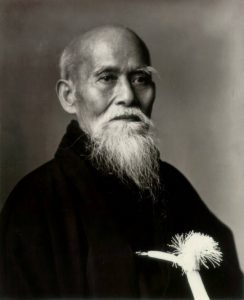 But to Ueshiba, his martial art is about more than vanquishing an aggressive opponent, and just as equally an intense physical and spiritual training regimen to perfect human character and develop genuine wisdom.
The term dō, meaning 'way', is common in Japanese martial arts such as judo and kendo, and in various non-martial arts, such as calligraphy (shodō), flower arranging (kadō) and tea ceremony (chadō or sadō).
Therefore, Aikido literally translates as the 'way of combining forces', in that 'aiki' refers to the principle of blending with an attacker's movements.
The Lochaber club was set up by Sensei James Knight, a fifth dan ranked black belt and instructor with the Ki Federation.
There are numerous organsations for the different styles of Aikido that can now be found in the UK.
For its part, the Ki Federation, which is one of the biggest organisations, teaches students to develop calmness, positivity, co-ordination and self-confidence for daily life through their practice of Aikido. There is no tension, aggression or competition involved.
Learning how to cultivate a calm mind and relaxed body is the way to deal with the myriad pressures, stresses and strains that the modern 21st-century world assaults us with day in and day out.
Sensei Knight, who moved with his family to the area just three years ago, says the club is thriving and growing steadily. 'Our adults' class has been going for about two years, with the juniors' class for about six months longer,' he said during a break in teaching Thursday night's students.
'We are only a small club, but with a very dedicated group of students – they are a very interesting mix of people and abilities.
'Our main emphasis is relaxation. If anyone comes along to a class expecting it to be all about fighting, they will be surprised.
'The best way to describe our Aikido would be that it is something akin to mindfulness under physical pressure.'
Sensei Knight, who has practised Aikido for 24 years, says the art is a great way to equip people to cope with the tribulations of modern living.
'If you sit at a desk all day, that's not good for your body. We strive to achieve the co-ordination of mind and body, learning how to be relaxed and absorb pressure – from wherever that comes and to give out pressure by moving people around.'
Students in the adult classes range from men and women in their 30s through to those in their 60s, but it is open to all ages.
Classes are suitable for all levels of fitness and the art can be practised equally by men and women of any age or ability.
Sensei Knight added: 'It is by learning to relax and co-ordinate our body movement with our mind that we can improve our health and fitness and enhance the overall quality of our lives.'
For more information contact  01397 712715, email info@lochaber-aikido.org.uk or visit Lochaber Aikido Club Facebook page and website (www.lochaber-aikido.org.uk).