Morvern Lines with Iain Thornber
Want to read more?
We value our content and our journalists, so to get full access to all your local news updated 7-days-a-week – PLUS an e-edition of the Oban Times – subscribe today for as little as 56 pence per week.
Subscribe Now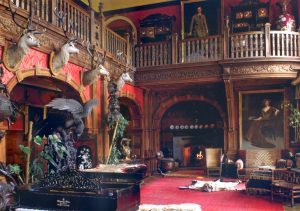 Kinloch Castle, Rum
Kinloch Castle, sitting at the head of Loch Scresort on the island of Rum, is one of the finest examples of the Edwardian age to be found anywhere in Europe.
The much-published photograph of the front hall and gallery, with its red carpet, portraits, animal skins, stags' heads and rich furnishings, is recognised the world over.
The castle was erected in 1897 for its wow-factor and, boy, does it still have it, no matter what you might think of it or Sir George Bullough, who built it.
It stands alongside Fingal's Cave, the Cuillins, Inveraray Castle and the Palace of Holyroodhouse as one of the must-see places in Scotland on the globe-trotters' lists. But just how much longer is it going to be around?
When the island of Rum and virtually everything on it was sold in 1957 by the Bullough family trustees to the Nature Conservancy Council (NCC) for not much more than the price of a family campervan, there was a condition attached. NCC, and presumably Scottish Natural Heritage, its successor, were to maintain the grade A-listed Kinloch Castle and, at Lady Bullough's express wish, its contents were to be kept as they had been in their Edwardian heyday.
The father of a friend of mine knew Lady Bullough. In the early 1950s, she offered him the entire 26,500-acre island and the castle for £18,000. He tried hard to persuade his father to accept it but in the end they felt that, although the deer stalking in those days was second to none, the upkeep of the castle would eventually beggar them.
Alistair Scott, in his fascinating book, Eccentric Wealth – The Bulloughs of Rum (Birlinn, 2011), writes that it was thanks to Max Nicholson, director general of the NCC, who won Lady Bullough's trust, that she virtually gave away the island and the castle to the nation in the knowledge that both would be conserved.
Now, however, concerns are being voiced on Rum and elsewhere suggesting that SNH is not looking after the castle as well as it might.
In a Rum Working Party report dated March 1975, it was recommended by its author that the castle be razed to the ground which, if implemented, would cause less of an uproar than allowing it to deteriorate and slowly disappear.
Demolition was clearly not a serious option at the time but its deterioration to its present state 42 years later suggests that blowing it up when it becomes uninhabitable may still be on the cards.
It might go some way to explaining SNH's reluctance to move forward with a proposal in 2014 undertaken by the Prince's Regeneration Trust for a £9.5 million conversion of the castle into nine apartments which would have triggered other sources of public funding.
SNH has always said that it is not in the business of looking after stately homes and one can sympathise with it to a certain extent. But why, in 1957, did its predecessor undertake to maintain the castle when it must have been well aware of the high running costs and the difficulty of getting tradesmen to such a remote location to work on it?
Clearly, the NCC wanted the island for a nature reserve for whatever reason but, as Scott said, 'they can have had no serious intention of honouring the commitment in the case of the castle'.
The tragedy in all this is that when, in March 2003, Scottish ministers announced their decision to transfer SNH's headquarters and around 270 jobs from Edinburgh to the Highlands, they settled on Great Glen House, a £15 million purpose-built headquarters building in Inverness.
If they had chosen Kinloch Castle (which they already owned) and spent this huge sum on restoring the roof, expelling the dampness by installing a wood-fuelled biomass boiler and converting parts of it into offices, laboratories, lecture halls and executive accommodation, it would not be in the sorry state it is now.
Such a move would have seen the building of dozens of family cottages, shops and a new primary school, thus ensuring a vibrant and thriving community on Rum for future generations.
If only the then First Minister Jack McConnell had been a bit bolder, Mallaig would have become a throbbing supply hub; the railway line to Fort William would have been assured and the entire Inner Hebrides marine transport system upgraded and enhanced.
What a coup for the Scottish Parliament and, more importantly, what a boost for the local economy.
The last word must go to Alastair Scott. He wrote: 'Rum's natural beauty and unique geology will always attract visitors, but that alone will not be enough. With a castle that sleeps 55 and is itself an edifice of exceptional historical value, the community has a hope of a bright future.
'I would argue that Kinloch Castle is Rum's greatest asset in its potential for providing a financial basis for a sustainable future, and that without it the island's economy is moribund. And for as long as records and memory exist, to lose it would stand as a benchmark of shortsightedness, administrative incompetence and national shame.'
Iain Thornber
iain.thornber@btinternet.com