Clan honours a hero 5,000 miles from his home
Want to read more?
We value our content and our journalists, so to get full access to all your local news updated 7-days-a-week – PLUS an e-edition of the Oban Times – subscribe today for as little as 56 pence per week.
Subscribe Now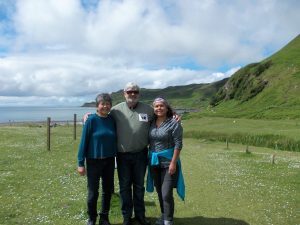 A Canadian war hero, descended from Indian chiefs and an outlaw family originally from Mull, was honoured by his relatives at last month's Clan Maclean Gathering at Castle Duart – despite booking a hotel in the wrong Tobermory.
Private George McLean, whose ancestors hailed from Kengharair, near Dervaig, was awarded the Distinguished Conduct Medal (DCM), the second highest award for gallantry in the field, for his actions during the Battle of Vimy Ridge in 1917.
To mark the centenary of Pte McLean's act of bravery, two of his relatives – Freda McLean and Emma Louie from Kelowna in British Columbia – made a pilgrimage to the family's ancestral home during the island's Clan Maclean Gathering.
However, at the last minute they discovered that their travel agent in Vancouver had booked them to stay in Tobermory, Ontario – a village 200 miles north-west of Toronto – but fortunately their clansmen were able to find them accommodation in Tobermory, Mull, for their trip.
George McLean was born in Kamloops, British Columbia, on April 15, 1875, the only son of Allan McLean, leader of the infamous Wild McLean outlaw gang, who was hanged for murder at New Westminster in British Columbia in 1881.
George did not talk of his father as he grew up working as a cowboy in Nicola Valley, but on his other side he did at least have noble lineage: his mother, Angele, was the daughter of Johnny Chillihetza, chief of the Douglas Lake Indian band, and the niece of Nicola, grand chief of the Okanagan people and chief of the Nicola Valley peoples.
Like many aboriginal Canadians, McLean served during the Boer War, where he became known as a fair shot and a good horseman. He was awarded the South Africa Medal, and settled back down as a rancher in the Douglas Lake area, with his wife, Theresa Ashton, with whom he had four children.
Aged 41, with the First World War well under way in October 1916, George enlisted once more in the 172nd (Rocky Mountain Rangers) Battalion, in Vernon, British Columbia. Sailing for Great Britain almost immediately, he was in France with the 54th Battalion of the Canadian Infantry (Kootenay battalion) as early as December.
An issue of the Vancouver Daily Sun dated October 7, 1917, reported Pte McLean had made a name for himself in the military annals of the Battle of Vimy Ridge (April 9-12, 1917), where he launched a daring solo attack on many German soldiers.
On the third day of battle, Pte McLean returned from carrying a wounded officer out of the melee to find himself and a companion near a German dugout containing around 60 men. Armed with about a dozen Mills bombs – small grenades nicknamed 'pineapples' – he was about to throw the first one when his companion was killed by his side.
George's biographer, Mel Rothenburger, wrote his friend did not want his share of the rum handed out to soldiers before they went over the top. As he handed it to George, a sniper bullet ended his life. That incident is said to have spurred him into the actions that won him the DCM, as he began bombing in earnest.
In the face of such determination, the German sergeant-major threw up his hands shouting: 'Do not throw the bomb.' Pte McLean paused and the German asked how many soldiers were in his party. McLean answered that there were 150.
The German then handed over his automatic and called to his companions who emerged with their hands up. McLean then marched the survivors to the British lines under cover of the German automatic weapon.
George McLean became one of nearly 2,000 members of the Canadian Expeditionary Force to earn the DCM. His citation reads: 'For conspicuous gallantry and devotion when dealing with enemy snipers. Single-handed he captured 19 prisoners, and later when attacked by five more prisoners, who attempted to reach a machine gun, he was able, although wounded, to dispose of them unaided, thus saving a large number of casualties.'
After returning to Canada, George eventually became a fireman in the Vancouver region, and died on September 6, 1934, in Merritt, British Colombia.
Earlier this year, a century after his brave feat of arms, the Clan Maclean Heritage Trust and the Okanagan Nation arranged for Private George McLean to be remembered in his hometown of Merritt, and a message was sent for the ceremony by the chief of Clan Maclean, Sir Lachlan Maclean.