Piper Alpha hero almost 'killed' by leaking loo
Want to read more?
We value our content and our journalists, so to get full access to all your local news updated 7-days-a-week – PLUS an e-edition of the Oban Times – subscribe today for as little as 56 pence per week.
Subscribe Now
A hero who won the George Medal for bravery is too frightened to use his own bathroom after a leaking flat above caused the ceiling to collapse almost on top of him.
And now the owner of the flat, Argyll Community Housing Association (ACHA), is refusing to fix the damage.
Seamas McNeill, a 73-year-old retired master in the Merchant Navy, helped save 37 lives in the Piper Alpha disaster, which killed 167 people in 1988 after a gas leak caused the oil platform to explode.
Five times Mr McNeill's boat went into the flames to rescue survivors, until it was blown out of the sea by an underwater gas explosion and sank, ditching the three crew into freezing water for 45 minutes.
In 1991, the Queen awarded Mr McNeill (also known as James), Charles Haffrey and Andrew Kiloh the silver George Medal, the UK's second highest civilian decoration, for acts of great bravery.
Mr McNeill survived the UK's worst offshore oil disaster, but he says a falling bathroom ceiling nearly killed him on Tuesday last week, and he is too scared even to take a bath in case other debris falls on him.
He told The Oban Times: 'I had been brushing my teeth and I had just stepped out of the bathroom when I heard a bang and the whole ceiling had come down. I got such a fright. I had just walked out the door. If I were under it, I would have been killed.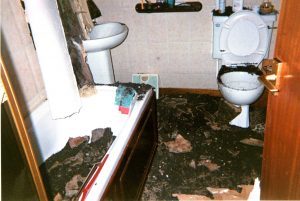 'I am too scared to use the bathroom because there is still stuff coming down. I wash my hair in the sink in the kitchen. I walk down the street to use the toilet. I feel like I am not in my own house any more.'
The widower, originally from Barra, moved to the Glencruitten Drive flat 43 years ago, in 1974, with his wife Wilma, who died suddenly last year.
His godson noticed the dripping ceiling a fortnight ago, so Mr McNeill notified the ACHA tenant above, who reported it to an emergency plumber and the association.
The plumber fixed the leaking toilet in the ACHA flat above and put a hole in Mr McNeill's ceiling to drain the pooling water, and an ACHA inspector followed this up, carrying out a check.
Mr McNeill recalled: 'The workman kept saying, "It is alright. It is fixed. It will dry out". I said, "I do not think so". I could see the bulge in it. Then a few days later the whole lot came down. I would have been badly hurt, because there were big lumps.'
'All I got from ACHA was, "It is nothing to do with us",' Mr McNeill said. 'They would not even come out and look. They said to claim on my home insurance. But the leak came from their house. They said it was fixed. Why should I go through my home insurance for their mistakes? They should actually fix everything here, because it was their fault.'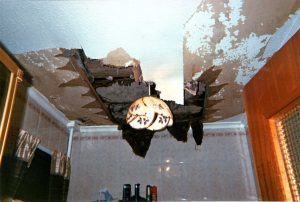 ACHA chief executive Alastair MacGregor said: 'On the evening of May 2, the association's repairs contractor was called to attend an out-of-hours call regarding water ingress to a private owner's flat below an ACHA flat. The issue was due to an overflowing cistern due to a ball valve failure and was rectified at the time.
'On May 3 a property inspector visited our flat at Glencruitten Drive and looked at the problem. He also visited the private owner below to discuss what had happened, and during the visit he inspected the ceiling which showed a bow.
'Although the ceiling at the time was mis-shaped, it did feel sound and firm, and the private owner advised that no water had come through the electrics, and there was no evidence of lying water.
'The private owner was advised that the ceiling would not go back into shape and would need remedial attention and he would be better contacting his insurance regarding this. The private owner informed the inspector that he did not want to make a claim against ACHA or his insurance company. However, our inspector gave advice that he should at least let his insurance company know.
'ACHA can work on common parts of properties shared with private owners but our insurances do not allow us to work on the internals of private owners' properties. If the situation was reversed we would need to claim our insurance and arrange our repairs.'