Bodach: Mystery of the gold box that vanished
Want to read more?
We value our content and our journalists, so to get full access to all your local news updated 7-days-a-week – PLUS an e-edition of the Oban Times – subscribe today for as little as 56 pence per week.
Subscribe Now
The Heather Grave on Campbell Island – A Stuart Legend by Iain Gordon, published on April 15, 1939.
In the waters of the southern Pacific, about 150 miles south-east of the Auckland Islands, lies a lonely isle, uninhabited save for a few sheep that roam wild. It is a desolate place, forsaken and almost forgotten, but to those who venture there, near the Antarctic waters, it is known as Campbell Island. Few people know the story connected with it for few could guess that on this remote little island is a heather-covered grave which holds a hidden secret.
The story begins with Prince Charles Edward Stuart of the '45. While the Highland army lay before Stirling in 1746, his headquarters were at the house of Sir Hugh Paterson of Bannockburn. Lady Paterson's niece, Clementina Walkinshaw, was visiting her aunt and uncle at the time.
Charles contracted a chill while at Bannockburn House and Clementina is said to have nursed him back to health. An attachment sprang up between the two and they made a pact to meet again. After the disasters in Scotland, Prince Charles went to France and later to Flanders where the young lady sought him out, telling her family that she wished to visit a convent in Belgium. Then began an association that lasted for five years in the town of Liege, where the couple were known as Count and Countess Johnson, and their daughter as Charlotte Johnson.
Hounded by enemies who were bent upon keeping her and her child from putting forth any claim to the throne, a separation was effected between Clementina and Charles, and mother and child went to Friburg in Switzerland where they lived for 20 years.
Frightened by threats of being deprived of her child, Clementina eventually signed, under duress, a document to the effect that she had not been married to Charles. The daughter, Charlotte, was legitimised by the French Parliament as the Duchess of Albany. 'The Bonnie Lass of Albany', as she was called in a poem written about her by Robert Burns, married the Swedish Baron Roehenstart, with whom she had two children, John and Marie Stuart Rohenstart. These children were secretly adopted by a family in Poland, friends of the House of Stuart.
Falling from her horse, Charlotte developed an abscess from which she ultimately died, although rumour had it she was poisoned. She is buried in Rome, as if unmarried.
Her mother died at Friburg, Switzerland, in 1802, leaving a tiny sum of money and a locked gold box, from which she would never part, despite her poverty and tribulation. In her will she requested that this gold box containing a miniature of the Prince and her papers be transmitted through Mr Thomas Coutts, the banker, to her friends in Scotland to whom she had previously intimated she would convey, upon her death, documents which would 'vindicate the innocence of her cruelly aspersed character'.
Among the papers was the certificate of her marriage to Prince Charles. But neither this evidence nor any of the other equally important papers by which it was accompanied reached Scotland at that time, but instead found their way to Clementina's granddaughter in Warsaw.
The granddaughter, Marie Stuart Roehenstart, married James Sobieski, a cadet of the House of Sobieski. In order to prove the authenticity and legitimacy of the descent, John Stuart Roehenstart wrote to his sister in Warsaw asking her to send him the papers which were in her keeping. Not wishing to trust the valuable documents in the gold box to anyone, she brought them herself to Scotland.
She met a Captain Dughall Stuart, a Dundee whaler and sealer, who offered to take her in his ship to a port in the Baltic whence she would make her way to Warsaw to be with her daughter, Carolina Sobieski. She accepted the attractive offer and boarded the vessel only to find herself upon the high seas, a prisoner aboard an enemy ship. The lady's beauty and position availed her nothing; the gold box and its contents were taken from her and she was put ashore and left on Campbell Island in a hut built for her by the whaler's crew.
Some of the men from this whaler later joined another which visited the island and found there a skeleton which they buried. The next time they left Dundee, they brought with them some heather which they kept moist below decks so successfully that they planted on top of the lonely grave they had dug and it still grows there.
This is the legend of the secret of the heather grave. Absolute proof of the gold box is in existence, but the box and its contents have disappeared. Considering the inestimable value of this box historically, it is remarkable that it has never been put up for sale. It is now so long since the crime was committed that punishment is out of the question. Were it still extant, it would bring a goodly sum, but as it has not been forthcoming it, with its contents, have evidently been destroyed, thus ending forever all fear of another Jacobite Rising.
Other news
The 1979 general election campaign began early for every man and his dog, The Oban Times reports on March 23, 1978, as Prime Minister Jim Callahan 'shares a lucky mascot with Argyll prospective candidate Mr Malcolm Macgregor after arriving in Dunoon on Saturday to address the Labour Party's Scottish annual conference'. In the end, Mr Macgregor came third behind the SNP's Iain MacCormick, who lost his Argyllshire seat to the Conservatives' John MacKay.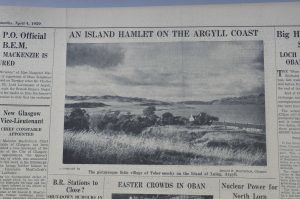 A view of the 'picturesque little village of Toboronochy on the Island of Luing', published in The Oban Times on April 4, 1959. Toboronochy, from the Gaelic Tobar Dhonnchaidh or 'Duncan's Well', was once a slate quarrying community.
T16_Bodach_March 23 1978_Strontian Music Festival pic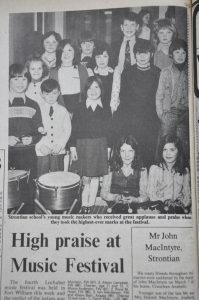 Strontian school's young music makers received great applause and praise when they took the highest-ever marks at the fourth Lochaber Music Festival in Fort William, reports The Oban Times on March 23, 1978.