Morvern Lines – from donkeys to zebras and squires to maharajas
Want to read more?
We value our content and our journalists, so to get full access to all your local news updated 7-days-a-week – PLUS an e-edition of the Oban Times – subscribe today for as little as 56 pence per week.
Subscribe Now
Last week I wrote about Squire Cheape of Tiroran. Today my subject is Lady Meux (pronounced 'mews') from Alladale, near Bonar Bridge in Ross-shire, who came from an altogether different background.
At the same time as Mrs Cheape was introducing donkeys to Mull, the colourful and beautiful socialite, Lady Meux, was driving herself around in a four-wheeled carriage drawn by a pair of zebras.
Lady Meux was born Valerie Langdon in 1847. She was the daughter of a Devon butcher and worked as an actress and a banjo-playing barmaid before marrying Sir Henry Meux, 3rd baronet (1856-1900). According to her obituary in the New York Times, she met Sir Henry while performing in Brighton.
Some sources give another slant to her career although, in her defence, Valerie maintained: 'I can very honestly say that my sins were committed before and not after marriage.'
The colossal Meux wealth came from brewing. Henry's father, the 2nd baronet, married into the Marquess of Ailesbury's family. Needless to say, they were not enamoured by the arrival of this flamboyant cuckoo in their midst and, typical of the unpleasant snobbery of the time, shunned Henry, as he was in trade, and Valerie because of her background.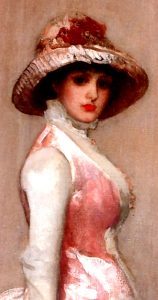 Thumbing her nose at them all, Valerie made her indifference known by regularly driving past the Ailesburys' fashionable London house with her zebras. She also sat for James McNeil Whistler – an American and one of the most acclaimed society painters of the day.
Lady Meux and her husband improved and enlarged Theobalds, their property in Hertfordshire, by adding an indoor roller-skating rink and a swimming pool. At her request, Henry bought Christopher Wren's Temple Bar (one of the eight gates that surrounded the old city of London) and rebuilt all 400 tons of it as a new gateway to Theobalds.
There, in its upper chamber, Valerie allegedly entertained guests, including the Prince of Wales and Winston Churchill.
Bitten by the Victorian bug for Highland life and scenery, Sir Henry and Lady Meux took a lease for Alladale, one of the best known deer forests in Scotland. It belonged to Sir Charles Ross, inventor of the famous Ross rifle, who lived at nearby Balnagowan Castle which, incidentally, is now owned by the locally popular Mohamed Al-Fayed of Harrods fame.
In 1360, Alladale was called 'Freevater' or Walter's Forest, after one of Sir Charles's ancestor who was killed at Bannockburn. Here they provided stalking, fishing and grouse shooting for their friends on a grand scale.
After Henry's death, when he was only 44, Alladale was taken by the fabulously wealthy Maharaja Holkar of Indore, who brought such a large entourage with him that an extension had to be added to the rear of the lodge to accommodate them. Undeterred by widowhood, Lady Meux continued to enjoy life to the full, and well she might, inheriting an income of £240,000 a year from her husband's estate.
She owned a string of race horses, entering them under the assumed name of 'Mr Theobalds', and won the Derby in 1901. She collected ancient Egyptian artefacts; the legendary Egyptologist Wallis Budge published a catalogue of more than 1,700 of her items, including 800 scarabs and amulets. She wanted to leave the collection to the British Museum, but the trustees declined the bequest (because, she said, they were apparently idiots) and it was sold.
Valerie didn't always fritter away her husband's money. During the Boer War she was so impressed by the heroics of the British Army at the Battle of Ladysmith in 1899 she bought six 12-pounder naval cannon and sent them out to South Africa.
When Sir Hedworth Lambton, the commander of the naval brigade at Ladysmith, returned to London, he called on Lady Meux to thank her for her generosity. She was so taken with his charm that she made him the chief beneficiary of her estate on condition that he took the surname Meux (she and Sir Henry had no children).
When she died on December 20, 1910, he changed his name and inherited the Theobalds and a substantial interest in the Meux Brewery.
Although the Meuxs, the maharaja and the distinguished guests, disappeared down the glen decades ago, there is still a quixotic aura about Alladale. The estate now belongs to Paul Lister, heir to the MFI furniture fortune, who courted controversy by turning it into a wilderness reserve intended for wolves, bears and other large predators.
Since 2003, a million trees have replaced most of the wild red deer and talk of a huge 50,000 acre, Colditz-style compound, has drawn criticism from neighbours, hillwalkers and lawyers as it could contravene principles of open access enshrined in the Land Reform (Scotland) Act 2003.
From inside wooden stockades, a few moose and angry European bison glare and stamp their feet at passers-by but the howl of the wolf and the growl of the grizzly bear have yet to be heard on the braes.
Gone, too, from the lodge stables are the zebras and Lady Meux's stylish high phaeton.
Iain Thornber
iain.thornber@btinternet.com