Morvern Lines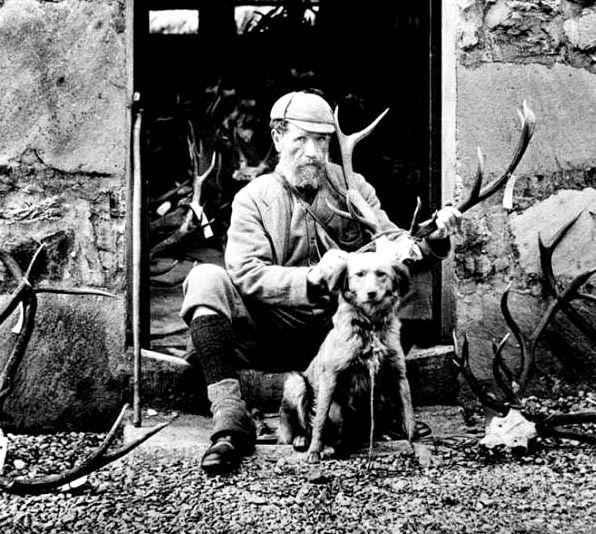 Want to read more?
We value our content  and access to our full site is  only available with a  subscription. Your subscription entitles you to 7-day-a-week access to our website, plus a full digital copy of that week's paper to read on your pc/mac or mobile device In addition your subscription includes access to digital archive copies from 2006 onwards
Just want to read one issue? No problem you can subscribe for just one week (or longer if you wish)
Subscribe Now
by Iain Thornber
MORVERN LINES
Loch Hourn is a 14 mile long sea loch snaking inland from the Sound of Sleat, opposite the Isle of Skye, to the head of the loch at Kinloch Hourn. The popular translation of the Gaelic name of this sea loch is Loch of Hell, but according to Celtic scholars the name is a less exciting one and means Loch of Berries. Glen Barrisdale lies on the south shore of the loch and is famous for its ancient Scots pines, which by the way, is a tree that grows in an unbroken arc all the way to Vladivostok, a family called MacDonell who were out in the '45, and a mysterious animal which acquired such a terrifying reputation that it became known as the 'Beast of Barrisdale'.
What was the Beast and when did it exist? According to Fr Andrew MacDonell (1870-1960), a Dominican priest from Fort Augustus standing in for the priest at Inverie, its blood-curling howls were first heard about 1845 and continued, off and on, until 1900. Fr Andrew, who was clearly interested in the history of the area, gathered some fascinating stories about the Beast from a number of stalkers, not one of whom, he recorded, would dream of trying to deceive him.
Ronald MacMaster (1829-1906) the Barrisdale keeper, told Fr MacDonell that one day in November, he set off in the morning for the summit of Sgeir a' Choire-beith, a 3,000 ft hill overlooking Glen Barrisdale, to shoot ptarmigan. No sooner had he reached his destination than a flock of birds he had heard ahead of him, rose and flew off in alarm. He thought they might have been disturbed by a fox but the snow-covered ground revealed a set of fresh tracks which were far larger than that of a fox or indeed of any other animal he knew. Guessing that it may have been the 'beist mhor' (Gaelic, big beast) he followed them until he came to a long rocky ledge twelve to fourteen feet high on top of which he found four large paw marks indicating that the animal had without any hesitation surmounted it in one leap. The gamekeeper's description of the tracks was interesting. He said they were almost round and about four inches in diameter and gave the impression of a heavy animal. There was evidence of four toes but no central pad and the mark of a claw behind the paw.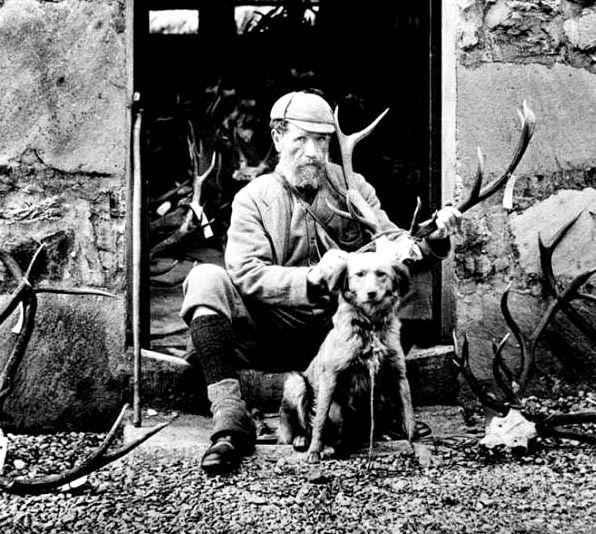 Ronald MacMaster's son John (1865-1913) who lived at Runival a few miles up the loch from Barrisdale, was out on the hill and saw what he took to be the paw mark of a hound in a patch of soft peat. Stopping to take a closer look he realised it was far too large for any dog and that its dimensions closely matched those his father had seen a few years before. An another occasion two stalkers watching deer on a clear, calm summer's afternoon, heard strange roaring and howling coming from a corrie on the opposite hill about three miles away from where they lay. The deer took no notice but the dogs they had with them became very agitated and unmistakably frightened.
Although very vocal the Beast shunned human contact except in the depths of winter when food was scarce. Descriptions of it vary. The few who had actually seen it seemed to think it was about the size of a donkey, with a mane and tail like a horse. The head was broad at the top between the ears similar to the head of a boar, but instead of a snout the lower part was rounded with a heavy upper jaw and large red, overhanging lips. The face, they described as being hideously and terrifyingly ugly.
So what was this animal that had put the inhabitants of Barrisdale and its neighbouring communities in a state of fear and alarm for so many years? The answer – a hyena! Now you may well ask how did a hyena, a native of Africa, arrive on Loch Hourn-side in the mid 1800s. It seems a smal
l travelling circus or a menagerie was on route overland to Skye by way of Invergarry, Arnisdale and Glenelg when somewhere around Kinloch Hourn a hyena managed to escape. Although these picturesque travelling menageries, often consisting of no more than a bear on a chain, a monkey, a chimpanzee, a zebra perhaps and in this case a hyena, did not usually stray far from towns and villages, they were not unknown in the Highlands and Islands where the exotic animals they brought with them were, understandably, a great attraction. In many respects, other than its size and age, the descriptions of the Beast of Barrisdale collected by Fr MacDonnell, were fairly close to that of a hyena especially the vocalisations, including wailing calls, howling screams and the well-known "laughter" used to alert other clan members up to three miles away of a food source. One day perhaps its skeleton will be found in a cave or a peat hag in Glen Barrisdale that will confirm its identity beyond all doubt.
Iain Thornber
iain.thornber@btinternet.com